Five top revolver choices from large bore to pocket pistol and everything in between.
What are some the best revolver options:
Smith & Wesson 629 Delux
Ruger GP100 Match Champion
Colt Cobra
Kimber K6s
Taurus 856
Some things change, some stay the same. When it comes to picking a revolver, you can still depend on S&W. Big to small, mild to ferocious, they offer the complete selection. They offer so many that you would have to narrow down your needs or desires before we could even begin discussing the best one to choose.
For a classic experience — but updated — the new S&W 629 Deluxe is a stainless .44 Rem Mag. that will fill the bill.
If you want big bores and medium ones, Ruger makes plenty of double-action revolvers. That wasn't the case when I started, and I still have to remind myself that Ruger is new to this, since they have "only" been at it for just shy of 50 years. How about the new Ruger GP100 Match Champion?
Colt used to be a big player, but they fell out of the marketplace a bit some time back. They have, however, come back in a big way, in the compact carry segment, and you should look at Colt's Cobra if you're looking for an EDC snubby.
A recent surprise entrant to the revolver market is Kimber, with the K6s. They now offer it in a variety of finish and sight options.
The newest item from Taurus is their 856, a six-shot snubby that I recently had a chance to shoot. I only had to stop when it became clear that others wanted to shoot it, and I couldn't hog all the ammo.
Editor's Note: This article originally appeared in the 2018 Shooter's Guide issue of Gun Digest the Magazine.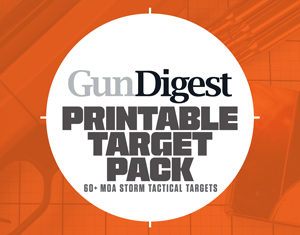 Next Step: Get your FREE Printable Target Pack
Enhance your shooting precision with our 62 MOA Targets, perfect for rifles and handguns. Crafted in collaboration with Storm Tactical for accuracy and versatility.
Subscribe to the Gun Digest email newsletter and get your downloadable target pack sent straight to your inbox. Stay updated with the latest firearms info in the industry.