Watch the magic happen as Modern Shooter gets an inside look at the renowned Turnbull Restoration Company.
Plenty of guns can turn your head, but few have the stuff to stir your soul. You know the kind, the guns so finely crafted, details so meticulously attended to they literally bate your breath while you take them all in. Walnut rich as chocolate cake, scroll work so intricate you get lost in it. If you have a notion about these types of guns, then you have a notion about Turnbull Restoration Company.
Master of its craft, the company has built an impeccable reputation for its ability to breath new life into classic guns. Be it a tough-as-nails Colt 1911 or a venerable Winchester Model 1886, Turnbull has the chops to recondition the arm so it appears as if it just rolled off the assembly line — down to a dead-ringer finish, be it bluing, Parkerization or color-case hardening. However, you needn't stop at the historical. If you have the perfect gun in mind, with custom inlays and specific engraving, the company will pour its years of know-how into making it a reality — down to the final flourishes on the scrollwork.
Modern Shooter got a rare inside look at this extraordinary firearm wonderland, traveling to where the magic happens. Along the way, we got a look at what can only be described as modern masterpieces that roll out of Turnbull on a regular basis. If you love guns that do more than simply hit the mark, but inspire, this is an episode you don't want to miss.
Catch the rest of Turnbull's incredible creations in this episode of Modern Shooter 10:00 p.m. EST Friday on the Pursuit Channel. The episode rebroadcasts Monday at 12 p.m. EST and Tuesday at 11:30 a.m. EST.
For more information on Turnbull Restoration Company, please visit: www.turnbullrestoration.com.
---
More Modern Shooter: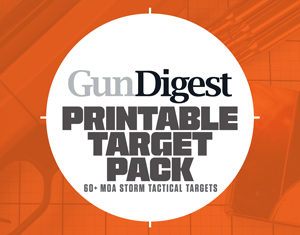 Next Step: Get your FREE Printable Target Pack
Enhance your shooting precision with our 62 MOA Targets, perfect for rifles and handguns. Crafted in collaboration with Storm Tactical for accuracy and versatility.
Subscribe to the Gun Digest email newsletter and get your downloadable target pack sent straight to your inbox. Stay updated with the latest firearms info in the industry.