Modern Shooter gives you the tactics to survive an up-close-and-personal lethal-force event.
So close you can feel them breathing, could you survive an attack this personal? Generally, as armed citizens, we don't train to handle these sorts of situations — the near-in ambush, the assault within speaking distance. Yet, they're uncomfortably common and particularly deadly.
Far from a cut-and-dry draw and presentation, getting your handgun into the fight in these circumstances requires a specific skill set, not to mention iron nerves. Honing his up-close-and-personal fighting abilities, Phil Massaro discovers exactly how challenging learning these lifesaving skills are in Modern Shooter's trip to New York's Double Eagle Tactical Training. They're a relatively simple series of movements, yet they're complicated with the intimacy of the event and brevity of response time. As always, the key to mastering the skill — particularly if it's new – is slowing down the drills in an effort to build muscle memory. This is particularly true here.
Not only is Massaro forced to realistically position his off arm to push an assailant back or block a blow, he is shooting one handed and from the hip. Additionally, the little things — cant of his body, keeping the pistol out of snatching distance — further muddle the situation. A wrong move or a break in concentration has the potential to end in injury or worse. Attention and mastery are at a premium when acquiring these skills.
Learning to engage a threat so close you can count nose hairs is challenging, to say the least. However, the advantage it allows you in a near-range encounter is well worth the sweat and struggle.
Continue to sharpen your self-defense skills on the next episode of Modern shooter, 10 p.m. EST Friday on the Pursuit Channel. The episode rebroadcasts Monday at 12 p.m. EST and Tuesday at 11:30 a.m. EST.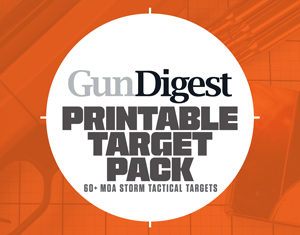 Next Step: Get your FREE Printable Target Pack
Enhance your shooting precision with our 62 MOA Targets, perfect for rifles and handguns. Crafted in collaboration with Storm Tactical for accuracy and versatility.
Subscribe to the Gun Digest email newsletter and get your downloadable target pack sent straight to your inbox. Stay updated with the latest firearms info in the industry.