Modern Shooter gets a first-hand look at firearms training taken to the next level.
This isn't your everyday defensive shooting class — not by a long shot.
Specializing in tactical training, Houston-based MAST Solutions' courses are akin to boot camp at Paris Island, with potentially as many superlatives. Physically and mentally challenging, the advanced weapons training steeps its students in more than simply the art and science of modern combat. It breaks down and rebuilds its pupils, forming a knife's edge, ready to operate at the highest level under the most demanding circumstances. And it boasts the personnel to get this job done.
One such example, Ray "Cash" Care. A former Navy SEAL, the MAST instructor knows about the next level — he's lived there most of his professional career. Through some pretty unorthodox methods, Care hollers and challenges his students to do the same, pushing them to the brink until the beg to go over. Extreme it may be, but it serves a purpose.
Beyond honing everyday armed citizens, MAST counts the U.S. Military, Homeland Security, Border Patrol, DEA and various SWAT teams among their clients. High-level operators require high-level training. And at MAST the focus far exceeds mere firearms. Hand-to-hand combat, knife combat, CQB, fitness, emergency medical procedure and leadership are all part of the curriculum. Be you professional or citizen, MAST strives to teach you how to tap into you're A-game.
Catch more of this extreme form of firearms training on the next episode of Modern shooter, 10 p.m. EST Friday on the Pursuit Channel. The episode rebroadcasts Monday at 12 p.m. EST and Tuesday at 11:30 a.m. EST.
For more firearms training videos check out:
For more information on MAST Solutions, please visit: www.mastsolutions.com.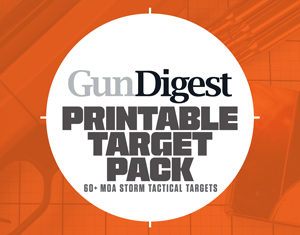 Next Step: Get your FREE Printable Target Pack
Enhance your shooting precision with our 62 MOA Targets, perfect for rifles and handguns. Crafted in collaboration with Storm Tactical for accuracy and versatility.
Subscribe to the Gun Digest email newsletter and get your downloadable target pack sent straight to your inbox. Stay updated with the latest firearms info in the industry.