E.R. Shaw has jumped into the AR game, and the company's ERS15 is a multi-purpose masterpiece.
The AR-15 platform is one of the most diverse and versatile of any design in firearms history. AR-style rifles are so popular because the design lends itself to customization. Not only are there a myriad of available grips, stocks, triggers, sights and other options that can be easily installed, completely different upper assemblies are available in everything from a pre-charged pneumatic .177-caliber pellet rifle to a single shot chambered for the mammoth .50 BMG cartridge.
It's estimated that there are between five and 10 million AR-15-type rifles in the United States, and one website reports there are 386 makers, brands, and vendors of the AR-15. As of recent times, there are 387 because E.R. Shaw, a maker of rifle barrels for more than a hundred years, has now thrown its hat into the ring of AR-15 manufacturers. AR-15-type rifles are the Barbie Dolls of the gun world, with countless easy modifications available to match the owner's desires. A friend recently received a package of parts containing almost everything to build a rifle except the upper and lower receivers. The leftover parts had been taken off the previous owner's gun as he upgraded it. Doubtless, there are tons of similar parts in basements, garages and backrooms across the nation.
Do It Yourself Not Required
While most AR-15 manufacturers sell stock rifles equipped with specific features and furniture, E.R. Shaw's approach is to build the rifle to match the customer's desires. It's a method the company's been using for years in its Mk. VII bolt-action rifle series in which customers can choose from calibers from .17 Fireball to .458 Winchester, along with dozens of combinations of stocks, receivers and barrel weights and lengths.
My test gun came with a 15-inch floating APF handguard with a full-length top picatinny rail and T-Mod rails. The 18-inch barrel had a 1:8-in. twist, was manufactured from 416 stainless steel and helical fluted and came with a standard flash suppressor, but the customer can specify between 1:7-, 1:8-, or 1:9-inch twist. The customer can also choose from nine different barrel combinations in lengths from 16 to 24 inches, with three fluting patterns and three barrel finishes combined with four receiver colors. There are four choices of handguards, from the MOE carbine length to the 15-inch APF, as my gun was supplied. The stock is a standard Magpul MOE in a color to match the receiver and handguard tube.
A Do-Everything Carbine
As configured, the E.R. Shaw ERS15 is a general-purpose rifle, capable of performing a number of tasks well. While it isn't an all out big-game hunting rifle, it's certainly a capable rifle for taking hogs and deer-sized game. As a predator rifle, it's well equipped. As a defensive carbine, the additional features like the improved handguard with T Mod capability for adding accessories is a plus, and the additional accuracy of a stainless match barrel is certainly no liability. While it isn't a competition rifle, it certainly has adequate accuracy for NRA High Power if equipped with a suitable optical sight, and it would be fine as a carbine or three-gun rifle at club level matches. In effect, it exemplifies the versatility of AR-15 rifles, and the customization allowed with E.R. Shaw's custom rifle program allows the buyer to spec out his own rifle for his needs rather than buy a rifle and end up with a shelf of discarded parts after the rifle is configured to the owner's desires.
For testing the ERS15, I mounted a Nikon 3-12 power M223 scope for accuracy testing and added a Crimson Trace Linq light/laser for added versatility. So equipped, it's capable of handling almost any imaginable situation from personal defense, to shooting hogs or predators in the dark, to service as a long-range varmint rifle at ranges out to 500 yards or more. I tested with Winchester 69-grain Match, 55-grain Tin Lead Free, and 55-grain FMJ, again, a broad range of ammunition that covers multiple applications.
Reliable and Versatile Accuracy
In extensive shooting with all three loads, I experienced zero malfunctions and accuracy levels that allow the ERS15 to serve well in almost any application. Accuracy was on par for a stainless-barreled quality AR with groups with Winchester 69-grain Match averaging under MOA and 55-grain FMJ at just over two MOA. The trigger on my test gun broke at 5.4 pounds, not a competition trigger, but reasonable for a general-purpose AR. The single-stage trigger broke clean with no creep but some backlash. It did have the most audible reset click of any AR I can remember; the reset was as loud as the striker falling on an empty chamber. As a hunting and defensive trigger, it was far better than the average AR trigger, but those wishing to increase the long-range capability would be served by a trigger upgrade.
The 15-inch T-Mod forend tube worked well both on the Lead Sled and for offhand shooting. I particularly like the 15-inch length because for fast transitions the shooter's hand should be well forward, and standard forend tubes don't allow this without contacting the hot barrel or gas block. Repeatable off-the-bench sub-MOA accuracy is nothing to scoff at, and with the Winchester 69-grain match, all five of the test groups met this goal. Remarkably, the E.R. Shaw barrel managed to group bullet weights from 50 to 69 grains quite well. In one shooting session at a friend's range, I tried some 75-grain handloads and they shot well also. The best part was the consistency of zero between the three different loads. Correction for any of the three loads would have been less than a half-minute.
Adding a Linq
I equipped the test rifle with a Crimson Trace LiNQ laser/light system mounted to the T-Mod rail. It was a viable addition in keeping with the versatility of the E.R. Shaw ERS15. For defensive use, the addition of a laser to a carbine is an excellent idea since 70 percent of defensive situations occur in low-light conditions. Having a laser/light combination is even better because it allows certain identification. Of course, a light and laser also offer utility in predator and hog control applications as well.
The Crimson Trace LiNQ is innovative because it's the first laser/light combination that offers wireless communication between the control switch and the light unit. I moved the LiNQ all the way forward on the forend to allow a forward grip without obstructing the unit. The 300 Lumens of light allow clear illumination of targets, and with the laser co-witnessed to the optical sight accurate heads-up shots are easily accomplished. Looking through the scope, the laser painted on the target looks like an illuminated reticle.
In Summary  
The E.R. Shaw ERS15 is not the best hunting AR, or the best competitive AR, or the best defensive carbine, but it serves admirably well at any of those applications. The concept of a custom build should be appreciated by those who don't care to become an amateur gunsmith or wind up with a drawer full of unused components. Order it to suit your needs, and it will serve you well.
Specifications:
E.R. Shaw ERS15
Type: Semi-auto, direct-impingement gas
Caliber: 5.56 NATO
Barrel: 18-in., 416 stainless steel, helical fluted (many other options)
Trigger: 5.4 lbs., single stage
Handguard: 15-in., free-floating APF (other options available)
Stock: Magpul MOE
Muzzle Device: Standard flash hider
Price: $756 and up ($1,043 as configured)
Manufacturer: E.R. Shaw
Editor's Note: This article is an excerpt from the March 2017 issue of Gun Digest the Magazine.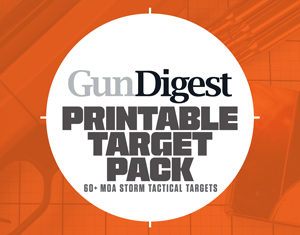 🎯 Exclusive Offer: Get Your FREE Printable Target Pack!
Dive into precision shooting with our 62 Exclusive MOA Targets featuring DOT Drills. Perfect for both rifle and handgun enthusiasts, these targets are designed for accuracy, especially for long-range shots.
Why You'll Love This Pack:
🎯 Expertly Crafted: Brought to you in partnership with the renowned Storm Tactical.
🎯 Versatile Use: Suitable for both rifle and handgun range sessions.
🎯 Precision Design: Target grids and bullseyes meticulously measured in MOA for the best shooting experience.
Bonus: By grabbing this offer, you'll also be subscribing to the Gun Digest email newsletter, keeping you updated with the latest in the world of firearms.
Don't miss out!
Simply enter your email below, and we'll send your downloadable target pack straight to your inbox.