Sometimes you want a big, solid pistol that's designed to hit hard and get the job done. If that's what you need, get your hands on the Kimber Stainless II in 10mm.
This would be a fine gun for hunting deer or hogs and could even serve a seasoned shooter as an excellent self-defense sidearm.
The gun is classic Kimber, built on a 1911 frame with outstanding accuracy and the fit and finish you've come to expect from this company.
What can you say? It's a 1911.
All the controls are in the right places, the grip fills the hand nicely and the little touches like an adjustable rear sight, beaver tail grip safety and super-smooth trigger elevate this gun from standard to exquisite.
And then there is the idea of shooting it. Some people don't like the 10mm. I'm not one of them. With the Kimber Stainless Target II and 155-grain loads I was launching double taps (and hitting the targets) without any trouble.
If you've got something that needs a lot of killin', step up to the 10mm and get your hands on a Kimber Stainless Target II. To get a closer look check out www.kimberamerica.com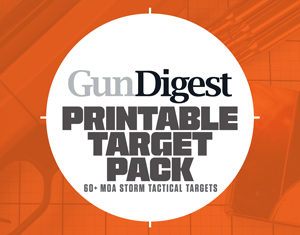 Next Step: Get your FREE Printable Target Pack
Enhance your shooting precision with our 62 MOA Targets, perfect for rifles and handguns. Crafted in collaboration with Storm Tactical for accuracy and versatility.
Subscribe to the Gun Digest email newsletter and get your downloadable target pack sent straight to your inbox. Stay updated with the latest firearms info in the industry.