Glock's G40 Gen4 MOS proves that adding a reflex sight to a high-capacity, high-power handgun doesn't have to be a costly, cumbersome ordeal.
Cats typically get all the credit for their quick reflexes, but lately it's been Glock that's shown a snappy response to the ever-burgeoning demands of the consumer. The big splash this summer was the release of the long-awaited G43, a single-stack 9mm that's been flying off gun store shelves. The other main introduction was the Modular Optic System (MOS), which demonstrates how quick and easy it is to get a reflex sight on a handgun.
The MOS, which is currently available on the Gen4 versions of the G34, G35, G40 and G41, is an adaptable plate system that comes factory-built into the slide and allows shooters to mount popular reflex sights to their handgun without aftermarket machining or a custom slide. In addition to the preinstalled cover plate, each MOS variant handgun comes with four plates to match common configurations: EoTech/Docter/Insight/Meopta; Trijicon RMR; C-More; and Leupold Delta Point. The G40 Gen4 (10mm Auto) featured in this review is the slight exception and comes with wider adapter plates to accommodate the increased width of the G40 slide.
The beauty of the MOS configuration is a combination of simplicity and monetary savings. The G40 Gen 4 MOS retails for $840, which compared to the cost of an aftermarket slide or custom gunsmithing is relatively inexpensive. The other advantage of the MOS is that it comes optic-ready right out of the box, and the process of installing the correct plate is accomplished in minutes.
A More Perfect Union
The wedding between the G40 Gen4 in 10mm Auto and the MOS is ideal because it unites a powerful semi-auto made for hunting with a reflex-ready configuration, thus extending the range and effective accuracy of the gun. While many product introductions in the firearms industry represent solutions to problems that never existed, this one makes perfect sense.
Unlike traditional iron sights, which require shooters to focus on the front sight while aligning it with the rear sight and an out-of-focus target, a reflex sight allows you to focus on the target and a single red dot of varying size or brightness on the same focal plane. This simplifies and speeds up target acquisition and allows shooters to stay focused on the target the whole time. It also permits the shooter to keep both eyes open even when shooting at distance—a huge advantage in defensive and hunting situations because it allows the shooter to process and respond to everything that's happening in the field of view.
Practically speaking, the G40 Gen4 is more readily applicable to hunting than to self defense, simply because of its size. Sure, it'd fit in a shoulder holster under a jacket or next to the bed, but realistically, a 40.14-ounce (loaded) handgun that's 9.49 inches long is probably not going to be the first defensive handgun choice for most shooters. For hunting, however, the 10mm Auto with reflex sight is an extremely formidable option.
The 10mm Auto was developed largely by Col. Jeff Cooper, of Gunsite fame, who sought to make the ideal combat weapon and cartridge. The 10mm Auto was introduced in 1983 in the Bren Ten semi-auto pistol, which was based on the CZ-75 (see page 50). A Norma factory-loaded 170-grain JHP (jacketed hollow point) travels at 1,340 fps with 680 ft.-lbs. of energy at the muzzle, which in turn translates to rather fierce recoil.
The FBI adopted the 10mm in reduced loads for a time in the 1980s, but initial problems with gun design and ammunition price ended its run. Today, the 10mm Auto remains in production with about 100 fps less than original loads, putting it ballistically on par with .45 Auto +P loads. Especially with new loads from Hornady, HPR and Federal, the 10mm Auto has more than enough stopping power to be effective on small- to deer-size game.
Paired with a quality reflex sight, the Glock-standard, 5.5-pound trigger makes for reasonably good accuracy, as does the 6.02-inch barrel. Fifteen-round Glock magazines provide extra durability and reliability, as well as plenty of follow-up shots for thick-skinned hogs or charging bears. Four interchangeable backstraps provide increased comfort and ergonomics.
Perfectly Plated
The G40 Gen4 MOS comes with a cover plate installed, as well as a package containing four brand-specific adapter plates and a hex wrench. Installation instructions are helpful and to the point, perfect for guys like me who barely read them anyway. I installed a Trijicon RMR for review, which took about two minutes total.
The only issue I had was that the RMR, which had previously been set atop an AR-type mount, came with screws that were too long for the Glock adapter plate. I could have purchased the right screws, but chose instead the MacGyver route by taking a hacksaw to the oversized screws. Crude, but it worked like a charm.
Performance
Accuracy testing was conducted from a rest at 25 yards atop Champion sand bags. Measurements were taken from five-shot groups using Hornady 155- and 180-grain XTP (eXtreme Terminal Performance) loads, as well as HPR 165-grain HBFP (hollow bottom flat point) and 180-grain JHP (jacketed hollow point) loads. Velocity was measured with a Competition Electronics ProChrono chronograph from Brownells.
Hornady's 180-grain XTP produced a best group of 2.4 inches, while HPR's 180-grain JHP produced a best group of a nearly identical 2.42 inches. Hornady's 155-grain XTP posted a best group of 2.97 inches, while HPR's 165-grain HBFP produced a best group of 2.56 inches and an average of 2.69 inches. Overall, the loads were very consistent across brands, lighter bullets performing slightly less well in the accuracy department than the heavier 180-grain loads but still very respectable. Velocity was also very consistent, with standard deviations of 8 and 9 fps for Hornady 180- and 155-grain, respectively, and a standard deviation of 4 and 8 for HPR 180- and 165-grain loads, respectively.
Parting Shots
The Urban Dictionary may one day have an entry for "Glock-like Reflexes," thanks to the company's ability to adapt and respond to the needs of the market, on the one hand, and the ease with which reflex sights can now be added to select MOS-model handguns, on the other. The MOS is as good as advertised and makes simple, cost-effective work of adding a reflex sight to the G40 Gen4. Paired with the mighty 10mm, and in this case the Trijicon RMR, it makes for a rugged and accurate hunting handgun.
Glock saw a real need and addressed it with the MOS, which is another gem in the company's playbook. Like the polymer, striker-fired design that changed handguns forever, the MOS will likely be the wave of the future. The G40 is ideal for hunting, optic-ready, and would make a solid defensive weapon in a pinch.
GLOCK G40 GEN4 MOS
Caliber: 10mm Auto
Type: Semi-Auto
Barrel: 6.02 in.
Overall Length: 9.49 in.
Frame: Polymer
Weight: 28.15 (unloaded); 40.14 (loaded)
Trigger: 5.5 pounds
Sights: Glock factory
Magazine: 2, 15-rds.
MSRP: $840
Manufacturer: Us.Glock.com
This Glock review appeared in the September 2015 issue of Gun Digest the Magazine.
Related Video: Glock 40 MOS 10mm Review & Torture
---
Learn More About Glock Options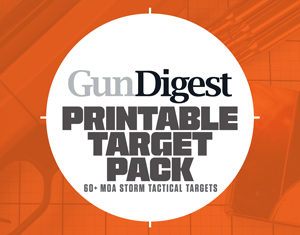 Next Step: Get your FREE Printable Target Pack
Enhance your shooting precision with our 62 MOA Targets, perfect for rifles and handguns. Crafted in collaboration with Storm Tactical for accuracy and versatility.
Subscribe to the Gun Digest email newsletter and get your downloadable target pack sent straight to your inbox. Stay updated with the latest firearms info in the industry.