A special report for Gun Digest by the experts at Blue Book on what's hot and what's not in the world of gun values and online gun auctions.
Few people in the industry keep their finger on the pulse of online gun buying and selling like the folks at Blue Book. In this special report for Gun Digest, they've peeled the curtain away and allowed us an insider's glimpse at their notes. Here's their take on the current state of affairs at online firearm auctions, the bazaars that are driving current gun values.
Hot—Anything Colt Python or Double-Action Colt Revolvers (Snake Guns)
Transacting with great velocity and volumes at high prices.
Seems to be sustainable and not a fluke; but that could change overnight.
Now is the time to sell!
Hot—Double-Action Revolvers Make a Resurgence
Buyers enjoy the feeling of nostalgia.
S&W has never before turned out as many revolvers, and they're nice!
Brings them back to the era of Dirty Harry and their youth.
Classy, refined and elegant in a world of tactical.
Hot—Antique Firearms (Pre-1899)
Emerging collectibles market.
Percussion to flintlock.
Few fine examples exist.
We have a new antique database specifically for this market.
Hot—1911's
Over 300K listings on Gunbroker.com alone.
Notable—Colt Single Actions
Jumped in sales volume over last 4 months.
Almost neck and neck with Python.
Not So Hot—Tactical Rifles (Exception: Precision and Long-Range Rifles)
Except manufacturers like JP Enterprise and Larue. They still have a huge backlog and command a premium.
DPMS, Bushmaster, Low-Mid end stuff is cheap.
GREAT time to buy AR-15's. Prices will never be lower *We hope.
The Political Factor
Drum beats for gun control.
Could be slight repeat of 2013 panic.
Military caliber shortage, price-hike.
See a hard road ahead to actually pass legislation.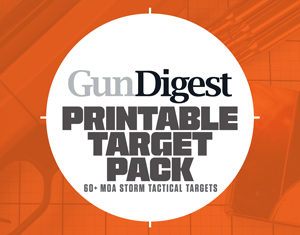 Next Step: Get your FREE Printable Target Pack
Enhance your shooting precision with our 62 MOA Targets, perfect for rifles and handguns. Crafted in collaboration with Storm Tactical for accuracy and versatility.
Subscribe to the Gun Digest email newsletter and get your downloadable target pack sent straight to your inbox. Stay updated with the latest firearms info in the industry.