Langdon Tactical has just partnered with Heckler & Koch to offer customizations for the HK P30 and P2000 pistol series.
Langdon Tactical is best known for the custom work they perform on Beretta 92s, offering excellent trigger upgrade jobs and red dot mounting solutions. Now, the company is setting its skills loose on some more Teutonic handguns. Announced just today (August 4th), Langdon Tactical is partnering with H&K to offer a whole suite of upgrades for the HK P30 and P2000 pistols series in what will be known as the LTT P30 line.
The press release claims that customers will have access to over 200 customization options for the HK P30, P30L, P30SK and California-compliant P2000. Langdon Tactical has referred to the number of unique upgrade combinations as "infinitely customizable," and while that's not technically mathematically correct, the real number is so large that it might as well be. If nothing else, a combination exists that will suit every shooter's wants and needs. LTT P30 models will be available with both DA/SA triggers as well as HK's LEM trigger configuration.
Aimee Langdon, Vice President of LTT, said this about the new partnership:
We are incredibly excited to bring this project to market…a ton of time, R&D, and hard work went into making this happen, and we are pleased to finally debut these extraordinary pistols!
Langdon Tactical has also stated that custom work will be available for existing, factory HK P30 and P2000 pistols. Current owners will be able to send them in to have work done, including trigger jobs, night sight installation and red dot mounting solutions. The new custom LTT P30 and P2000 pistols are available to order now and have MSRPs ranging from $999.50 to $1,408 depending on the options selected.
For more on Langdon Tactical, please visit langdontactical.com.
---
More On H&K Guns: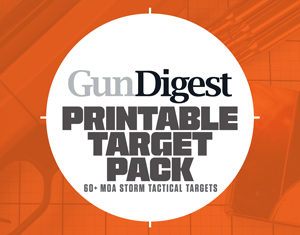 Next Step: Get your FREE Printable Target Pack
Enhance your shooting precision with our 62 MOA Targets, perfect for rifles and handguns. Crafted in collaboration with Storm Tactical for accuracy and versatility.
Subscribe to the Gun Digest email newsletter and get your downloadable target pack sent straight to your inbox. Stay updated with the latest firearms info in the industry.