Updated 6/29/2023
Looking to keep a lid on your black rifle? Here are some of the best AR-15 suppressor choices around.
What are the best AR-15 suppressor makes and models:
Suppressors have burned across the shooting world like a prairie fire in recent years. Perhaps the only issues holding them back further are Federal paperwork and taxes required to procure one. Save those, it's a fair bet nearly every shooter would have at least one – for the sake of curiosity.
The somewhat unfair veil the National Firearms Act has drawn over suppressors makes them a mystery to many well-informed shooters. Even those rusty on acoustic engineering fundamentals understand the underlying concept of how they work. Though, it's quite a leap from elementary knowledge of firearms suppression and what cans will actually pull off the job. Double this when it comes to the saturated AR-15 suppressor market.
Accessories and gear hounds to a fault, the popular rifle's fans have their work cut out when shopping for this particular device. In short, the AR-15 suppressor square is crowded and sometimes confusing.
AR-15 Suppressor Costs
Like most things in the firearms world, there's no hard and fast answer to how much it costs to slap a can on your carbine. There are cheap options and expensive ones, it just all depends on what you're willing to pay. Overall, shooters can expect to pay around $400 to $1,500 for most suppressors compatible with an AR-15, with some outliers at either end. Mind you, this is for the can itself; on top of the muzzle device, you also must pay $200 for your tax stamp (this is a one-time expense per suppressor), since suppressors are NFA-regulated devices. Not to mention the time you'll invest filling out paperwork and waiting for your can to arrive. If you want a more in-depth look a the purchase procedure, we suggest you read our piece on how to buy a suppressor.
Suppressor Lifespan
As an aside, you'll get the most for your money out of a great majority of suppressors. By this I mean, a quality-built can will last a long time. Suppressors built from steel or a high-temperature alloy in its baffles can conceivably push into the tens of thousands of rounds before petering out—generally through a crack in a baffle or the tube itself. Some modern suppressors using steel or high-temperature alloy (say Inconel) baffles can endure extended periods of fully automatic fire without damage. The highest-quality rifle suppressors available today have a claimed service life of greater than 30,000 rounds.
Sound Suppression
Of course, everyone wants to know if the investment is worth it. Exactly how loud is an AR-15 with a suppressor installed? This is somewhat a tricky question to answer, given there are a lot of variables involved from caliber shot to barrel length, and environmental conditions. But a brief ballpark with an average M4 style carbine chambered for 5.56 NATO at least gives a general picture. Without a can, the gun produces a report around 165 dB, with a suppressor mounted, maybe around the 135 dB neighborhood. Not enough to raw dog your ears when at the range, still it's a notable reduction greatly enhancing your hearing protection.
Suppressed AR-15 Accuracy
This leads to another point, namely, despite its name, a suppressor delivers more than simply sound suppression. A fringe—perhaps a primary—benefit of adding a suppressor to your AR-15 is recoil mitigation. Yeah, must chamberings for the rifle are pretty tame, to begin with, but with a can on the muzzle are next to nothing. This is a good thing. Overall, less recoil means less muzzle rise, which equates to faster target reacquisition, thus the potential for more accurate rapid fire. Plus a suppressor all but does away with muzzle flash, which conceals your position at night and stops from poisoning your eyes in low-light situations. Those aspects might be worth the admission price alone.
Best AR-15 Suppressor Options
YHM Nitro N20
Do-all. There's perhaps no better way to describe what Yankee Hill cooked up with its new NITRO N20 can. More than an AR-15 suppressor, it's capable of hushing up nearly any gun in your arsenal in the least invasive and most convenient way possible. Seem impossible? Read on.
The modular suppressor is designed to run on everything from pistols to light-duty rifles and is compatible with calibers ranging from .17 HMR up to .308 Win. Much of the flexibility is thanks to the N20 indiscriminate mounting system. You can slap on the suppressor via a Nielsen adapter, Phantom Q.D., a multitude of direct thread sizes and a slew of other systems. In addition to this, the can runs in two configurations—7.5-inch long and 5.4-inch short—to adapt your particular firearm and circumstances.
As to sound suppression, the titanium unit does a respectable job, knocking down the report of 300 Blackout to 127 dB in its long configuration and 135 dB in its short. Need a bit more, the endcap accommodates a wipe. Overall, it doesn't get much more versatile than this.
Caliber: .17HMR – 9mm / .308 Win.
Weight: 6.5 oz (Short) / 10 oz. (Long)
Diameter: 1.562"
Overall Length: 5.4" to 7.5"
Attachment Type: Multiple
Material: Titanium
MSRP: $1,249
yhm.net
Thunder Beast Dominus-SR
There are few better ways to explain the Dominus-SR than a fighting suppressor. In testing, Thunder Beast brutalized this full-auto rated can, running through 10 cycles of SOCOM/SURG firing schedule and retesting it against a brand new unit. The difference between the two, the test suppressor comes back 1 dB louder than the one out of the box. Impressive.
A titanium body, fully welded, the short and squat unit is rated for 5.56 NATO to .308 RUM making it a fairly flexible option. Not only does it hold down duty as an AR-15 suppressor, but is also at home on a precision bolt gun or AR-10. Regardless of gun, the welded titanium Dominus-SR does little to burden the platform. It's a bit girthier than other options with a 1.8-inch diameter, but it is shorter than most at 6.95-inches and is relatively light for its size at 12.5 ounces. Utilizing Thunder Beast's SR mount system, the Dominus-SR is also incredibly simple to get on and off your gun and offers incredible lock-up.
Caliber: 5.56 up to .300 RUM
Weight: 12.5 oz
Diameter: 1.80"
Overall Length: 6.95"
Attachment Type: SR Mount
Material: Titanium
MSRP: $1,610
thunderbeastarms.com
Rugged Suppressors Surge
Modularity is a catchword often haphazardly tossed around the firearms industry, but it is something the Surge 7.62 truly delivers. Configurable from 9 to 7.5 inches, the Surge 7.62 is a tidy package for those who need an AR-10 or AR-15 suppressor that adapts to any situation. Short and sneaky or long and silent, you get both in one device. And it's as flexible in compatibility.
Rugged Suppressors more than lives up to its name with the Surge, which handles' any almost anything north of 5.56mm (thanks to interchangeable front caps). How north? How about .300 RUM! Plus, it's full-auto and belt-fed rated, which to average shooters equates to a suppressor that's more than engineered to handle anything you throw at it.
Much of this is thanks to the material. Rugged Suppressors didn't skimp constructing the Surge from stainless-steel and Stellite. Yeah, it puts the hush tube on the hefty side—21 ounces—but it's by no means unmanageable. Convenience is also part of the package, with the can's dual taper locking system making it easy to jump between guns. If versatility and ease of use are at a premium, the Surge is well worth the investment.
Caliber: 5.56mm, .30 Caliber
Weight: 21 ounces
Diameter: 1.5 inches
Overall Length: 7.5, 9 inches
Attachment Type: Fast-Attach
Material: Stainless Steel, Stellite
MSRP: $1,300
ruggedsuppressors.com
Silent Legion 300 Blackout/6.8 SPC DT
Any round can be suppressed, but the .300 Blackout was specifically designed for this purpose. Thus, it only makes sense to engineer a suppressor to get the most out of the whispering cartridge. Leave it to Silent Legion to go this route.
Its SL-BK came about expressly to all but eliminate the signature of the .30-caliber cartridge, and at the same tick not inhibit the handling characteristics of the rifles on which it's mounted. Damping the Blackout's report by as much as 32 dB and weighing in at just a hair over 14 ounces, it's safe to say the company succeeded on both counts. While noise reduction is important (Why why else would you buy a suppressor?), the heft and size of the direct thread (DT) can might be the more crucial factors. Given many AR-15s chambered for .300 BLK are carbine or pistol configurations, generally meant for CQC, the suppressor keeps them as agile and manageable as if they were unsuppressed.
A titanium build, the SL-BK is also as rugged as you expect an AR-15 suppressor to be. Though it's a direct thread (⅝" -24 2B) unit, so it doesn't come off and on as quickly as other options, if that's a concern for you. The 6.8-inch can does have some versatility, also compatible with the resurgent 6.8 SPC. And, relatively speaking, the model is fairly economical to boot.
Caliber: .300 Blackout, 6.8 SPC
Weight: 14 ounces
Diameter: 1.5 inches
Overall Length: 6.63 inches
Attachment Type: Direct Thread
Material: Titanium
MSRP: $998
silentlegion.com
Dead Air Nomad L
Balance is often the concern when selecting a suppressor. Which can muffs noise to a manageable level, while not proving imposing dangling off the muzzle of a rifle. However, there are times and circumstances where asymmetry enters the equation, with one factor outweighing the others. If noise reduction is what your after come hell or high water, then the Nomad L is your answer.
Essentially the Nomad L is an enlarged variation of Dead Air's popular Nomad-30, measuring in at 8.39 inches in length and 1.735 in diameter. Certainly, it's more to attach to the end of a rifle, but the larger dimensions increased the internal volume of the suppressor, giving it better noise reduction qualities, as well as relieving backpressure. Honestly, the Nomad L has the full potential of significantly cutting down the report of something as barky as the .300 Winchester Magnum. But as an AR-15 suppressor, erasing all but the supersonic snap of 5.56 NATO and making sub-sonic .300 Blackout a mere whisper.
While bigger than many of the options on this list, the Nomad L is surprisingly unobtrusive. Yeah, it'll add length to the platform and, at 18.3-ounces in weight, heft. But stainless-steel and Grade 5 titanium construction, it's much more practicable than its measurements imply.
Caliber: Up to .300 Norma Magnum
Weight: 18.3 ounces
Diameter: 1.735 inches
Overall Length: 8.39 inches
Attachment Type: Direct Thread (KeyMo and Xeno Adapter compatible)
Material: Stainless Steel and Titanium
MSRP: $999
deadairsilencers.com
Griffin Armament Paladin 5
Unless you're hoarding away millions in lotto winnings, buying multiple suppressors can become taxing — literally and figuratively. That's where do-all models earn their keep, allowing the ability to suppress multiple guns. And few do more than Griffin Armament's all-around small-bore wonder.
Rated for everything from the .22 LR to the explosive .22-250 Rem., the Paladin 5 Suppressor is a small-caliber jack of all trades. Featuring extensive use of 6AL4V titanium in the components, the 6.3-inch long user-serviceable unit tips the scales at only 12.5 ounces. Griffin Armament utilizes stainless- steel as well, making for a rugged tube and a blast baffle you never have to worry about sparking.
As for where the rubber meets the road, the Paladin 5 tames a .22 LR's report to about 114 dB and a 5.56's to 131 dB. As far as an AR-15 suppressor goes, this is about as versatile as it gets—something as adept on your full-strength rifle as it is on your trainer.
Caliber: From .22 LR to .22-250 Rem.
Weight: 16 ounces
Diameter: 1.5 inches
Overall Length: 6.3 inches
Attachment Type: n/a
Material: Fast Attach
MSRP: $849
griffinarmament.com
Liberty Zulu Integral 5.56 NATO Upper
Integral suppression is nothing new. What's changed as of late is that, it's no longer a semi-custom affair. Liberty Suppressor is among the latest to put integral suppression within shooters' reach, with the Zulu Upper Receiver, the perfect option for those aiming to keep the nimbleness of their carbine intact. The entire upper tips the scales at 3 pounds, 11 ounces, with a 16.6-inch barrel that includes the suppressor. That's a boon when it comes to AR-15 suppressors, keeping a carbine as manageable as if it was unsuppressed. And Liberty didn't hold back putting together a top-notch upper.
The manufacturer turned to Aero Precision for the receiver, Odin Works for the barrel (10.5 inches) and St. Croix Tactical for the bolt carrier group. Overall, that's a strong build. The integrally suppressed portion is all Liberty, featuring grade 5 titanium baffles and an Inconel 718 blast baffle for extra robustness. The built-in can is tuned for 5.56 NATO, and because the suppressor is pinned and welded to the barrel, the upper only requires one tax stamp to purchase.
Caliber: 5.56mm
Weight: 3 pounds, 11 ounces
Diameter: n/a
Overall Length: 16.6 inches
Attachment Type: n/a
Material: Aluminum, Titanium, Inconel
MSRP: $2,194
libertycans.net
Dead Air Sandman
A standby option nearly the moment it hit the market, it's difficult to go wrong with the Sandman as an AR-15 suppressor or on any other long-gun. There's no trick to what Dead Air has done, they've simply built a quality can that performs each time you pull the trigger.
There's also some versatility in the suppressor. Available in three lengths—5.4-inch K, 6.8-inch S and 8.9-inch L—there's a mode for your particular firearms. In terms of an AR, all of them will work, but the S seems the best suited for the job. It more than provides ample noise reduction, though does weigh in at a hefty 17.7 ounces. There's durability in the weight. The welded stainless steel/Stellite can is fully-auto rated and more than up to the day-to-day abuse likely to be thrown at it.
Nice as it Sandman is itself, its mounting system also shines. Utilizing a proprietary muzzle brake, the mount offers a repeatable interface with the suppressor eliminating the concern of baffle strikes and ensuring precision. There's plenty more to love about the Sandman, but this should be enough to see why it's among the most popular cans out there.
Caliber: 5.7x28mm up to .300 Win. Mag.
Weight: 12.8 oz.-21.8 oz
Diameter: 1.5"
Overall Length: 5.4"-8.9"
Attachment Type: KeyMo brake
Material: Stainless Steel/Stellite
MSRP: Starting at $899 (K Series)
deadairsilencers.com
SilencerCo Omega 300

Gird your loins, you'll pay a pretty penny for SilencerCo's legendary do-all suppressor. However, you'll have peace of mind that you're getting more than your money's worth. Compatible with every caliber from .223 Remington to .300 Winchester Magnum, the Omega covers every conceivable base for an AR-15 suppressor and beyond.
Excellent performance, the Omega reduces a subsonic .300 Blackout's report to around 119dB and a .308 Win. to about 133dB. Equally attractive, the can is among the smaller, lighter options on the market today. At 14.8 ounces, it won't tip a rifle out of balance. Furthermore, its 7.08-inch length doesn't make a gun unwieldy — particularly a carbine. Finally, the Omega's 1.57-inch diameter keeps a clear line of sight on most rifles aimed with both irons or optics.
Getting the suppressor on and off a gun is almost cheating. It's possible to mount the Omega the traditional way, via direct-thread to your muzzle. However, if you find you'll switch it between guns or will shoot suppressed or un-suppressed at a moment's notice it boasts a convenient quick detachment system. Requiring only a few turns of a locknut to install, it only takes seconds to swap out.
Calibers: .223 Rem./5.56 NATO TO .300 WM
Muzzle Decibel Averages: .300 BLK: 119.5 DB, 5.56 MM: 130.1 DB , .308 WIN: 133.2 DB
Weight: 14.8 OZ
Length: 7.08″
Diameter: 1.57″
Materials: COBALT-6, INCONEL, STAINLESS STEEL & TITANIUM
MSRP: $939
silencerco.com
Gemtech Dagger II

A full-sized can, the Dagger seems an intimidating addition for some shooters. However, the popular Gemtech suppressor's performance more than endears it to anyone lucky enough to get trigger time on a gun outfitted with one.
The 8.8-inch unit is rated — actually designed — for the .300 Win. Mag., but does a job on any lesser cartridge that doesn't exceed pressure specifications. How much noise reduction can you expect from it? Around 30dB, more with subsonic ammunition. Pretty solid.
Constructed of titanium, the Dagger is tough and ready for action well away from the shooting range. Yet, despite its size and ruggedness, the suppressor is surprisingly won't weigh you down in the field, at a scant 14.8 ounces. That's getting into compact suppressor territory. This feature makes the Dagger much more appealing, not to mention practical, size notwithstanding.
Given QD systems are all the rage, some might crinkle their nose at having to direct thread the Gemtech suppressor. Perhaps not as convenient in the split second you want to swap it between guns, the system is simpler. It does not require a proprietary muzzle device, which is less to worry about. Furthermore, it keeps your gun lean and mean. Never a bad thing.
A side note, the Dagger is full-auto rated. Not that it will matter to most of you, but it's mentioned in case the independently wealthy are currently reading.
Caliber: .30, .300 WIN MAG
Sound Reduction: 30dB
Diameter: 1.5″
Length: 8.8″
Weight In Units: 14.8oz
Mount: Thread Mount 5/8-24
Material: Titanium
Full Auto Rated: Yes
Finish: High Temp Black Cerakote
MSRP: $1,099
gemtech.com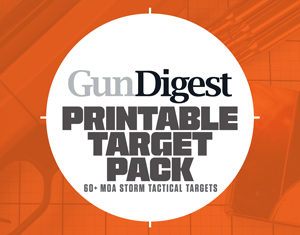 Next Step: Get your FREE Printable Target Pack
Enhance your shooting precision with our 62 MOA Targets, perfect for rifles and handguns. Crafted in collaboration with Storm Tactical for accuracy and versatility.
Subscribe to the Gun Digest email newsletter and get your downloadable target pack sent straight to your inbox. Stay updated with the latest firearms info in the industry.