Updated 08/03/2023
Get a handle on your rimfire's report with these top .22 suppressor options.
What are the best .22 suppressor options:
Shooting suppressed is a daunting proposition, which is why many interested parties shy away from getting a handle on their gun's report. Initially, it's the intimate relationship via paperwork you kindle with the Federal Government, suppressors being an NFA device, that turn off potential buyers. Then it's the cost. Cans themselves run a pretty penny, on top of that Uncle Sam takes his cut (again, thanks NFA).
It all seems a bit much, even for those highly motivated to protect their hearing or maintain the peace while on the hunt. Luckily, there is a fairly cost-effective way to test the waters, to see if suppressors are your bag. Rimfire, in particular, .22 suppressor options abound and are generally quite a bit more affordable than their centerfire cousins. Besides, given the effectiveness of the small-bore cans, few calibers are more fun to suppress. A good suppressor, you almost get into tranquil territory with a .22.
Finding The Best .22 Suppressor
Inevitably the question is raised, what makes a good suppressor? Unfortunately, there's no simple answer, given – like guns themselves – it's highly subjective. It comes down to what you want out of a can. For some, that means the utmost suppression, no matter a device's size. Others, it's noise reduction enough to cut it, without interfering with the manageability of a firearm.
In general, some common considerations should be taken into account to ensure you get what you want, including:
Cost: Given you'll have a steep tax bill in addition to costs, be certain you can afford what you want.
Suppression: Noise reduction is the whole reason why you're making the investment.
Durability: It's not worth the money if it poops out on you after a few hundred rounds.
Maintenance: Rimfires are dirty, you want something that cleans up easily.
Manageable: You want something that isn't going to put the operation of your gun completely out of whack.
Ultimately, you'll have to decide what the tradeoffs are when making your final decision. But hopefully, we can clear the air a bit on what the top options are today. Built rock solid, able to make a report nearly non-existent and generally in most shooters price range, these rimfire and .22 suppressor options are among the best. And, perhaps, one is the right choice for you.
.22 Suppressor Options
ODIN Works NAV 22
Modularity, it's been a boon for both pistols and rifles, why wouldn't the same hold true for quietmakers? ODIN Works sees it this way, so for its very first venture into the .22 suppressor market whipped up a can equally quiet and versatile. Tubeless, the six-baffle Nav 22 ranges in size from 6.5 to less than 2 inches, conforming to any circumstances you might encounter. Not to mention, it's a snap to clean as well.
Full-sized, the Nav 22 is no slouch in putting a lid on your rimfire, reducing a .22 LR rifle to around 113 dB and a pistol to 119 dB. As you might well imagine, the fewer baffles, the less suppression, but you gain a more nimbleness in your gun if that's your goal. Though, full strength it's not as if the can bogs you down, with the aircraft-grade aluminum/stainless steel suppressor tipping the scales at a mere 4 ounces. Knock it down to size, the Nav 22 is only 2.3 ounces.
Mercifully, ODIN Works has included ample wrench real estate on the end cap to get the suppressor on and off your gun. As expected, it has a standard ½-28 tread pattern, making the can compatible with nearly any rimfire. Additionally, the Nav 22 is available in two colors—sand and black—if matching the finish of your gun is a must.
ODIN Works NAV 22
Weight: 4 oz fully assembled, 2.3 oz smallest configuration
Length: 6.5″ fully assembled
Diameter: 1.5″
Mount: 1/2-28 TPI
Materials: Stainless Steel & Aluminum
MSRP: $349
Rex Silentium MG22 Extreme Duty

Face it, for all their benefits, suppressors aren't the cheapest firearms accessories to get into. Unit cost is just the tip of the iceberg, the dreaded tax stamp—a steady $200—is also part of the equation. Given that's not changing any time soon, an affordable can is well worth a look—especially if you're dipping your toe into the muzzle device for the first time.
Rex Silentium delivers on this its relatively affordable MG22 Extreme Duty Suppressor. If the .22 suppressor's daily economical price isn't enough, well it's modular too. Honestly, it's a great deal, particularly since it stands its ground—fully configurable—with most other options on the market. You can expect the suppressor to knock down a rifle to around 116 dB, which is right on the money.
In all, you can set up the Extreme Duty in 9 lengths, tuning it to both the weight and suppression needs for a particular task. To boot, the can is constructed of hardened stainless steel, bringing a measure of durability to the package. Heck, Rex Silentium boasts you don't have to clean it–an offer most rimfire shooters should take a pass on.
Rex Silentium MG22 Extreme Duty
Weight: 17 oz fully assembled
Length: 6.5 inches fully assembled, each baffle is approximately 0.47″ inch
Diameter: N/A
Mount: 1/2-28 TPI
Materials: Stainless Steel
MSRP: $390
HUXWRX RAD 22
Sometimes it's worth sticking to the tried-and-true; on other occasions, it pays off to break from the herd. HUXWRX has gone the latter route with its newest .22 suppressor—the RAD 22. The company has wandered from the norm with its baffle design, which is uniquely contoured to more efficiently reduce noise. How what the company calls "Flow Baffles" do so is a radial groove on the exterior of the components that push expanding gases away from the bore line and the shooter. It does a solid job, cutting down standard .22 ammo report to the 115-119 dB range, depending on barrel length. As an added benefit, the RAD 22 tends to stay a bit cleaner than many other options.
A rugged option, the RAD 22 is fully-auto rated and boasts a titanium tube and 17-4 heat-treated stainless steel baffles. It's also fairly slim, measuring 1.08-inch in diameter and only adds 5.6-inches of length to a firearm. A down point, it is a tad heavy for its class, tipping the scales at 6.3 ounces. But for what the unit offer that's not a deal-breaker.
HUXWRX RAD 22
Weight: 6.3 oz
Length: 5.6″
Diameter: 1.08″
Finish: Cerakote
Mount: 1/2-28 TPI
Materials: Stainless Steel & Titanium
MSRP: $489
Q Erector
It's nice to have options. The Q Erector gives you plenty of them. A modular and tubeless suppressor, the device gives you nearly endless configurations to match your application. Need a little something to take the edge off your pistol, slap on one baffle. Stealthiness at a premium out hunting, go the whole hog and screw together the entire stack. The sky—and the 10 baffles—are the limit.
Simple as it is versatile, the Erector comes apart easily for maintenance and modification on the fly. Given it's tubeless, you also don't have a ton of parts to deal with. Outside baffles, you only have to keep track of end caps, which streamlines things considerably.
Fully assembled, the Erector is an afterthought, weighing in at 2.6 ounces. You heard that right. Much of this is thanks to the ample use of aluminum; only the blast baffle is stainless steel. Flexible and effective, Q has come up among the most versatile rimfire suppressors around.
Q Erector
Weight: 2.6oz
Length: 7.6″
Diameter: 1.0″
Mount: 1/2-28 TPI
Materials: Stainless Steel & Aluminum
MSRP: $450
Thunder Beast Model 22 Take Down
Thunder Beast's 22S-1 was a solid can, but posed its problems. In particular, it was sealed, which made the suppressor a regular pain in the neck to clean. And rest assured, all .22 suppressors need cleaning. Thankfully, the company has resolved this issue with its Model 22 Take Down suppressor.
As its name suggests, it's user-serviceable, allowing you to disassemble the entire baffle stack to get every smug of carbon out. At the same tick, it produces the ear-pleasing results of its predecessor, knocking most .22's reports down around the 115 dB neighborhood. Plenty good enough to keep your hearing healthy, especially with a layer of protection.
Solidly built from titanium and stainless steel, and Cerakote finished, the fully-auto rated device is more than ready for field-level abuse. It's also unobtrusive, at 5.9 ounces, 5.6 inches in length and 1 inch in diameter. Best of all, the Model 22 Take Down falls on the affordable side of rimfire suppressors, making it an excellent choice for newbies or the budget-conscious.
Thunder Beast Model 22 Take Down
Weight: 5.9oz
Length: 5.6″
Diameter: 1.0″
Finish: High Temperature Cerakote
Mount: 1/2-28 TPI
Materials: Stainless Steel & Titanium
MSRP: $425
Tactical Innovations TAC65

Long in the tooth, the TAC65 continues to wow shooters with its price point and performance. Economical compared to other .22 suppressors, the device does not skimp when it comes to noise reduction, functionality and ease of maintenance. To the meat and potatoes of the six two-stage K baffle suppressor, it cuts the report of a .22LR an average of 38.5dB. In most cases, this means both pistol and rifle noise is reduced to the level where, with hearing protection, it's nearly unnoticeable.
Slime and light, the aluminum suppressor is nearly unobtrusive on most firearms. This is a bit of an overstatement – of course, you'll know there's a 5-inch tube protruding from the muzzle of your gun. Yet, at 4.1 ounces it does little to tip even compact .22s out of balance. Furthermore, its 1.085-inch diameter, it's low enough most guns' factory sights remain usable. Completely user-serviceable, the TAC65 can go years and hundreds of rounds before it requires factory support.
TAC65 Specs
Weight: 4.1oz
Length: 5.9″
Diameter: 1.085″
Finish: Matte Black
Mount: 1/2-28 TPI
Materials: Aluminum
MSRP: $250
AAC Halcyon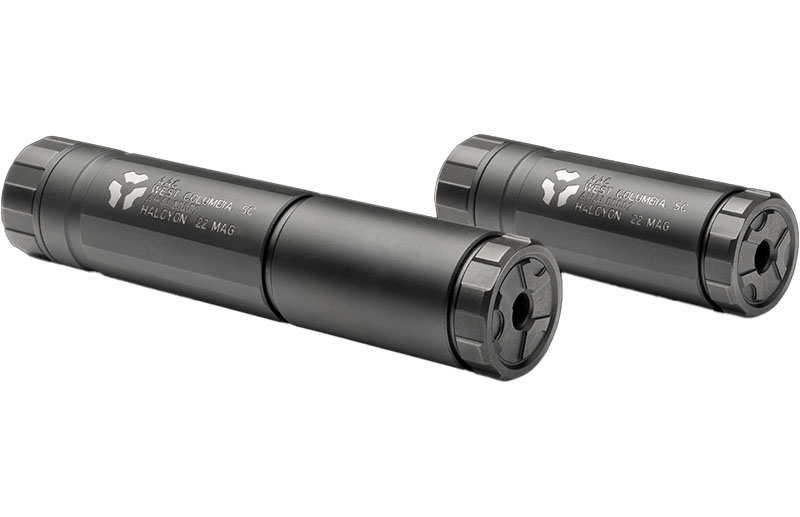 Nothing less than a top performance is expected with an Advanced Armaments Corp. can, and the Halcyon doesn't fall short. Built to brick outhouse specs, the device is full-auto rated for .22 LR, and in semi-auto can handle hard-hitting .17HMR, .22 Mag and 5.7x28mm as well.
Much of the magic is in the suppressor's materials. A titanium tube and shielded titatnium K baffles not only make the Halcyon impervious to rough handling, but also do a heck of a job on a gun's report. On average, expect around 42dB of noise reduction – among the top performers on this list.
Despite heftier construction, AAC still cooked up a very manageable .22 suppressor, made even better by its modularity. The unit is capable of being used in either full or compact configurations, weighing either 4.5 ounces or 6.4 ounces, respectively. It has a 1-inch diameter tube and a length of either 3.41 or 5.8 inches.
ACC Halcyon Specs
Weight: 4.5/6.4 oz
Length: 3.41/5.8″
Diameter: 1.0″
Finish: Black PVD
Mount: 1/2-28 TPI
Materials: 17-4PH T6 Titanium
MSRP: $449.95
SilencerCo 22 Sparrow

Simple and quiet, who can argue with that? Not most .22 shooters who turn to SilencerCo's expert design and nearly flawless manufacturing of the Sparrow suppressor. Constructed of stainless steel, the rugged rimfire can is a jack-of-all-trades, reducing the sound signature of every small fry – rimfire or otherwise. Rated up to FN 5.7x28mm, the suppressor can knock down a .22LR's report to a relatively inconspicuous 112dB.
The 5-inch long Sparrow cuts a low profile, only a little over an inch in diameter. In turn, the .22 suppressor is a mount-and-shoot affair for most guns, not requiring high-rise sights to get on target. Slim as it is, the can trails its compatriots in one respect – weight. At 6.6 ounces, it is among the heavier options out there – a price is paid for sturdy materials. Yet, once mounted and a shooter acclimated, it shouldn't prove overwhelming.
Easy to maintain, the Sparrow is a bit different than other .22 option. A monolithic core is reached by separating two half-tubes. Different and requiring some study, nevertheless it's not the riddle of the Sphinx.
SilencerCo Sparrow Specs
Weight: 6.5oz
Length: 5.08″
Diameter: 1.06″
Finish: Black Oxide
Mount: 1/2-28 TPI
Materials: Stainless Steel & Titanium
MSRP: $349
---
Get More Suppressor Info:
---
Dead Air Armament Mask

The Mask isn't exactly a budget .22 suppressor. Yet, for the engineering and materials in the can you'd expect to pay twice the price. Optimized baffles, titanium, stainless steel, Dead Air Armament went the whole nine yards to produce arguably one of the best high-performance values out there.
While there are many intriguing points, the most eye-catching is the suppressor's efficient K-baffle design. Called a "compressed-K" configuration, the stack is designed to keep all fouling – carbon and otherwise – in the eight baffles themselves. Anyone who's broken down a rimfire suppressor already knows the advantage, cutting down routine maintenance to a fraction of the time of comparable options. The heavy-duty materials also do a number on a gun's report, toning it down to around 115dB, depending on the round fired.
Again, stainless steel baffles mean the Mask tips the scales a bit more than some, weighing in at 6.6 ounces. However, at 5.1 inches in length and 1 inch in diameter, it is slender and dexterous. As far as high-end rimfire suppressors go, the Mask hushes up most of its competition.
Dead Air Mask Specs
Weight: 6.6oz
Length: 5.1″
Diameter: 1.07″
Finish: Cerekote
Mount: 1/2-28 TPI
Materials: Stainless Steel & Titanium
MSRP: $469
SIG Sauer SRD22X

A relatively new player in suppressors, SIG Sauer nonetheless has already left its mark on the market. Case in point, the SRD22X. The multi-caliber suppressor is made field tough and makes the likes of .22LR spooky quite.
A titanium tube and stainless steel baffles are at the heart of the matter. In addition to standing up to the most rigorous use, the combination of materials can quiet most .22 rounds down to 110dB. That's tranquil in terms of gunfire.
Despite the denser baffle material, the SRD22X remains relatively light, right around 5 ounces. This is due to SIG milling the stack extraordinarily thin to remove excess material. A sealed M baffle design, the stack catch much of the muck that comes out of the end of a rimfire, making clean up a cinch. A hair longer than many .22 suppressor options – 5.8 inches – the device is still slim and won't interfere with a sighting system – pistol or rifle. At the expensive end, the SRD22X more than gives you your money's worth.
SIG SRD22X Specs
Weight: 5.2oz
Length: 5.8″
Diameter: 1.0″
Finish: Black Anodized
Mount: 1/2-28 TPI
Materials: Stainless Steel & Titanium
MSRP: $480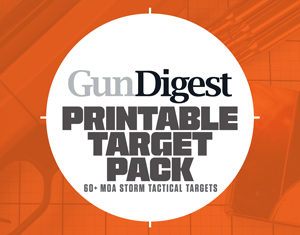 Next Step: Get your FREE Printable Target Pack
Enhance your shooting precision with our 62 MOA Targets, perfect for rifles and handguns. Crafted in collaboration with Storm Tactical for accuracy and versatility.
Subscribe to the Gun Digest email newsletter and get your downloadable target pack sent straight to your inbox. Stay updated with the latest firearms info in the industry.