A few costly, but worthwhile, additions to your reloading bench.
I was taught to reload with minimalistic gear. It wasn't that we couldn't afford anything better than what we had; it was a combination of being unaware of certain products and my dad's frugality. Dad had a Lee turret press from the 1970s, which was housed in a neat finger-joined wooden box that could double as a stand, and an RCBS 505 balance beam scale; the rest of the gear we went halves on.
Now, I'm not complaining. We made great ammo with very little gear, and there's absolutely nothing wrong with that. But as I started seeing impressive groups at the target board, I went down the rabbit hole, so to speak.
I started researching different pieces of gear in order to make better ammunition—and to make my life easier. I soon realized there was a high-end tool for nearly every imaginable step in the reloading process, some of which I'd never heard of or imagined.
Of course, Ol' Grumpy Pants would almost always deem these types of tools a frivolity, but I started down the road to amassing a set of proper reloading tools. While I still use many of the tools I started with, some of the more elaborate tools I really enjoy and don't regret spending the extra money on.
If you're looking to expand your tool set, these might interest you.
Redding T-7 Turret Press
"Cast iron construction, powerful compound linkage and a rigid seven-station turret combine to make the Redding T-7 the best turret press ever." So reads the product description on the Redding Reloading website, and I can't disagree with a single word of it. I've long referred to the T-7 as the "Cadillac" of presses, not just turret presses.
It has a rotating turret with detents for each station, and once in place, the head won't budge without some effort. Seven threaded holes accept the standard 7/8-14 threaded die bodies, and the ram takes standard shell holders. That 1 inch-diameter steel ram offers 3.8 inches of travel, so even cartridges as long as the .416 Rigby can be loaded. The T-7 comes with a priming arm and a neat spent-primer collecting system.
It's still a single-stage press, in that it only performs one function at a time, but it's very nice to keep the entire die set on the press, and to quickly and handily switch between resizing die and seating die, or add a crimp or flaring die into the mix. Simple rotate the head of the press, rather than spend a whole bunch of time screwing and unscrewing dies.
RCBS ChargeMaster 1500 Powder Dispenser
I've used a bunch of different methods for measuring powder, from using a spoon to scoop powder into the pan of a balance beam scale, to a mechanical powder thrower to a premeasured scoop. But the RCBS ChargeMaster 1500 electronic powder dispenser is a favorite.
A large hopper holds a significant amount of powder, and an LCD display allows the user to key in the desired powder charge. The unit then turns the worm screw to dispense powder into the pan, which is situated on a precise electronic scale. As the target charge weight approaches, the unit slows to a trickle, and it stops when the charge weight is reached.
You can store your favorite loads, calibrate the scale and even trickle additional powder if the machine stops short. An audible beep warns of charges either over or under proper weight, and the unit will keep count of the charges dispensed, so you can make sure all of the cases in your block are charged. This is a piece of gear I can't do without.
Micrometer Seating Dies
This is a simple innovation that makes the reloader's life much easier. Setting the seating depth with a conventional seating die is a matter of trial and error, usually resulting in a minor deviation during the locking process. Those seating dies with a micrometer adjustment tend to stay where you put them, and once you measure the amount of adjustment you'll need, you can simply dial that amount and be confident that the bullet will be seated where you want it.
Most companies now offer micrometer dies; I've had great success with RCBS, Redding, Lyman and others. There are also dies for taper crimping that offer micrometer adjustment. And once you get used to the precision, you probably won't want to go back to the old style of dies.
RCBS Universal Case Prep Center
Trimming brass can be a chore, but for straight-walled cartridges that require a roll crimp, case length is paramount, and trimming to a uniform length will result in the most uniform roll crimp possible.
The Universal Case Prep Center has an adjustable electric motor, which spins a shaft that holds a carbide cutting head and caliber-specific pilot. The opposite end has a set of spring-loaded adjustable jaws that hold nearly any cartridge. The cutting depth can be set via two set screws and is micrometer adjustable to obtain a precise case length. I use this trimmer all the time, whether I'm loading .45 Colt, .45-70 Government or making my .318 Westley Richards brass from .30-06 brass.
The top of the unit has six rotating stations, which can hold a number of different tools. I have mine set up with chamfer tool, deburring tool, large and small primer pocket scrapers and cleaning brushes. The adjustable motor allows me to set the rotation speed to where it suits me best, and I've always appreciated the consistency of the final product; when I apply the roll crimp on my cases and they all come out uniform, it takes the worry out of the process.
If you've been saving your reloading dollars—I sure haven't been spending much on powders or primers lately—maybe it's time to treat yourself to one of these tools to make reloading chores a bit easier once the components come back around. I don't regret any of these purchases in the least.
Editor's Note: This article originally appeared in the October 2021 issue of Gun Digest the Magazine.
---
More Info On Reloading: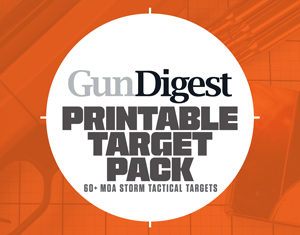 Next Step: Get your FREE Printable Target Pack
Enhance your shooting precision with our 62 MOA Targets, perfect for rifles and handguns. Crafted in collaboration with Storm Tactical for accuracy and versatility.
Subscribe to the Gun Digest email newsletter and get your downloadable target pack sent straight to your inbox. Stay updated with the latest firearms info in the industry.