Looking for a new iron or piece of kit to enhance the one you already own? Check out these 7 new bits of guns and gear to grow your firearms wish list.
The New Guns And Gear:
Bandera OpenTop 11/22 Pistol

Rimfire geeks might be familiar with Fletcher Rifle Works open-top 11/22. In simple terms, it improves upon the Ruger 10/22 by allowing access to the bolt, extractor and firing pin without removing the trigger or separating the receiver from the stock. Handy. Bandera has embraced the concept, releasing it in the form of the 11/22 pistol. Aside from its ease of maintenance, the Charger-esque offering has a slew of other assets. Topping this list is a receiver CNC machined from 6061-T6 aluminum, stainless-steel pins, springs and detents, and a 9-inch carbon-fiber-wrapped barrel with 1/2×28 thread for accessories. Bandera further enhances this with a Ruger BX trigger and shock-absorbing recoil buffer pin.
MSRP: $975
---
Masterpiece Arms ESR Rimfire Rifle

With the rise of NRL22 matches, precision rifles have begun calling the tune in the rimfire market. With that in mind, it's little surprise Masterpiece Arms (MPA) has jumped into purveying top-notch precision rimfire guns. To this end, the company's ESR Chassis turns heads and more than has the chops to take the humble .22 LR the distance … and then some. Built upon the MPA's ESR chassis, it features an MPA/Curtis Action, a Curtis Rimfire bolt, an MPA heavy-profile barrel and is compatible with Vudoo rimfire magazines. For good measure, the gunmaker throws in an ATS barrel tuner. Specialized for competition, the 12-pound rig demands a premium price—it isn't an everyday plinker. But, those who take rimfire precision seriously will appreciate everything the ESR brings to the table.
MSRP: $3,000
---
Savage Arms 64 Precision

Yes, precision rimfire shooting is all the rage, but not everyone can afford the Cadillac options in this category. What to do? Savage's 64 Precision is one answer, offering shooters a lights-out package at a price nearly anyone can afford. Featuring a glass-filled nylon chassis, a 16.5-inch heavy barrel and a well-formed pistol grip, the semi-auto .22 LR extends shooters' reach and provides consistency on target. Savage has threaded the muzzle, making adding a can a snap, as well as pre-drilled and tapped the receiver and topped it with a Picatinny rail for the easy addition of optics. While the stock is fixed on the chassis, it's M-Lok compatible, with slots at the 3-, 6- and 9-o'clock positions. It also sports a barricade stop for steady support shooting.
MSRP: $300
---
Norma TAC-22 Subsonic 40-Grain .22 LR Ammunition

Norma is renowned for across-the-board top-shelf ammo. So, when the manufacturer turns its attention to rimfire, you know it's going to be different … and likely a bull's-eye. Right on both counts with Norma's introduction of TAC-22 Subsonic 44-grain .22 LR HP. Clocked at well under the sound barrier (1,033 fps), the stuff is tailor-made to bring the best out in your suppressed .22, while not compromising on performance. Much of this is thanks to the 44-grain hollow-point bullet, which provides the utmost stability at lower velocities. It also thumps its terminal destination like the dickens. Best of all, Norma far from extracts a pound when it comes to price.
MSRP: $8 per box of 50
---
Standard SG22 Pistol

The best .22 LR pistol? That's not getting hashed out in this space. But it's fair to say, the Colt Woodsman would likely end up in the debate, which makes the news out of Standard Manufacturing fairly exciting. The company's recently launched SG22 is a dead-ringer for one of the all-time classic rimfire pistols—a plus for both performance and aesthetics. Available in three variations—blued, color-case hardened and color-case hardened engraved—the pistols have several attractive features. Some of these include a 6 5/8-inch barrel, target-style walnut grips, crisp trigger and target sights. While a bit on the spendy side, the SG22 most likely will win favor among discerning rimfire pistol shooters.
MSRP: Starting at $1,000
---
Faxon Rimfire Short Barrel Line

With modularity baked into the cake, there's no need to settle for a stock Ruger 10/22. This is where Faxon Firearms' recent offerings give shooters a definite twist in configuring the standby .22 LR semi-auto. Meet the company's short-barrel lineup: Offered in 6-, 8.5- and 10.5-inch models, the stainless-steel firetubes offer an excellent option to build out a 10/22 shorty—be it pistol or SBR. The nice part, Faxon loads them with extras, including threaded and capped muzzles, fluting (flame design in the 8.5-inch barrel) and recessed target crowns. Available with salt bath nitride or PVD coatings, the Faxon barrels are also up to rough use.
MSRP: 6-inch $220, 8.5-inch $255, 10-inch $250
---
Volquartsen Scorpion-X Pistol

The Volquartsen Scorpion has more than made its bones as a top-performing varmint and competition rimfire pistol. Few would say there's any room for improvement. But the innovative Iowa gunmaker has found a way—the Scorpion-X. The flat-top iteration of the .22 pistol gives the gun an important advantage: the ability to mount a slew of different red-dots in several different configurations. The secret sauce is multiple mounting holes on the LLV-X upper. Further enhancing the handgun, Volquartsen offers it in 4.5- and 6-inch barrel configurations, a threaded muzzle and a sweet trigger with a 2.25-pound break. The company also offers the upper as a stand-alone component, compatible with Ruger MKII, MKIII and older Scorpions.
MSRP: $1,410 complete pistol, $514 stand-alone upper
Editor's Note: This article originally appeared in the January 2023 issue of Gun Digest the Magazine.
---
Get More Guns And Gear: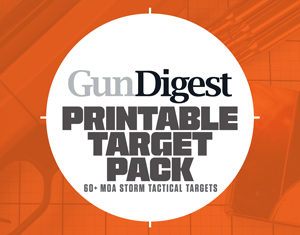 Next Step: Get your FREE Printable Target Pack
Enhance your shooting precision with our 62 MOA Targets, perfect for rifles and handguns. Crafted in collaboration with Storm Tactical for accuracy and versatility.
Subscribe to the Gun Digest email newsletter and get your downloadable target pack sent straight to your inbox. Stay updated with the latest firearms info in the industry.