Looking for a new iron or piece of kit to enhance the one you already own? Check out these 7 new bits of guns and gear to grow your firearms wish list.
The New Guns And Gear:
German Precision Optics SpectraDot

Best known for its offerings in the hunting end of the market, German Precision Optics has plied its expertise in the realm of red-dots … and the results are impressive. The SpectraDot proves to be a tough little optic with features that make it competitive with the best red-dots have to offer. What really catches the eye on the 3-MOA aiming solution is its extremely efficient power management system, which milks out 50,000 hours of run time from a battery. Additionally, it offers up six-day and five-night brightness settings and sensitive 0.5-MOA per click adjustments for windage and elevation. Complete with a Picatinny mount, the SpectraDot is ready to rock out of the box and is certain to please.
MSRP: $421
---
EOTech EFLX

A master of holographic sights, EOTech broadened its horizons in 2022 with its first red-dot. Perfect as a primary pistol sight or a backup on your carbine—and everything in between—the EFLX is a dandy addition to the company's catalog. And the American-assembled red-dot is priced where most shooters can afford to add one to their arsenal. The mini reflex sight is built to the Leupold DeltaPoint's footprint; in turn, it fits plenty of slide cuts … although you can order it Picatinny rail compatible, too. Additionally, the red-dot, available in 3 and 6 MOA, comes with a litany of assets any shooter will appreciate: 20,000 hours of battery life, night vision friendly, large window and lightweight (1.4 ounces).
MSRP: $389
---
Fenix HM60R Rechargeable Headlamp

Flashlights are vital gear, as are weapon lights. But in certain circumstances—say dressing a deer or troubleshooting a broken-down car at night—it's best to have both hands at your disposal. Fenix more than delivers on this with its well-thought-out HM60R headlamp. In addition to a rechargeable power source, the headlamp delivers enough light for any task, kicking out 1,200 lumens on its highest setting. Furthermore, it boasts a spotlight for long-distance illumination, a floodlight with neutral white light for better color rendering, and a red light to preserve your night vision and use for up-close tasks. Perhaps best of all, the headband system is engineered to stay on your noggin and keep the light where you need it.
MSRP: $106
---
Crimson Trace RIG (Rapid Illumination Grip)

Honestly, this is one of the most clever accessories to hit the market in a spell. Instead of bogging your carbine down with a load of necessities, Crimson Trace condensed a few into one handy add-on. The RIG is essentially a forward hand stop dolled up with a 500-peak lumen flashlight. Pretty slick and very intuitive. Compatible with M-Lok systems, the RIG is wicked simple to install and comes with an optional pressure switch—if you happen to roll that way. Best of all, it de-clutters your carbine in one fell swoop.
MSRP: $205
---
Sightron S6 1-6x24mm IR4A

Not exactly a bargain-basement pick for LPVO—but one that certainly is a value—Sightron's S6 way over-delivers in performance, features and options. The most noteworthy is the Japanese glass that the scope sports, giving it an absolute crystalline field of view and making intermediate work as precise as if it were close quarters. The scope's low profile is also a plus, keeping your carbine nimble and manageable. Also, the choice of first- and second-focal plane reticles—with drop compensation and lead marks on the FFP—offers an aiming solution for nearly any shooter. Finally, waterproof and shockproof, Sightron has made the S6 ready for the long haul.
MSRP: Starting at $1,300
---
Aimpoint Duty RDS

Budget and Aimpoint—rarely are those words uttered in the same sentence. That changed this year with the introduction of the Duty RDS … sort of. Face it, the 2 MOA sight is still spendy relative to the rest of the market but is priced right for those willing to shell out for a genuine Aimpoint. Overall, the investment is worth it, as the red-dot is as battle tough as any other of the company's offerings and dead-on target. The regular Aimpoint rigmarole applies to the duty—30,000 hours of battery life, 10 brightness settings (four of which are night vision compatible), crystal-clear glass and more rugged than most require. Plus, Aimpoint throws in a mount and spacer. Nice.
MSRP: $499
---
Leica 32mm Geovid Rangefinding Binocular

Truth be told, the Geovid binos do about everything except kill and dress your deer. In addition to delivering absolutely knockout images, the optic is also a first-rate rangefinder and includes geo-tracking technology. That's a lot of data, all served up each time you survey the field. A few notes on these features: The rangefinder makes readings out to 2,500 yards and the GPS capabilities communicate via Bluetooth to Leica's ballistic app as well as integrate with third-party mapping apps. Perhaps best of all, the entire Geovid system weighs a scant 28 ounces, making it no trouble in the field.
MSRP: $2,900
Editor's Note: This article originally appeared in the November 2022 issue of Gun Digest the Magazine.
---
Get More Guns And Gear: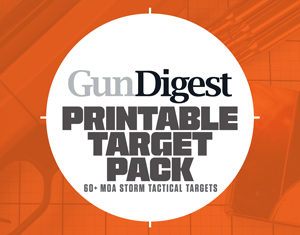 Next Step: Get your FREE Printable Target Pack
Enhance your shooting precision with our 62 MOA Targets, perfect for rifles and handguns. Crafted in collaboration with Storm Tactical for accuracy and versatility.
Subscribe to the Gun Digest email newsletter and get your downloadable target pack sent straight to your inbox. Stay updated with the latest firearms info in the industry.