Looking for a new iron or piece of kit to enhance the one you already own? Check out these 7 new bits of guns and gear to grow your firearms wish list.
The New Guns And Gear:
Colt King Cobra Target .22 LR

There's a tingle that comes with Colt's latest foray into revolvers, knowing the manufacturer might've nailed it on the head. Lovingly dubbed the "Baby Snake," the King Cobra Target .22 LR delivers the aesthetics and performance of the original .357 Magnum, but in a 10-shot rimfire. The all-stainless-steel revolver has some nice twists, whether it's eventually aimed at a bull's-eye competition or high-end plinking. It's available in two barrel lengths (4 and 6 inches), each with a 1:16 twist, is outfitted with Hogue rubber grips, and comes with a bright front fiber-optic sight. As expected with a target model, the King Cobra also boasts a fully adjustable rear sight, so you can dial it in.
MSRP: $999
---
Taurus 856 Executive Grade Revolver

Revolver fans are more than familiar with the buck-saving performance Taurus has offered up over the years. Hey, it's gotten more than one penny-pincher shooting. Tacking somewhat from its proven course, the Brazilian manufacturer is aiming at a higher-end market with the introduction of the Executive Grade line. Kicking things off is the Taurus stalwart 856. As an Executive Grade iteration, the +P .38 Special is built around an all-stainless-steel frame and wears a dashing set of Altamont walnut grips. Aimed at concealed carry, Taurus bobbed the hammer, machined all snag points and hand-tuned each DAO trigger for a smooth, stack-free pull. For the extra money, it looks to offer some solid and attractive upgrades.
MSRP: $689
---
Standard Manufacturing Switch Gun

Given that it's a difficult proposition to get an armed citizen to carry their primary arm consistently, adding a backup gun to the regimen is an even taller task—but Standard Manufacturing might've found a way. Its Switch Gun puts five rounds of potentially lifesaving .22 WMR on tap in a package not a heck of a lot larger than a spare magazine. The stainless-steel and polymer revolver is a true pocket-rocket, folding up into a palm-sized rectangle and deploying at the push of a button. The one catch? It's SAO, which might not appeal to some. But as an insurance policy on your life, it's more than capable.
MSRP: $449
---
Heritage Manufacturing Barkeep Boot

For a bargain single-action army variant, the Heritage Barkeep made waves when it hit the scene in 2021. It continues to do so in 2022 with perhaps one of the more unique configurations to grace throw-back wheel guns in a spell. As hinted by its name, the Barkeep Boot is Heritage's crack at something to slip into the stack of your Tony Lamas. With a 1.68-inch barrel and relatively modest 25 ounces in weight, the .22 LR will fit there, but more likely the six-round revolver is better served as a distinctive pint-sized plinker. Heritage offers the Boot Barkeep with three choices of grip material—gray pearl, black wood and wood with a snake motif—on its bird's head grip. And each comes at a price few folks can pass up.
MSRP: Starting at $197
---
Real Avid Master Gun Vise

Revolvers, pistols or otherwise—to maintain your firearms, you need the tools for the job. A good gun vise is among the first that should grace your bench. Real Avid has you covered with a unit specifically designed for the job at hand, offering a ton more flexibility over a traditional bench vise. The Master Gun Vise not only repositions to hold your firearms at nearly any angle—a plus for many jobs—but it also comes with accessories to fit the tool to the job. One of the more notable is its Gun-Fit jaw sleeves that provided the exact hold for the particular firearm being worked on. Other extras, like a leveling knob (great for mounting scopes) and Torq-Lok pin for applying heavy force, make the Master the ideal implement for any DIY project.
MSRP: $300
---
Federal Ammunition .22 WMR Punch Personal Defense

For some, the .22 Magnum is the most viable self-defense option out there. Federal Premium is making sure those folks have the best possible ammo for the job. Expanding its line of economical personal-defense ammo, the ammo maker recently unveiled its Punch .22 WMR load. Boasting a 45-grain nickel-plated lead-core bullet, the round is designed for maximum penetration needed in personal-defense scenarios. This new load has gone through rigorous testing for reliability and function. The case of the Punch .22 WMR is nickel-plated for easier extraction and corrosion resistance, as well. Overall, when it comes to defending your life, Federal is ensuring the .22 WMR is up to the task.
MSRP: $26 Per Box Of 50
---
Winchester 125-grain .38 Special +P Super-X Silvertip

A unique combination of power, precision and reliable functioning, Winchester Super-X Silvertip is a trusted commodity for self-defense. Now, the ammo maker has added a souped-up option in the time-tested .38 Special: a 125-grain +P load more than capable of taking care of business. Specially engineered for top performance out of short-barreled revolvers, the ammo has an impressive muzzle velocity of 945 fps, guaranteeing top performance from the Silvertip bullets. The projectiles themselves were originally developed for law enforcement as a replacement for traditional hollow-points and deliver penetration and rapid energy release with virtually no weight loss or bullet fragmentation. Super-X jacketed hollow-points have notched jackets to ensure positive expansion, thus a devastating wound channel.
MSRP: $50 Per Box Of 50
Editor's Note: This article originally appeared in the August 2022 issue of Gun Digest the Magazine.
---
Get More Guns And Gear: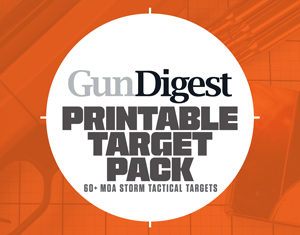 Next Step: Get your FREE Printable Target Pack
Enhance your shooting precision with our 62 MOA Targets, perfect for rifles and handguns. Crafted in collaboration with Storm Tactical for accuracy and versatility.
Subscribe to the Gun Digest email newsletter and get your downloadable target pack sent straight to your inbox. Stay updated with the latest firearms info in the industry.