Take your Kalashnikov rifle to the next level with these functional and ergonomic AK upgrades.
The AR is to many the definition of a fully customizable, modular weapon platform. Stocks, grips, triggers, safeties, charging handles, handguards or even entire uppers — pretty much any part on the rifle — can be swapped out or exchanged with relative ease, and manufacturers produce an abundance of aftermarket parts to do just that.
Customizing the AK-47 and its variants, on the other hand, can be a bit more challenging. The aftermarket for AK upgrades and parts has been more limited in the past, and the AK's design is less conducive to customization, with the original rifle being designed in an era in which iron sights were good enough for the average soldier and a wood stock and furniture were all that were needed.
Additionally, many AK owners simply prefer the rifle with its traditional wood furniture and iron sights, with some purists going so far as to mock those choosing to modify their AK. Memes even exist that strongly dismiss the notion of upgrading or customizing the AK-47 in any way and have made the rounds online in blogs and forums.
Thankfully, not everyone feels this way, and manufacturers offer an assortment of products that help shooters take the AK to the next level. While the AK certainly doesn't have the same degree of modularity as the AR or as large of an aftermarket parts selection, there are still plenty of accessory options and AK upgrades for owners to choose from, and the choices are only continuing to grow each year.
Take a look at this list of accessories and ways to improve performance and functionality from your AK-style rifle. It's by no means comprehensive, but should be plenty to pique an AK owner's interest.
AK Upgrades:
Editor's Note: This roundup does not cover optics mounts. For info on the various side rail optics mounts available for AK-pattern rifles, check out Jim Grant's article on optics mounting options for the AK.
1. Triggers
One of the best ways to upgrade any rifle and increase accuracy is to install a better trigger, and the AK is no exception. While the AK-47 and its variants have never been known for astounding accuracy, some of the factory-installed triggers that come standard don't do them any favors. Several manufacturers offer improved trigger groups for the AK platform that will help you get more hits on target.
TAPCO INTRAFUSE AK G2 Trigger Group
The G2 Trigger Groups available from TAPCO offer an improved trigger pull between 3-4 pounds and eliminate the uncomfortable trigger slap common with other designs. A "no fumble" trigger sleeve allows for assembling the group outside of the rifle and simply dropping it in as one piece. Trigger groups are available in single- or double-hook options and are manufactured using heat-treated, 4140 tool-grade carbon steel. ($32.99; TAPCO.com)
Century Arms RAK-1 Enhanced Trigger Group
Century Arms' RAK-1 Enhanced Trigger Groups are available for WASR, C39, RAS47, AK63DS and many other standard AK-style rifles and pistol variants, as well as for N-PAP, O-PAP, M90 NP, M92 PV and other Yugo AK variants. The trigger is 100 percent American made and has passed a 15,000-round endurance test. Each group includes a hammer, trigger and disconnector, and, thus, constitutes three U.S. 922r compliant parts. ($39.99; CenturyArms.com)
2. Grips
While less critical than a good trigger, a grip that is comfortable and conforms to your hand well is important. Some feel that the standard factory grip on many AKs just isn't the right fit. Luckily, grips are a common upgrade for the AK platform, and plenty of manufacturers offer different grip options.
Hogue AK-47/AK-74 Rubber Grip
Hogue is well known for its handgun grips, but the company also produces grips for tactical rifles like the AK. This OverMolded grip uses Hogue's famed orthopedic handshape with compound swells and naturally proportioned finger grooves and has the manufacturer's Cobblestone texture for a non-slip, non-irritating grip. The grip is impervious to oils and solvents and has a compartment for storage. The 922r-compliant part is available for Chinese, Russian and Yugoslavian AKs. ($26.95-$39.95; HogueInc.com)
TAPCO INTRAFUSE AK SAW Style Pistol Grip
This pistol grip from TAPCO offers AK users a more ergonomic, angled grip similar to that found on the military's M249 SAW light machine gun. The grip's more severe angle and increased width provide the shooter with improved comfort and control when firing the rifle. It is made of a high-strength composite and houses a storage compartment for spare tools and cleaning supplies. ($19.99; TAPCO.com)
3. Stocks
Replacing the stock on your AK is another easy way to improve ergonomics, and tons of manufacturers produce stocks for the rifle. Abundant stock options range from synthetic or wood fixed to metallic folding and adjustable, polymer. Add in adapters that allow your AK to accept any AR-type stock that fits a standard AR buffer tube and the options are nearly endless.
TimberSmith Premium Wooden Stocks
For those who want a new stock to replace an old, possibly damaged factory one but who want to keep the AK's classic look, TimberSmith has several wooden furniture options for Romanian AKs. The stock sets are quite stylish, offering a "like-new" appearance without moving away from the traditional look. Color options include Black Laminate, Brown Laminate, Hardwood and an elegant Red Laminate.
($145-$160; TimberSmithUSA.com)
TAPCO INTRAFUSE AK Folding Stock
This stock is made from a high-strength composite and folds to the right, allowing you to reduce the overall length of the firearm when needed for storage or close quarter engagements. The AK Folding Stock incorporates a sling attachment point in the knuckle and has a 15-inch length of pull. It fits standard, single-tang, stamped receivers only. ($39.99; TAPCO.com)
Command Arms AK47SFSP Stock Tube
This stock tube from Command Arms allows you to take advantage of the vast number of AR-15/M4 buffer tube type stocks on the market. Capable of attaching to most AK-style rifles with Saiga stamped receivers, the AK47SFSP (Side-Folding, Six-Position) Stock Tube allows for any standard commercial AR-style stock to be added to your AK. The stock tube is ambidextrous, easy to operate and quick to install, making it a great option for any shooter. ($124.99; CommandArms.com)
Magpul Zhukov-S Stock
This innovative polymer, folding, collapsible stock comes with QD sling mounts, modular cheek risers and a shock-absorbing rubber buttpad. It has five positions for length of pull adjustment and folds to the right. Users can still charge and fire the rifle when the stock is folded, and positive detents prevent unwanted movement. The Zhukov-S fits common stamped-receiver AKs, and a Yugo variant model is also available. Magpul's MOE is another good option, if you prefer a fixed stock. ($99.95; Magpul.com)
4. Handguards/Forends
While it might not be as easy to swap out a handguard or forend on an AK as it is on an AR, and some fitting may be required, it's certainly a worthwhile upgrade for those who do so. Most stock AK forends do not have attachment points for accessories or optics. The majority of aftermarket AK handguards and forends do, either in the form of Picatinny rail sections or KeyMod or M-Lok attachment points. This gives users tons of customization options — far more than would be possible otherwise. Additionally, some aftermarket handguards/forends just feel better than those that come standard. For either reason, an upgraded handguard is a good choice if you're looking to trick out your rifle.
Krebs Custom UFM KeyMod System
Marc Krebs has been doing some really innovative things with the AK platform for a number of years, and the company's UFM KeyMod System represents one such product. With models available for the different AK variants, this system offers a lightweight handguard with ample mounting possibilities that is durable and maintains zero. Manufactured from 6061 T6 aluminum, it features a Picatinny rail up top and KeyMod slots on the side and bottom. ($159.99-$264.99; KrebsCustom.com)
Hogue AK-47/AK-74 Handguard
This handguard features an OverMolded lower piece with metal shield for secure and comfortable grip and protection from heat during extended firing sessions. It comes with two upper handguard pieces — one with a top rail and one without. Available for Chinese, Russian and Yugoslavian AKs, the Hogue handguard also includes three Picatinny rail sections for additional options. Both this handguard and Hogue's AK pistol grip are available in a combo kit. Color options are Black, OD Green, FDE and Ghillie Green. ($49.95 for the Handguard, $59.95 for the kit; HogueInc.com)
Troy Industries AK-47 Battlerails
Troy has expanded its AK-47 Battlerails line in the last couple years to include KeyMod and M-Lok options. The new KeyMod and M-Lok Battlerails are machined from hardened aircraft aluminum with stainless steel components and finished with a Mil-Spec hardcoat anodizing for increased ruggedness. Short (10-inch) and Long (13.5-inch) versions are available, as is a 5-inch Top Rail for optics. ($124.95-$149.95; TroyInd.com)
Command Arms Picatinny Hand Guard Rails System
This handguard system from CAA is designed specifically for the AK74M and AK100 series of rifles and provides four railed sections for mounting accessories, including both Picatinny and KeyMod solutions. Plus, it fits AKM and AKMS rifles. And its sturdy design maintains zero, allowing for easy field strip and maintenance. ($350; CommandArms.com)
5. Muzzle Devices
One of the easiest upgrades you can make to your AK is a new muzzle device. Many manufacturers offer brakes and other devices that are compatible with AK-style rifles, so there is plenty to choose from that will enhance the capabilities of your AK.
Troy Industries Claymore AK Muzzle Brake
Instead of directing muzzle blast and sound to the sides, as with most brakes, the Claymore pushes the blast and sound forward and away from the shooter, while retaining muzzle brake properties such as increased control. The brake has a very low dust signature and, with its durable, heat-treated ordnance steel construction, can be used as a breaching device if necessary. ($64; TroyInd.com)
Krebs Custom 4 Prong Flash Suppressor
With a design thoroughly researched for effectively eliminating muzzle flash, the 4 Prong Flash Suppressor with 14x1mm left-hand threads is made from 4140 steel, is heat-treated and is designed for AKM/AK-74 pattern rifles and Saiga and VEPR rifles with threaded barrels. It weighs 2.3 ounces and has a black oxide finish. ($70; KrebsCustom.com)
6. Magazines
Another great way to improve functionality and make your AK look good in the process is to use different magazines. There are a ton of options out there for the AK platform. Many of these AK-47/AK-74 mags are produced overseas, but for those looking to buy American, there are still ample choices.
Magpul PMAG 30 AK/AKM Gen 3
Magpul's PMAGs have a very high reputation among those in the firearm industry, and for good reason. They are lightweight, durable and highly reliable. The new Gen 3 version of the PMAG 30 AK/AKM mag features steel-reinforced locking lugs; a removable floorplate; an anti-tilt, self-lubricating, low-friction follower; and an impact- and crush-resistant polymer body with ribbed gripping surface and aggressive front and rear texture for positive grip. ($26.95; Magpul.com)
US Palm AK 30 Magazine
The AK 30 magazine from US Palm is constructed of proprietary aerospace polymers but sets itself apart from many other polymer magazines with several unique features, including the lack of a removable floor plate. It also has stainless steel reinforced weapon locking interfaces and a low-friction self-cleaning polymer follower. Cleaning is as simple as placing the mag in hot, soapy water, rinsing and inverting to drain. ($19.95; USPalm.com)
Command Arms AK MAG
This lightweight polymer magazine features a no-tilt, smooth action that incorporates a fluorescent orange follower. It has clear windows on both sides that indicate remaining round count with 10-, 20- and 30-round markings. The mags are Mil-Spec heat-treated and utilize a mildly textured surface on both sides for positive grip. ($27; CommandArms.com)
Century Arms Romanian AK Drum Magazine
For those range trips where 30 rounds just isn't enough (trust me, they do exist) Century Arms has the Romanian AK Drum Magazine. Sporting a capacity of 75 rounds, this product works with all 7.62x39mm AK-style rifles and pistols that accept high-capacity mags. It weighs 2.25 pounds unloaded and 5.05 pounds loaded. ($94.99; CenturyArms.com)
7. Other Accessories
There are some other less obvious parts and accessories for owners of an AK-style rifle to consider. Two of these are an enhanced safety lever and a retaining plate, or trigger pin retaining plate. Enhanced safety levers provide added functionality and ease of use over the AK's standard safety lever, which some shooters find awkward to engage and disengage. A retaining plate, on the other hand, permits easier installation of fire control groups and better retains those pins.
TAPCO AK Retaining Plate
This AK Retaining Plate installs in seconds, quickly securing pins in the correct position to keep the trigger group in place. The plate works in almost all AKs, including the Tantal version, and is finished in a phosphate coating for durability. ($5.99; TAPCO.com)
Krebs Custom Trigger Pin Retaining Plate
This retaining plate is precision-manufactured from heat-treated steel alloy. It is far superior to the typical "shepherds hook" for retaining fire control parts. Krebs also has a version for Saiga-style shotguns. ($10.50; KrebsCustom.com)
Krebs Custom Mk VII Enhanced Safety Lever
The Mk VII Enhanced Safety Lever allows for ambidextrous use and permits activation without removing the hand from the firing position. Lefties engage and disengage the safety using their thumb, while right-handed shooters use their index finger. The device will work on both machined- and stamped-receiver rifles and requires no modification. It will not, however, fit Yugoslavian AKs. ($65; KrebsCustom.com)
Editor's Note: This article is an excerpt from the May 2016 issue of Gun Digest the Magazine.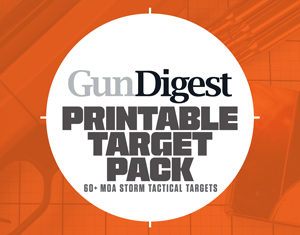 Next Step: Get your FREE Printable Target Pack
Enhance your shooting precision with our 62 MOA Targets, perfect for rifles and handguns. Crafted in collaboration with Storm Tactical for accuracy and versatility.
Subscribe to the Gun Digest email newsletter and get your downloadable target pack sent straight to your inbox. Stay updated with the latest firearms info in the industry.