HIPERFIRE's newest generation of HIPERCOMP compensators are now more effective, cheaper and now come in two flavors of 7.62.
Next Gen HIPERCOMP Options:
| | |
| --- | --- |
| Caliber | MSRP |
| 5.56/.223 | $69 |
| 9mm | $69 |
| 7.62 NATO | $79 |
| 7.62 Russian | $79 |
While they're better known for their upgraded AR-15 triggers, when HIPERFIRE began making compensators as well their efforts were met with positive feedback. While excellent at mitigating recoil, customers thought that the first-generation HIPERCOMPs were too expensive and unnecessarily bulky. In response, HIPERFIRE has just released the next generation of HIPERCOMP, and they're better in every possible way.
Made In The Matrix
HIPERFIRE claims that the primary reason for the lower price on the next-gen HIPERCOMPs comes from their innovative development process. Rather than using the traditional trial-and-error testing method, they used "Fluent computational fluid dynamics software" to virtually test their compensator designs within a simulated computer environment. The efficiency of this allowed HIPERFIRE to shed less sweat and waste less time and resources on the development process, passing the savings on to the customer.
The first generation of HIPERCOMP was only available for 5.56 and 9mm, but this next-gen update has added 7.62×51 NATO and 7.62×39 to the lineup as well.
Universal Improvement

Using the advanced methods described above, HIPERFIRE was able to improve every iteration of the HIPERCOMP across every metric while also adding two new models. Not only does the next-gen HIPERCOMP do a better job of reducing recoil than the original version, but HIPERFIRE claims that they are better than anything else on the market, too. While many competing muzzle devices seem to get larger to become more effective, the HIPERCOMP managed to get smaller during its upgrade process. Not only has it become lighter, dimensionally smaller and more aesthetically pleasing, but the 5.56 and 9mm versions are now also compatible with standard M-16 bayonets and armorer's wrenches.
These next-gen HIPERCOMPs may become a new industry standard if they perform as well as advertised. They're light, efficient and roughly the same size as a MILSPEC birdcage, all while remaining decently priced. All models include a crush washer and are threaded for the most common pitch for their respective caliber.
For more info, please visit
hiperfire.com
.
---
More AR Upgrades: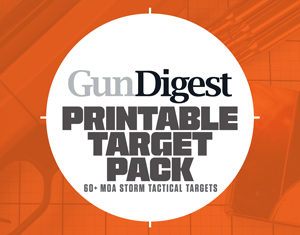 Next Step: Get your FREE Printable Target Pack
Enhance your shooting precision with our 62 MOA Targets, perfect for rifles and handguns. Crafted in collaboration with Storm Tactical for accuracy and versatility.
Subscribe to the Gun Digest email newsletter and get your downloadable target pack sent straight to your inbox. Stay updated with the latest firearms info in the industry.