The new ARES Adaptive Retention System from DRD Tactical can help you operate faster, smoother and longer.
DDR Tactical ARES System Benefits:
Maintains a tighter center of gravity.
More evenly distributes rifle's weight.
No sling to become tangled in gear.
Can be quickly brought in and out of action.
Many shooters only practice their hobby while seated at a bench or standing at a firing line. While this is good fun and good practice, if you ever envision using your rifle in any sort of real-world defensive situation, it's not enough. The two basic components of engaging in a firefight are shooting and moving, the latter of which gets neglected far too often. One must only watch a few short clips of real-life gunfights to see that to be truly proficient with your rifle one must be able to run, jump, scale and fight all while retaining their weapon. Some slings on the market were designed to help with this the best they could, but ultimately none of them offer the same level of retention as systems like the new ARES from DRD Tactical.
It may not be the first of its kind, but the ARES seems to be an improvement on the retention system concept. Constructed from what appears to be high-durability plastic, the mounting plate's mouth opens at the top in a wide "V" shape before narrowing into a channel near the bottom. This channel is what retains your rifle close to your chest via the peg attached to your AR's endplate or a QD-sling point. The whole system then attaches to MOLLE, ideally on the front of a plate carrier.
This system enables you to quickly go hands-free without worry that your rifle's sling will become entangled in your gear. Even slings that can be cinched tight to one's body tend to flop around during intensive movement, and slings are notorious for getting snagged on things. The DRD Tactical ARES system solves this problem by eliminating the amount of potential play between your body and your rifle. By keeping the rifle closer to your center of gravity the ARES also enables quicker movement and better agility. Another advantage is when the rifle is secured to your chest it effectively turns your entire plate carrier or vest into a sling, evenly distributing the weapon's weight over a greater surface than what any traditional sling can provide. This should help to reduce fatigue any time you need to carry a rifle for an extended period.
There are pros and cons to each piece of gear like this and each mission has different requirements, but DRD Tactical's ARES system looks like good execution of this somewhat novel concept. Those whose profession entails a lot of standing around, patrolling or even running while armed would likely appreciate what this system has to offer.
For more on DRD Tactical, please visit drdtactical.com.
---
Raise Your Gear IQ: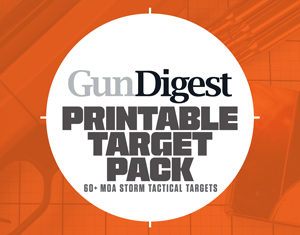 Next Step: Get your FREE Printable Target Pack
Enhance your shooting precision with our 62 MOA Targets, perfect for rifles and handguns. Crafted in collaboration with Storm Tactical for accuracy and versatility.
Subscribe to the Gun Digest email newsletter and get your downloadable target pack sent straight to your inbox. Stay updated with the latest firearms info in the industry.