The newest iteration of the iconic M9 service pistol, the Beretta M9A4 now comes optics-ready and even more combat-oriented.
Beretta M9A4 Features:
9mm, 18+1 Capacity
Tritium Night Sights
Optics-Ready
Threaded Barrel
Xtreme Short Reset Trigger
MSRP: $1,099
The newest member of the Beretta 92 family is here, a bit late to continue the tradition of military service, but just in time for the civilian red dot sighted pistol craze. The Beretta 92 has been in a constant state of development since it was first adopted as the M9 in 1985, and all the upgrades it received along the way have come together to make the new Beretta M9A4 a truly modern pistol.
What's New?

As is true with anything that receives generational updates, the M9A4 is essentially just an improved Beretta M9A3. It still has the ergonomic improvements of the aggressively textured Vertec-style grip, a threaded barrel for mounting suppressors or compensators and a beveled magazine well. It also still comes with tritium night sights, a segment of Picatinny rail and oversized controls. The substantial upgrades that set the M9A4 apart and allow it to sit at the table with other contemporary tactical pistols are found on the slide, in the trigger and in the magazine.
By far the most significant and apparent upgrade found on the M9A4 is its ability to accept a pistol red dot. The slide is cut to accept a variety of mounting plates available from Beretta, enabling you to mount virtually any model of modern pistol red dot sight. The trigger has also been improved over the stock variety that was found in the A3 series, with the M9A4 now featuring an Xtreme short reset trigger for faster follow up shots.
The M9A4 can now also fit one additional round in its magazine and has a decocker only slide.
Does It Come In Black?

No, it does not. While the A3 variant was available in either classic black or with an FDE wear-resistant finish, the M9A4 only comes in FDE. While wear resistance is nice, FDE sticks out like a sore thumb outside of the desert. I'm sure that a black M9A4 option would have been appreciated by shooters who don't live in arid environments as well as by law enforcement.
The new M9A4 would make for a top-tier home defense or duty pistol after being outfitted with the proper accoutrements. It comes with a hefty price tag, but if you're looking for a reliable, high-capacity and controllable pistol that can mount optics, suppressors and lights, the M9A4 is worth considering.
For more information, please visit beretta.com.
---
More Optics Ready Pistols: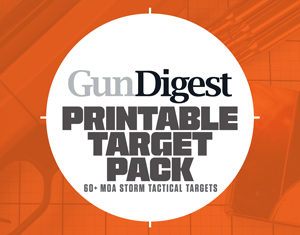 Next Step: Get your FREE Printable Target Pack
Enhance your shooting precision with our 62 MOA Targets, perfect for rifles and handguns. Crafted in collaboration with Storm Tactical for accuracy and versatility.
Subscribe to the Gun Digest email newsletter and get your downloadable target pack sent straight to your inbox. Stay updated with the latest firearms info in the industry.