Sig Sauer has just announced the release of the P210 Carry pistol, an updated Sig P210 tailored for concealed carry.
It seems that updated versions of classic handgun designs have been in vogue lately. Besides the slew of modernized Hi Powers that have been recently released, Sig has just announced their own updated classic SAO pistol: the P210 Carry.
For those who aren't familiar with it, the original Sig P210 was a military service pistol adopted by the Swiss army in the late 1940s, long before Sig ever merged with Sauer & Sohn. Based on the French 1935A, the P210 was a single-action only full-size handgun most commonly chambered for 9mm Parabellum. Generally regarded as a pistol with superb build quality, exceptional accuracy and an excellent trigger, the original P210 was produced since its inception up until the early 2000s. Production of the P210 resumed in 2017 when Sig Sauer of America announced that they were beginning domestic production of this classic pistol. The initial release included a standard model P210 reproduction as well as a target model, but now in 2022 Sig is adding one more variant to the lineup.

Sig's Chief Marketing Officer Tom Taylor said this on the P210 Carry:
The SIG P210 is regarded as one of the most legendary, reliable, and accurate firearms in the world; the P210 CARRY pays homage to the foundational craftsmanship of its forerunner while maintaining the features, weight, and balance of an ideal carry pistol…
The features that distinguish the P210 Carry from the other new P210 models include its alloy frame that reduces its weight, shortened slide that makes for easier carrying and both front and rear slide serrations that assist with racking. The P210 Carry also includes checkered Hogue slim G10 grips, SIGLITE night sights and two 8-round magazines. The MSRP currently remains unknown.
For more on Sig Sauer, please visit sigsauer.com.
---
More CCW Guns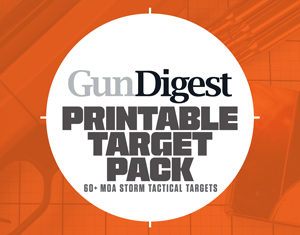 Next Step: Get your FREE Printable Target Pack
Enhance your shooting precision with our 62 MOA Targets, perfect for rifles and handguns. Crafted in collaboration with Storm Tactical for accuracy and versatility.
Subscribe to the Gun Digest email newsletter and get your downloadable target pack sent straight to your inbox. Stay updated with the latest firearms info in the industry.