A damn fine pistol, the civilian variant of the Sig Sauer M17 is more than ready for everyday duty.
How The Sig Sauer M17 Is Configured For Top Performance:
Comes with two 17-round magazines
Features a coyote-tan PVD-coated stainless-steel slide
Fitted with SigLite front night sight
Optic-ready Sig slide cut
A little after 5 pm on Thursday, January 17, 2017, I was sitting in the Sig Sauer booth at SHOT Show discussing new products with one of the company's media relations representatives. It was an important day and time for Sig Sauer, and for the U.S. Army. That's when Sig Sauer got the news they'd been awarded the $580 million contract to manufacture the Army's next service pistol. As you can imagine, there was some excitement in the booth that day, and, well, $580 million is a hell of a lot of money!
The Army had announced the competition for its new XM17-MHS (Modular Handgun System) in 2015. The new handgun was to replace the Cold War-era M9 pistol — which had been in use for 30 years, and had previously replaced the .45-caliber 1911. After Sig Sauer had been awarded the contract, all the Glock fan boys were quick to suggest the process had been rigged, or that those involved in the selection process just didn't know a good pistol when they saw/shot it. And, to fuel these speculations, Glock protested the award. What they all failed to acknowledge is that the P320-M17 is a damn fine pistol.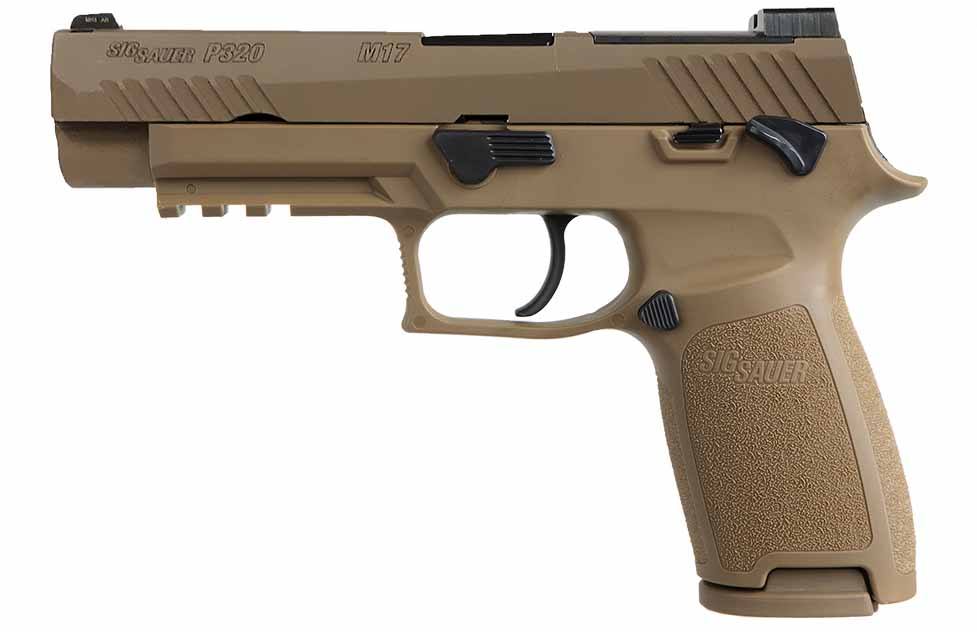 If you're a devoted handgun guy, this of course is all old news. If you're not in the Army, what you may be wondering is why any of this matters. Well, you can now buy a civilian version of the Army's Sig Sauer XM17-MHS. The P320-M17 comes with two, 17-round magazines, and it features a coyote-tan PVD-coated stainless-steel slide, with the same optic cut as specified by the MHS contract. The pistol also has black controls — magazine release, slide stop, takedown lever and manual safety — just like the pistols currently being shipped to the U.S. Army. It's also fitted with a SigLite front night sight and removable night sight rear plate. This removable plate allows easy installation of a reflex sight. The P320-M17 has a suggested retail price of $768.
Learn More About Handguns:
As a pistol shooter and veteran, the P320-M17 has a patriotic — if not nostalgic — appeal. I won the West Virginia National Guard pistol match and earned my Distinguished Handgun EIC Medal shooting a U.S. Army issue Beretta M9. I never really liked the M9, but I owned one, just because I think every red-blooded American should have a handgun like the one being carried by our troops. So, it was a given that one of the new P320-M17s would end up in my hands.
The first thing I noticed — and liked — about the pistol is that it felt good in my hands. Secondly, I found I was able to manipulate all of the controls without altering my grip. And thirdly, I'm a fan of a manual thumb safety, and the one on the P320-M17 is ambidextrous and does not interfere with the knuckle of the trigger finger of the shooting hand. My only complaint with the manual safety is that it does not lock the slide. This means that you should ideally thumb the slide when holstering to make sure it stays in battery. On the other hand, it allows you to chamber a round with the safety on.
So far I have about 500 rounds through the P320-M17 and I like the gun. It's a big — duty sized — handgun, but I'm not sure it's one I would attempt to carry concealed on a regular basis. But, it's comfortable to shoot and very easy to control. I found that I could, on average — from concealment and using +P ammunition — complete the Forty-Five Drill (five shots, inside a 5-inch circle from 5 yards, in less than 5 seconds) in less than 3.2 seconds. Given the P320-M17's great ergonomics, high capacity, good trigger and accessory rail, I think it would be an ideal handgun for home defense, local combat pistol matches, and police or security service.
The article originally appeared in the March 2019 issue of Gun Digest the Magazine.
---
NEXT STEP: Download Your Free Storm Tactical Printable Target Pack
62 Printable MOA Targets with DOT Drills - Rifle Range in YARDS
This impressive target pack from our friends at Storm Tactical contains
62 printable targets
for rifle and handgun range use. Target grids and bullseye sizes are in MOA. Ideal for long-range shooting!
Subscribe to the Gun Digest email newsletter and we'll send your print-at-home target pack right away.
Just enter your email address below.
---