Browning celebrates 50 years of the successful Miroku-made Citori with an over/under shotgun for the most discerning wingshooter or collector.
Since 1973, the Citori line of affordable over/under shotguns has been among Browning's most successful. The line, which traces its lineage from John Browning's Superposed masterpieces, is renowned for its close attention to detail, a hallmark of the Japanese-made Miroku guns.
For 2023, the Citori High Grade 50th Anniversary capstones the line's endurance in the market with a stunning tribute to Browning's design.
The first thing that grabs you is the sharply chiseled floral engraving cut into the silver nitride receiver sides and beneath, looking the part of the finest bespoke shotguns. Gold accents and Grade IV Turkish walnut stock and forearm leave clay busters lusting, racing to max out credit cards to get one (she MSRPs for $8,399.99).
The gun can be had with either 28- or 30-inch barrels, with a standard Invector-Plus Midas choke system.
And it's not just eye candy. Here are a few additional goodies you'll find on this anniversary model:
Silver nitride steel receiver sports 24 karat gold enhancements and Browning's 50 years logo
Grade IV Turkish walnut stock with proprietary premium gloss oil finish process, cut checkering, right-hand palm swell and nameplate inlay for the owner's initials
A letter of authenticity
High-gloss blued barrels
Inflex II recoil pad
Triple Trigger System with three trigger shoes
HiViz Pro Comp sight and ivory mid-bead
Five Midas extended choke tubes
POI: 50/50
Rumor has it that Browning will produce 250 guns, but the Browning booth was busier than public land on opening day, so Gun Digest could not confirm that figure by press time. However, one thing's for sure: Browning designers seem to have hit the target with this one as SHOT attendees gravitated to the beauty like bees to sweet honey. Here's to 50 more years!
Browning Citori High Grade 50th Anniversary Specs:
Gauge: 12
Chamber Length: 3-inch
Barrel Length: 28 or 30 inches
Overall Length: 47.5 inches
Length of Pull: 14.75 inches
Drop at Comb: 1.5 inches
Drop at Heel: 1.25 inches
Weight: 7 pounds, 15 ounces
Chokes Included: Full, Improved Modified, Modified, Improved Cylinder, Skeet
MSRP: $8,399.99
For more information, please visit browning.com.
---
More SHOT Show 2023 Coverage: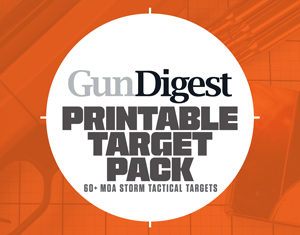 Next Step: Get your FREE Printable Target Pack
Enhance your shooting precision with our 62 MOA Targets, perfect for rifles and handguns. Crafted in collaboration with Storm Tactical for accuracy and versatility.
Subscribe to the Gun Digest email newsletter and get your downloadable target pack sent straight to your inbox. Stay updated with the latest firearms info in the industry.