Smith & Wesson unveiled the new M&P 5.7 on the first day of SHOT Show 2023, adding 5.7x28mm to the calibers available in the M&P line.
So far at SHOT Show 2023, one of the biggest announcements is Smith & Wesson's new M&P 5.7 pistol. As the name implies, it's a 5.7x28mm Smith & Wesson M&P. As 5.7x28mm grows in popularity, it's nice to see more handgun options available for it. Until now, the Ruger 57 and the PSA 5.7 Rock were the only pistols available besides the original model from FN. Now, shooters have one more manufacturer to choose from.
The M&P 5.7 has a 5-inch barrel and uses Smith & Wesson's new rotating Tempo Barrel System, which is gas-operated and has a locked breech. This system was developed specifically for the 5.7x28mm round and extracts spent cases quicker than traditional designs.
Here's what Smith & Wesson said about the M&P 5.7 in today's press release:
The M&P5.7 is an exciting new pistol from Smith & Wesson that incorporates a gas-operated Tempo™ Barrel System to effectively harness the 5.7x28mm round, creating a lighter recoil for an overall better shooting experience. Like all Smith & Wesson firearms, the M&P5.7 is proudly made entirely in the USA and is backed by the Smith & Wesson Limited Lifetime Service Policy. Whatever your purpose, the M&P5.7 is versatile, fun, and a must-have…The M&P5.7 is slide cut for optics to accommodate your preferred micro red dots, has a Picatinny-style rail for added accessories, and includes a 1/2×28 threaded muzzle with thread protector to allow for suppressed shooting capabilities. Its single-action flat-face trigger maintains a crisp break and is designed to allow for consistent finger placement that translates to more accurate and repeatable shooting. This pistol boasts a 22-round capacity and ships with two magazines.
The M&P 5.7 has an MSRP of $699, making it $100 more expensive than the PSA 5.7 Rock but $200 less than Ruger's option.
For more information, please visit smith-wesson.com.
---
More On Handguns: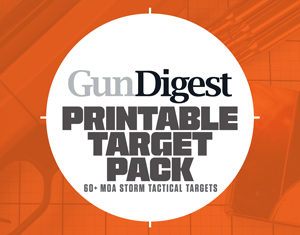 Next Step: Get your FREE Printable Target Pack
Enhance your shooting precision with our 62 MOA Targets, perfect for rifles and handguns. Crafted in collaboration with Storm Tactical for accuracy and versatility.
Subscribe to the Gun Digest email newsletter and get your downloadable target pack sent straight to your inbox. Stay updated with the latest firearms info in the industry.