The Meopta name is one that may be slightly less familiar to U.S. shooters than some of the domestic and other international optics manufacturers, but the company, which has facilities in both the Czech Republic and here in the states, produces some excellent quality glass. While much of its product line is geared toward hunters, in recent years, Meopta has also been making a concerted effort to meet the needs of tactical shooters as well.
A clear example of this can be found in the company's newest introduction for 2017, the MeoTac 3-12×50 RD riflescope. Announced just ahead of the 2017 SHOT Show, the Meopta MeoTac scope is engineered for tactical shooters and represents a great option for medium-range engagements.
Built around a solid 34mm aircraft-grade aluminum tube, the new MeoTac 3-12×50 RD utilizes Meopta's excellent MeoLux lens coating and Schott glass, which allow for 99.8 percent light transmission per lens surface. This permits shooters to see both better and farther, even without ideal light conditions.
The new Meopta MeoTac 3-12×50 RD offers the shooter great flexibility, providing 55 MOA of windage adjustment and 100 MOA of elevation adjustment. Click adjustments are in 1/3 MOA increments via the scope's precision, tactical-style turrets. The turrets are large, easy to grip, and each click is easily distinguishable. They also feature a zero-stop function for quickly returning to an established zero.
A first focal plane scope, the MeoTac comes equipped with an illuminated MilDot 3 RD reticle that allows shooters to use the rangefinding elements of the reticle on any power setting. The RD illumination system incorporates a highly visible red dot with 16 variable intensity settings, with the illumination control located conveniently on the side of the center of the scope. In between each power setting is an intermediate "off" setting, so users can simply and easily click the illumination off without dialing back down past the lowest setting. The scope also has an auto-off feature, which will automatically power down the illumination after an hour of inactivity.
Additional features include a side-focus parallax adjustment, which ranges from 27 yards to infinity, and Meopta's MeoQuick fast-focus eyepiece. The scope is 12.6 inches long and weighs just 34.2 ounces, making it a great fit for a variety of tactical rifles.
In terms of durability, the new MeoTac utilizes Meopta's MeoShield protective lens coatings, an erector system designed to withstand the heavy recoil of larger-caliber cartridges, and an anodized exterior to prevent scratches. The scope is also waterproof and fog proof, and it is covered by Meopta's North American lifetime transferable warranty for added insurance.
Pricing on the new Meopta MeoTac 3-12×50 RD is currently slated at $2,529.99. For more information, check out the specs below or visit the Meopta Sports Optics website.
Specifications:
Meopta MeoTac 3-12×50 RD
Magnification: 3-12x
Objective Lens: 50mm
Main Tube: 34mm
Exit Pupil Diameter (mm): 4.2-16
Eye Relief (in.): 3.5-4.5
Field of View (degrees): 1.77-7.00
Field of View (ft.@100 yds.): 9-37
Focal Plane Position: First
Dioptric Compensation (dpt): -1.4
Impact Per Click (inch@100 yds.): 0.36
Windage Adjustment: 55 MOA
Elevation Adjustment: 100 MOA
Parallax Adjustment: 27 yards to infinity
Length: 12.6 in.
Weight: 34.2 oz.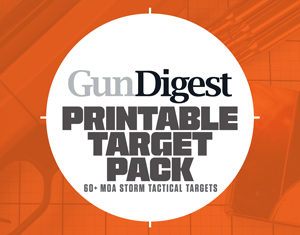 Next Step: Get your FREE Printable Target Pack
Enhance your shooting precision with our 62 MOA Targets, perfect for rifles and handguns. Crafted in collaboration with Storm Tactical for accuracy and versatility.
Subscribe to the Gun Digest email newsletter and get your downloadable target pack sent straight to your inbox. Stay updated with the latest firearms info in the industry.