Hoope's might just be the great equalizer in the gun world. Dang near every shooter has or has had the 110-year-old company's venerable No. 9 cleaning solvent in their kit at one point or another. That sauce is pretty much the dictionary definition of time tested.
Hoppe's hasn't wed itself to an "If it was good enough for Granddad" attitude though, as one of its newest lines attests. In fact, Hoppe's Black has been specifically designed to meet the modern shooter's cleaning and lubrication needs. In short, it's meant to slick and shine up gas-operated and tactical firearms that throw a high volume of copper-jacketed lead down range.
The new Black lineup includes gun and copper cleaner and oil, each formulated to function in temperatures from -65 to 540 degrees Fahrenheit. Basically, there isn't a temperature or climate these products can't handle. A grease syringe and lubricating cloth are also available to help in applying the Black products.
Hoppe's Product Manager Laurie Kokoruda also points out, "The Hoppe's Black formula is designed for MSRs and other high-volume firearms, but will work with any gun."
The MSRP on the Hoppe's Black line is as follows: Black Cleaner, 2.5 oz. $6.45, Black Cleaner, 6 oz. $9.45, Black Lubricant, 2 oz. $6.45, Black Lubricant, 4 oz. $9.45, Black Copper Cleaner, 4 oz. $9.45, Black Grease Syringe, 12 cc. $10.95, Black Lubricant Cloth $6.45.
For more information on the new Black line from Hoppe's visit the company's website.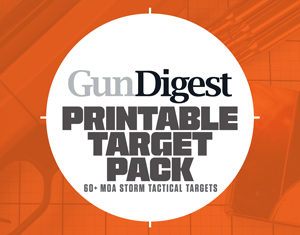 Next Step: Get your FREE Printable Target Pack
Enhance your shooting precision with our 62 MOA Targets, perfect for rifles and handguns. Crafted in collaboration with Storm Tactical for accuracy and versatility.
Subscribe to the Gun Digest email newsletter and get your downloadable target pack sent straight to your inbox. Stay updated with the latest firearms info in the industry.