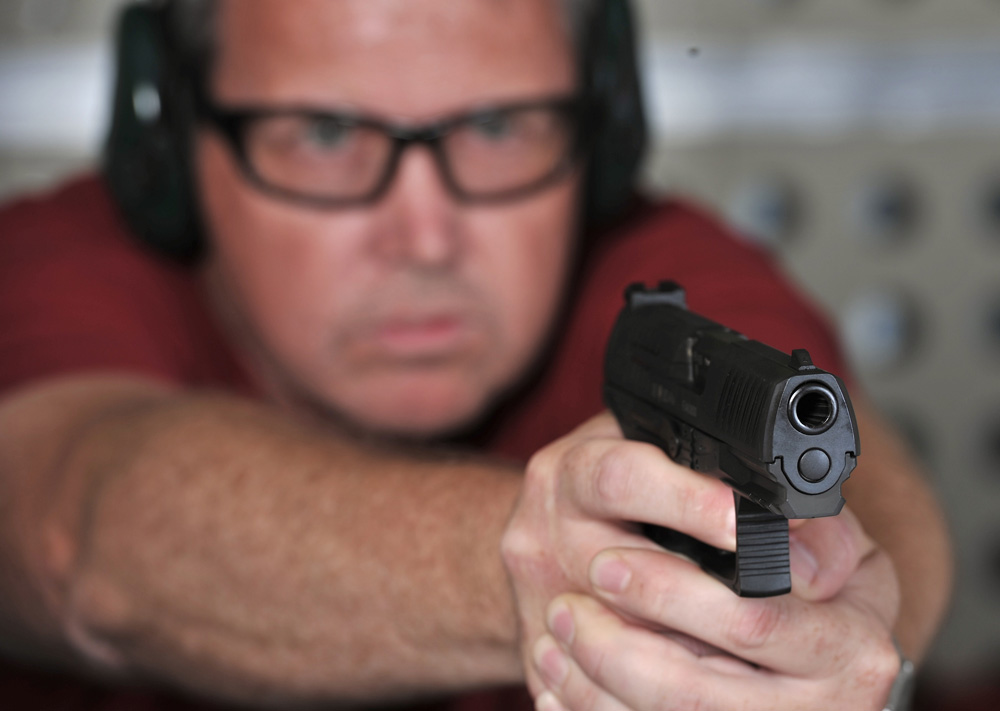 Smooth shooting and beautifully engineered, the German-made Walther PPQ M2 handgun strikes the perfect balance between form and function.
If gun manufacturers produced commercials to appear on any of the major networks, Walther's ad for their PPQ M2 would look like a Lexus commercial. A trusting, deep baritone voice would speak of classic lines, ergonomics, performance, form, function, beauty and even art. Indeed this gun to a true firearm enthusiast is a piece of modern engineering art, for how it balances in the hand and shoots as much as for its appearance.
Walther PPQ M2 Ergonomics Defined
It is said by most shooting instructors that for effective use, the handgun must become an extension of the hand. The PPQ M2 does.
I know from a concealable standpoint, there's no shortage of shooters who like a single-stack semi because it's more slender. However, after shooting a number of both single-stack and double-stack guns, I simply find I shoot a double-stack better.
The grip fills my palm and leaves me with less indecision on where to precisely place my hand. I'm able to control the gun better, both when aiming and during recoil, which improves follow-up shot placement considerably.
The grip on the PPQ M2 curves comfortably in the rear to form a swell that naturally fills the palm for a surer hold. The handgun comes with three easily interchangeable back strap panels that can be removed and attached by simply removing a single pin with a small punch.
The medium strap installed on my test gun fit my hand perfectly, though there is a smaller one for shooters who prefer less swell or have smaller hands and a larger one for shooters who want even more to hold.
The polymer grip has mild finger grooves in the front and gentle contours along the side and is textured with a nonslip cross-directional surface. The texture enhances the shooter's hold on the gun while firing without chewing bare hands up during high-volume target sessions.
Design didn't end at the grip. Edges are rounded to prevent snagging when holstering or unholstering, while the trigger guard indents where it attaches to the front of the grip for additional finger comfort.
The machined slide is Tenifer coated for corrosion resistance and sports vertically angled lines notched along its length to create visual appeal, as well as shave a little weight from the gun.
The result is a handgun that looks remarkably stylish and distances itself visually from many of the clunkier, albeit excellently shooting models available from Walther's major competitors and even, to some degree, within its own lines.
But beauty is meaningless without functionality and there, the PPQ M2's features deliver as well with an integrated rail beneath the barrel for the mounting of a laser or light and low-profile three-dot polymer combat sights that provide for quick target acquisition.
The sight dots are bright white, which imprinted on the black posts provides for easy sight alignment against both light or dark targets and backgrounds. An extended ambidextrous slide stop provides for easy lock-open from either side of the gun, even when wearing gloves.
The PPQ also has a trigger safety and internal safeties as well as a loaded chamber indicator, an oversize magazine release that can be reversed for left-handed operation and of particular interest where performance is concerned, Walther's Quick Defense Trigger, a super smooth squeezing trigger with a light 5.6-pound trigger pull (mine actually fired at just under that), less than a half-inch (.4 inch to be precise) trigger pull and a .1-inch reset for lightning fast follow-up shots.
As one Glock fan joining me during test firing observed, "This trigger is smoother than my Glock. It feels almost like a competition trigger."
The width of the PPQ M2 is 1.3 inches, again, wide enough to enhance in-the-hand comfort without making the gun so bulky as to preclude it from serious carry consideration. This is certainly no subcompact-sized gun for those seeking today's ultra-slim designs, but in my experience, particularly with newer shooters (and even some not so new), shooting smaller guns can also be more difficult.
While its great to have a gun that slips in a pocket or won't imprint from beneath a shirt, it's useless if you can't hit what you're shooting at in an emergency. The PPQ M2 bridges that concern.
Walther PPQ M2 Out-of-the-Case Accuracy
At the range, we pulled the PPQ M2 (PPQ by the way stands for Police Pistol Quick Defense) from the case, gave it a thorough visual inspection and function check, loaded a mag and went to work on the target.
Shooting without a rest, using a standard two-handed grip and standing, we shot the target as you would in a defensive scenario. While nobody achieved any 1-inch groups, it was easy to rapidly fire an entire grouping within the torso or head of a silhouette target.
We tested a mix of American Eagle and Winchester ammo. Everyone who held the gun agreed it shot nice, was accurate and would be a great gun to own. I left that gun at the studio back at the office to be photographed when we were done.
The following week, I broke out a separate PPQ M2 wondering if it would yield the same results during a more serious testing session. My goal was to replicate the accuracy achieved on the Walther target that came with the gun.
A tester at the factory fires each gun before it ships and is sent out with the target enclosed in the case. The target with my gun indicated a nice, center-of-target group that measured just outside of an inch. It was shot at 15 meters (approximately 16½ yards).
I test fired 150 rounds through the PPQ, shooting both five-shot groups and full mag strings. Some were done rapid fire and standing—a typical defensive scenario—and others were shot measured and from bags.
Unloading the full magazine as quickly as I could at targets hanging at both 7 and 15 yards away, I averaged 14-15 shots inside the ring of a 10-inch target at 7 yards and 12-13 inside the ring at 15. I'm clearly no threat to any speed shooting competitors out there, but I was more than happy with how I was shooting with the PPQ.
Using a rest and trying to shoot completely for accuracy, I didn't always achieve the 1-inch groups my Walther tester had with the gun, but I was able to easily deliver routine groups inside a 2-inch circle at 15 yards using American Eagle 124-grain FMJ ammo (with the occasional inexplicable flyer that generally went no more than an inch wide).
To my own amazement, I delivered one group that fell completely inside an inch with the holes all touching. It's quite honestly the best group I've ever shot with a handgun as I tend to spend more time behind the stock of a rifle or shotgun.
Ultimately, I left the range that day not only as impressed with the Walther PPQ M2's performance, but also with my eyes open to the new found shooting ability I knew I was capable of with the right gun in my hand. The PPQ M2 is definitely that gun.
Walther PPQ M2
Caliber:    9mm & .40 S&W
Capacity:    15+1 (9mm), 11+1 (.40)
Magazines:    Two 15 round or 11 round mags
Barrel:    4" Tenifer coated, matte black
Sights:    Low profile, three-dot polymer combat sights
Frame:    Polymer, matte black
Slide:    Tenifer coated, matte finish
Length:    7.1"
Height:    5.3"
Weight:    1.5 lbs.
Options:    Mag loader, adjustable back strap panels, gun lock, also available in 9mm and .40 S&W 5" versions as well as a 4.6" 9mm Navy version. Metal self-illumination or metal Tritium night sights also available.
SRP:    $599-$699
Website:    waltherarms.com
This article appeared in the September 9, 2013 issue of Gun Digest the Magazine.
---
NEXT STEP: Download Your Free Storm Tactical Printable Target Pack
62 Printable MOA Targets with DOT Drills - Rifle Range in YARDS
This impressive target pack from our friends at Storm Tactical contains
62 printable targets
for rifle and handgun range use. Target grids and bullseye sizes are in MOA. Ideal for long-range shooting!
Subscribe to the Gun Digest email newsletter and we'll send your print-at-home target pack right away.
Just enter your email address below.
---