The Christensen Arms 1911 in all-steel is an excellent pistol at a much lower price than the company's titanium models.
Christensen Arms is known for its carbon fiber barrels, stocks and complete rifles and having recently tested the company's rifles, I discovered they are definitely high quality, accurate, lightweight and expertly built. What many don't know is they bring that same level of expertise to their 1911 pistols.
Touring their facility recently provided a chance to look at their 1911s built using titanium and even Damascus steel. Much of what they do revolves around using the lightest and strongest materials. Most of their pistols start with a titanium frame and stainless steel slide with Titanium or Damascus slides available.
But, both are difficult to machine, adding significantly to the cost. For most shooters, steel remains the most popular 1911 base material and Christensen Arms is now offering all stainless steel pistols.
Christensen Arms 1911 Pistols
Each 1911 is made using state of the art materials and machinery by expert gunsmiths. While you can still order titanium, you can also choose a stainless steel frame. Available in Officer, Commander and Government models, there are numerous configurations. All are built completely in house with the best possible components, many of them machined right there on premises.
Standard features include front strap checkering, G-10 grips, stainless slides and tritium sights. On the series 70-style pistols, the triggers are crisp and predictable with 4.5 pounds of pressure being the standard. The aerospace-aluminum, checkered mainspring housing comes standard, and optional features include a bobtail, tactical rail, carbon fiber grips and ambidextrous safeties.
You can even order a threaded barrel if you would like. While base models can be ordered by dealers, you can also place custom orders, getting exactly what you would like. Completed pistols are Cerakoted to the customer's specifications.
My Test Pistol
Since this was going to be one of the first all-stainless models, I decided to build one most would carry daily. Carrying a Government model is not an issue for me, as I've been doing it for decades, but it's certainly not the norm. Officer's models are popular for many, but Commanders remain the most popular 1911 for carry due to its more compact size.
Starting with a stainless steel slide and frame, the gun was fit with a Christensen Arms match-grade 4.29-inch barrel with a matching bushing. Fish scale style serrations are placed at the front and rear, providing a solid middle ground well suited for gloves or adverse conditions. At my request, Trijicon's new HD sights with Novak dovetails were also installed.
The front has a large orange outer ring surrounding a tritium insert, providing fast sighting in daylight and allowing for low light use. Using a strong ledge, the rear sight includes tritium with no outer ring. A pronounced ledge makes field expedient reloads and malfunction clearances possible.
Christensen Arms used a single piece guide rod that was still possible to remove without tools.
The front strap is checkered 30 LPI (Lines Per Inch) with a matching aluminum mainspring housing. High cut, the frame facilitates a high grip and solid hold. An extended grip safety ensures consistent release when gripped using gloves or in less than perfect conditions. Lightly beveling the magazine well ensures solid magazine changes.
At my request, an ambidextrous safety was installed. The safety is slim, meaning no interference when carrying concealed, and the entire pistol has been smoothed without excessive "melting." Shipped in a true hard case that is waterproof, airtight and lockable, it allows for complete protection.
Carrying the CA 1911
Carrying a full-size Colt Delta Elite before obtaining the CA 1911 made the transition seamless. Nestled in my Milt Sparks Nexus IWB holster, this all-steel pistol carries with ease and comfort. Holding the pistol tight to my body, it conceals perfectly, keeps the weight on the belt and melts into my side.
The magnetic loops on the holster are the best thing to hit an IWB model. Using IWB holsters for decades, these snaps are incredibly easy to use. No messing with one-way snaps, they practically lock into place on their own. The Christensen Arms Commander slipped in nicely and carried just as well.
Running my hands over the pistol, it is nicely rounded. Sharp edges are removed without making the pistol look like it was melted in a forge. Inserting and removing it from the holster was smooth and efficient with no excess printing.
My only concern was the rear sight. Trijicon uses a fairly pronounced ledge, a bit larger than my usual preference. It sits higher than typical carry sights and the rear slants backwards. Practicing numerous draws, it never snagged on my shirt or sweatshirt, so that proved to be a nonissue. After several days of carry, it never inadvertently printed or snagged during dry- or live-fire practice.
On the Range
I practiced at the range wearing street clothes. Draws were smooth in street wear, with the Milt Sparks Nexus providing a solid platform for carry and deployment. Donning Survival Armor soft body armor, it did not interfere with the draw or presentation.
Given that the body armor is bulky, my concern that the rear sight might snag never came to fruition. Reholstering remained intuitive, with blind (not looking at the holster) insertions consistent and smooth.
Standard empty reloads for me involved the use of the slide stop/release. Depending on which expert you talk to, this is either as designed or evil. Using a 1911 since 1983, empty or slide lock reloads have always been completed using the slide release, generally with my off-hand thumb.
This pistol uses a slightly extended release, making it fast and easy. It was easy to reach with either hand, yet did not interfere with my grip. Moving to the "slingshot" method, it worked fine, but that rear sight is just a bit sharp. Long days performing these reloads using this sight may require a glove. It never cut my hands but was noticeable.
I moved to unconventional reloads and it was outstanding. Returning to battery using my belt, boot and even a wall or two, it was superb. All in all, it turned out to be an excellent sight. Since I want to bring a working gun to a fight, malfunctions should be rare, and if needed, this sight is just fine.
Reliability with several types of duty ammunition was excellent. It chewed up tons of FMJ, preferring the 230-grain loads. It even fed and ran my rather anemic IPSC loads using lead 200-grain bullets.
Ejection patterns were regular and properly placed with the exception of some hotter loads. Not uncommon with standard extractors, loads moving into the 1,100 fps range and beyond can get a bit overpowered.
There was never a failure to extract or eject, but I did happen to get whacked on the top of the head on occasion. Sticking to typical loads it was excellent. Decisions to carry really hot loads might require retuning the extractor, but that is the joy of using a 1911 pistol, especially as the slide length shortens.
Accuracy was excellent as one might expect. My best group was accomplished using Federal HST Tactical measuring just a tad over an inch. Everything was less than 1.5 inches. Shooting off hand at 10 yards or so cut one even larger hole in the target. My experience was pretty much what one might expect from a custom 1911, about as good as it gets, at least as good as it gets with me behind the trigger.
Final Thoughts
There is very little to criticize here. The Christensen Arms 1911 is an excellent example of a quality 1911 pistol. A bit more attention to exact mating of the grip safety and frame would be nice in a pistol this costly, but that is being rather picky. The extractor was nicely mated to the slide, and everything else matched up nicely.
Trijicon's HD front sight remains my favorite and the rear is growing on me; regardless, the sights were added at my request. You can certainly use whichever ones you prefer.
The Christensen Arms all-steel 1911 is an excellent pistol at a much lower cost compared to their titanium models. It's accurate, reliable and easy to carry, and I look forward to getting quite a bit more time using it. If you are looking for a high-quality 1911, make sure you add Christensen Arms to your list.
Christensen Arms 1911
Caliber:     .45 ACP
Capacity:    8+1 (accepts standard 1911 .45 ACP magazines)
Barrel:    4.25 in.
Sights:    Trijicon HD
Finish:    Black Cerakote
Overall Length:    7.85 in.
Width:    1.4 in.
Weight:     34.7 oz.
Grips:    VZ G-10
SRP:    $3,000
website:   christensenarms.com
This article appeared in the Spring 2015 Concealed Carry issue of Gun Digest the Magazine.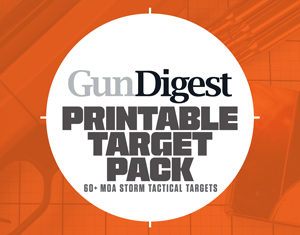 Next Step: Get your FREE Printable Target Pack
Enhance your shooting precision with our 62 MOA Targets, perfect for rifles and handguns. Crafted in collaboration with Storm Tactical for accuracy and versatility.
Subscribe to the Gun Digest email newsletter and get your downloadable target pack sent straight to your inbox. Stay updated with the latest firearms info in the industry.