Some research on the guns that are moving faster than hotcakes right now on online auction sites by the gun value experts at Blue Book.
Listings last 90 days.
Semi-Auto Pistols approx. 49 percent
Rifles approx. 36 percent
Shotguns approx. 9.5 percent
Revolvers approx. 5.5 percent
Most activity today is in semi-auto pistols at about 49 percent of public data sampled from firearms listings. SIG Sauer leads with 7.5 percent of the pistol activity, with their 1911 models being most active. That is followed by Ruger at 6.5 percent, with the LCP Model most active, then the H&K P30 Model and the Beretta Model 84 .380 ACP pistol.
Next is rifles at 36 percent of activity. Bolt-action rifles have over 60 percent of the rifle activity. Ruger is out front with over 10 percent of the bolt-action rifle activity. The American Model is the most popular. Next is Blaser with 5 percent of the bolt-action rifle activity, with the Model R93 in .300 Win. Mag. being most popular, followed by Savage with its Mark II rifles.
Semi-auto rifles post now at 30 percent of rifle activity, with Ruger out front with over 10 percent of the activity. The 10/22 is most popular for Ruger, and IWI (Israel Weapon Industries) is next with its Tavor.
Lever-action Henry Repeating Arms Co. is behind IWI, followed by Winchester and Marlin, followed by single shot and then slide-action rifles.
Shotguns are next—9.5 percent of listings. Slide actions are first with approximately 30 percent of all shotgun activity. The Mossberg Model 500 is in front, followed by the Winchester Model 12 and the Kel Tec KSG.
Semi-auto shotguns are in line after that with Benelli's M2 Field out front and Browning's A-5 a distant 2nd.
Last is revolvers with approximately 5.5 percent of the firearms listings. S&W has approximately 23 percent of revolver listings; their Model 686 is most popular, followed by Ruger and its LCR, then Taurus' Model 85, and Colt's SAA or Python is a tossup.
What's really hot? Ruger anything, almost 2nd in semi-auto pistols, 1st in bolt-action rifles and 1st in semi-auto rifles.
What's not hot? Where is Remington hanging out?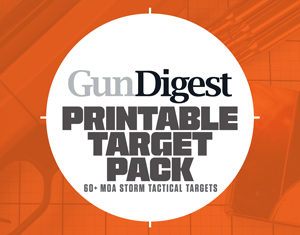 Next Step: Get your FREE Printable Target Pack
Enhance your shooting precision with our 62 MOA Targets, perfect for rifles and handguns. Crafted in collaboration with Storm Tactical for accuracy and versatility.
Subscribe to the Gun Digest email newsletter and get your downloadable target pack sent straight to your inbox. Stay updated with the latest firearms info in the industry.