Summer is nearly here, no better time to stock up on all the plinking supplies you need to shoot away a hot afternoon.
Get set to make a wish list:
Tactical Solutions RIDGE-LITE Barrel
Looking to upgrade your Smith & Wesson SW22 Victory's barrel? Look no further than TacSol's RIDGE-LITE Barrel. The upgraded barrel kit comes equipped with a fluted barrel, a stainless steel shank, an aluminum picatinny rail and fiber optic sights, which are fully adjustable for windage and elevation at the rear. The new barrel weighs 8 ounces and has a length of 6 inches. The barrel itself is manufactured from 6061-T6 aluminum and features a chomoly steel liner. MSRP: $355

CCI .17 HMR VNT
This new load from CCI is tailor made for taking down varmints at longer ranges. At the center of the .17 HMR VNT is a 17-grain Speer bullet with an extremely thin jacket and precision-built polymer tip. The result is a projectile that offers a very flat trajectory for accuracy as distances stretch and explosive terminal performance on soft tissue. MSRP: $18/ Box of 50
Savage B-Series Hardwood
In 2017 Savage debuted its new B-Series line of bolt-action rimfire rifles with a number of composite-stocked models chambered in .22 LR, .22 WMR and .17 HMR. This year, Savage has expanded the B-Series with three new models featuring a Walnut-stained hardwood stock with unique, modern checkering on the grip and forend. All models feature a 21-inch barrel, a top tang safety and Savage's renowned adjustable AccuTrigger. MSRP: $439-$459

Ruger 10/22 Target Lite
This new Target Lite version of Ruger's classic 10/22 features a black laminate thumbhole stock with a rollover comb, a flat forend and swivel studs for mounting a sling if needed. It utilizes a 16.13-inch cold hammer-forged barrel tensioned
in a black-anodized aluminum alloy barrel sleeve. The rifle also features Ruger's BX-Trigger, which offers a crisp pull between 2.5 to 3 pounds, minimal overtravel and a positive reset. MSRP: $649

Tandemkross 'Cornerstone' Safety Ledge
Tandemkross makes a number of aftermarket upgrades for popular rimfire platforms, such as Ruger's Mark IV 22/45. One of the latest is the "Cornerstone" Safety Ledge,
which provides shooters with an oversized 1911-style safety ledge that aids in faster shooting and operation of the pistol. This aftermarket safety can be added without making any modifications to the gun's internal components and requires no tools for installation. MSRP: $60

Steyr Zephyr II
A renewed take on Steyr's original Zephyr rifle produced from 1955 to 1971, the Zephyr II is classic in appearance and perfectly suited to hunting pursuits. The rifle utilizes an elegant European walnut stock with a Bavarian cheek piece and fish scale checkering. The cold hammer-forged barrel is 19.7 inches in length, and the gun weighs 5.8 pounds total, making it a handy hunting companion. The rifle feeds from a detachable five-round box and is available in .22 LR, .22 WMR and .17 HMR. MSRP: $995
Tactical Solutions PAC-LITE Holster
The TacSol PAC-LITE Holster is engineered to fit the Ruger Mark series of pistols, ranging from the earliest models up to the new Mark IVs, with or without an optic. The holster's design is ambidextrous, so it is friendly to both left- and right-handed shooters, and it has adjustable retention for improved flexibility. It's also built to accommodate most suppressors and any length of barrel. The PAC-LITE is designed to fit belts up to 2 inches in width and is available low- or high-ride versions. MSRP: $40

SIG Sauer 1911 We The People BB Pistol
One of SIG's newest semi-automatic, CO2-powered airguns is the 1911 We The People BB Pistol. Like SIG's We The Pistol centerfire handguns, this BB Pistol features a distressed finish on the stainless steel slide and frame, along with patriotic engravings. The airgun has a realistic blowback action, with a slide that holds open after the last BB is fired. It also has a 17-round drop magazine that holds 4.5mm steel BBs and a functioning grip safety, and it conveniently fits current 1911 holster systems, which makes it a great training option. MSRP: $120

SIG Sauer ASP20 Break Barrel Air Rifle
The new ASP20 is SIG's first entry into the break barrel air rifle category. The suppressed, single-shot break barrel rifle is available in .177 and .22 caliber and features the lightest cocking effort in its class (33 pounds) due to its GlideLite cocking mechanism. It also utilizes one of the airgun industry's most advanced trigger systems with its ASP MatchLite adjustable trigger, which allows users to alter the weight from 2.5 to 4 pounds. The .177-caliber version delivers 20 foot pounds of energy and a muzzle velocity of 1,021 fps with an 8.64-grain pellet, while the .22-caliber version offers 23 foot-pounds of energy and a velocity of 841 fps with a 14.65-grain pellet. MSRP: $360-$490
Editor's Note: This article originally appeared in the February 2018 issue of Gun Digest the Magazine.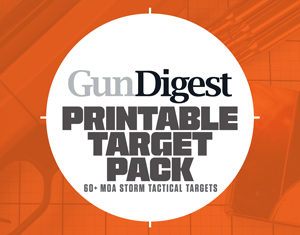 Next Step: Get your FREE Printable Target Pack
Enhance your shooting precision with our 62 MOA Targets, perfect for rifles and handguns. Crafted in collaboration with Storm Tactical for accuracy and versatility.
Subscribe to the Gun Digest email newsletter and get your downloadable target pack sent straight to your inbox. Stay updated with the latest firearms info in the industry.