Walther has expanded its handgun lineup with its new PPQ SC, a subcompact version of its popular PPQ.
What to know about Walther's new PPQ SC:
The PPQ SC scales down the popular PPQ for a more comfortable carry option.
It's 6.6 inches in overall length, 4.4 inches in height and 1.3 inches in width.
Controls (slide stop and magazine release) are ambidextrous.
It uses Walther's Quick Defense Trigger, a 5.6-pound trigger with a quick reset.
It's available with a variety of magazine options and has an MSRP of $649.
Today Walther has announced its newest addition to its handgun lineup, and it's something fans of the brand have been wanting for some time — a sub-compact option in the PPQ line. The new Walther PPQ SC (for Sub-Compact) takes the popular PPQ down to a more manageable size for comfortable carry, while keeping all of the great standard PPQ features shooters love.
The new PPQ SC shaves off almost an inch in length from the PPQ M2 and roughly three ounces in weight. In terms of height, the PPQ SC knocks off about another inch, taking it from 5.3 inches to 4.4 inches. Those figures might not sound like a lot, but as most who carry know, an inch or two and a few ounces here and there can make all the difference when it comes to comfort and concealment.
Like the earlier PPQ models, the new PPQ SC features an excellent trigger (Walther refers to it as a Quick Defense Trigger) that breaks cleanly at 5.6 pounds and a short 0.4-inch travel and quick 0.1-inch reset. The trigger guard is also serrated.
As with all of Walther's handguns, there is still an emphasis on ergonomics with the PPQ SC. This starts with the grip, which features a non-slip, cross-directional surface for improved control, even under quick and repetitive recoil. It continues with the gun's interchangeable backstraps designed to fit a variety of hands.
If that weren't enough, Walther's PPQ SC also features ambidextrous controls. The slide stop and thumb-activated magazine release are both left- and right-hand friendly. And the slide stop is extended for easy activation, even with gloves. The PPQ SC's Tenifer-coated slide also wears front and rear serrations for more efficient manipulation.
Sights are simple but effective low-profile three-dot polymer combat sights. The sights facilitate quick aiming, yet remain unobtrusive to prevent snagging on the draw. The rear is also adjustable for windage.
Other noteworthy features include a MIL-STD 1913 Picatinny forward rail for accessories such as a laser or light and a Tenifer-coated barrel and inside action parts. In addition, the PPQ SC will be available with a few different magazine choices, including flush fit, finger extender and extended sleeve options.
I had the opportunity to test the new PPQ SC several months back at a Walther media event, and though I can't provide a full review here, I can say that it performed very well. The event was a training program at a Deliberate Dynamics facility outside of Price, Utah, and Inceptor Ammunition provided a ton of its ARX defensive and RNP training loads for our use. And Clinger Holsters offered holsters for the event. Our group of writers and industry professionals put a ton of rounds through the guns and they all proved quite reliable.
The Quick Defense Trigger was pleasant, and the gun handled well, even with the flush-fit magazines, though I did tend to shoot better with the finger extension magazines. The sights were fairly easy to acquire and put on target — perfectly suitable for an everyday carry piece. Operating the gun was also simple, with the mag release activating seamlessly and dropping magazines freely.
I did have a little trouble with the slide not locking back on an empty magazine, not because there was anything wrong with the gun, but simply because of the placement of my thumbs on the slide. Once I made an adjustment, it locked back each and every time.
Overall, I came away very impressed with the gun in my time with it. It's everything you might need in a daily carry gun — highly concealable, comfortable in the hand and plenty shootable at appropriate distances.
MSRP on the new PPQ SC is currently listed at $649. For more on this new subcompact, keep an eye out for a full review in an upcoming issue of Gun Digest the Magazine.
Specifications:
Walther PPQ SC (Sub-Compact)
Caliber: 9mm
Barrel: 3.5 in.
Barrel Twist: 1:10
Overall Length: 6.6 in.
Height: 4.4 in.
Width: 1.3 in.
Weight (empty mag): 21.2 oz.
Sight Radius: 5.6 in.
Trigger: 5.6-lb. Quick Defense Trigger
Finish: Matte Black
Sights: Low-profile, three-dot combat iron sights
Capacity: 10 rounds (standard)
MSRP: $649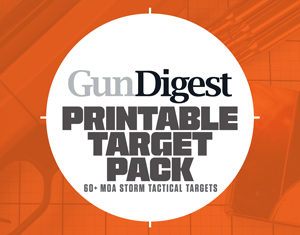 Next Step: Get your FREE Printable Target Pack
Enhance your shooting precision with our 62 MOA Targets, perfect for rifles and handguns. Crafted in collaboration with Storm Tactical for accuracy and versatility.
Subscribe to the Gun Digest email newsletter and get your downloadable target pack sent straight to your inbox. Stay updated with the latest firearms info in the industry.