Of all American guns few are as iconic as the Winchester Model 1873. The lever-action rifle, after all, was the "Gun that won the west."
The carbine's heyday as a military firearm and a tool for taming the American frontier might be over, but the demand for the historic rifle is as brisk as ever. So brisk, in fact, Winchester recently expanded its line of 73s.
The company is now offering a Model 1873 Sporter, color case hardened, with an octagon barrel. The Japanese-made rifle looks to have all the makings of a top-notch and functional addition to almost any enthusiast's collection.
The octagon barrel is one of the more intriguing aspects of the new addition. While it is a throwback, it is not necessary one that makes the new 1873 more historic, given the original sporters came with the option of round or octagonal barrels. There was also a half-octagonal option on the original, as well.
Like the earliest examples of this style of 73, the barrel measures in at 24-inches. Practically speaking, this should make for a very maneuverable rifle and should help the rounds it's chambered for — .357 Magnum/.38 Spc., and 44-40 Win. — live up to their ballistic potential.
The rifle comes with the choice of a grade I or II walnut stock with a stain oil finish and cut to the original Model 1873's pattern. This includes the rifle's straight grip, which even today gives the firearm a pretty dynamic profile.
The rich grain of the wood sets off the color-case hardened receiver and crescent buttplate, along with the blued barrel.
The rifle is outfitted with a semi-buckhorn rear sight and a Marble Arms gold bead front sight. The rear tang is also drilled and tapped for the quick addition of a tang-mounted rear sight.
Presently, the Winchester Model 1873 Sporter has an MSRP of $1,739.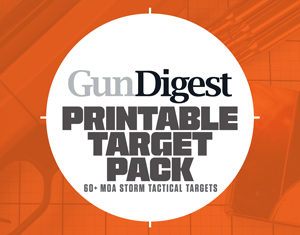 Next Step: Get your FREE Printable Target Pack
Enhance your shooting precision with our 62 MOA Targets, perfect for rifles and handguns. Crafted in collaboration with Storm Tactical for accuracy and versatility.
Subscribe to the Gun Digest email newsletter and get your downloadable target pack sent straight to your inbox. Stay updated with the latest firearms info in the industry.