Daniel Defense is offering two new finish options to its lightweight .308 platform, giving shooters the ability to give their rifles a custom look.
Daniel Defense took its first foray into .308 Win. not long ago with relatively good success. The DD5V1 proved to be a light, maneuverable semi-auto, executed with all the deftness of the rest of the Georgia gunmaker's catalog. And now the manufacturer is adding a splash of color to the high-performance rifle.
Daniel Defense has added two new finish options to the basic black with the grayish Daniel Defense Tornado and the tan Mil Spec +. In both cases, colors options are thin-filmed polymer-ceramic Cerakote finishes, which shouldn't only add to the shooter's ability to customize their firearms, but also extend their lifespan.
Cerakote protects the exterior metal from impact, corrosion, wear and chemical exposure, as well as provides a certain level of additional hardness. In short, the finish does a pretty solid job of adding an extra layer of protection, giving shooters the piece of mind that their rifle will withstand the harshest environments.
The Mil Spec + is a bit flashier than the typical Flat Dark Earth, having a slightly metallic tone to it, while the Tornado is a bit flatter in finish, but equally eye-catching in color. Whatever the case, the somewhat unusual color choices certainly give the rifle a sleek appearance that could turn heads at the range — if that's the shooter's aim.
The new finishes protect the same top-of-the-line features and design points of Danial Defense's original DD5V1. Some of the features include a unique four-bolt connection system securing the barrel and handguard to the upper receiver, oversized cam pin and dual ejectors on the bolt and Key-Mod handguard.
The new finishes tack on about $100 to the DD5V1's base price, with the MSRP on the rifle with the color options being $3,198.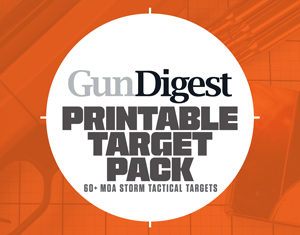 Next Step: Get your FREE Printable Target Pack
Enhance your shooting precision with our 62 MOA Targets, perfect for rifles and handguns. Crafted in collaboration with Storm Tactical for accuracy and versatility.
Subscribe to the Gun Digest email newsletter and get your downloadable target pack sent straight to your inbox. Stay updated with the latest firearms info in the industry.