[imagebrowser id=487]
Any carry gun is a good one when you need it, but some just outshine the competition. They feel a little better, they shoot straighter and they do exactly what they are supposed to do every time you pull the trigger. That's why Gun Digest is highlighting a handful of firearms in this Gear of the Year issue. Of course, a concealed carry gun needs to be carried and concealed. We've also included some of the best holsters on the market. They not only give you a place to put your favorite CC gun, they allow you to carry in comfort and style.
Editor's Note: This article originally appeared in the Winter 2016 edition of Gun Digest the Magazine.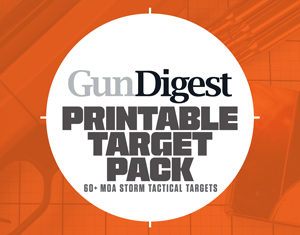 Next Step: Get your FREE Printable Target Pack
Enhance your shooting precision with our 62 MOA Targets, perfect for rifles and handguns. Crafted in collaboration with Storm Tactical for accuracy and versatility.
Subscribe to the Gun Digest email newsletter and get your downloadable target pack sent straight to your inbox. Stay updated with the latest firearms info in the industry.