Springfield is shooting for the long-range crowd, releasing its flagship M1A in the ballistically gifted 6.5 Creedmoor.
Does the new M1A have what it takes to score a bullseye with shooters?
The 6.5 Creedmoor M1A is offered with composite stock or precision-adjustable stock.
It has a .062-inch wide front sight and match-grade .052-inch adjustable rear aperture.
The M1A's 22-inch barrel has four-groove rifling at 1:8 twist.
This means it should be able to stabilize a wide spectrum of 6.5 bullets.
The rifle is $1,985 for the composite stock and $2,045 for the precision-adjustable.
Having crept into every corner of the shooting world, AR-15 style rifles have seemingly sucked the oxygen out of the market for most other semi-automatics, save one. No matter the AR's wiz-bang upgrades, new chamberings or configurations, the Springfield M1A soldiers on in the face of the black rifle army.
Why not? At once, the rock-solid rifle is accurate, deadly and nostalgic. Fewer and fewer production rifles can make all three of those claims nowadays, which is perhaps why the M1A continues to win new generations of shooters' hearts and minds. However, let it not be said that Springfield hasn't done its part to keep this semi-automatic version of the M14 relevant.
A number of years ago, the company released a variety of M1A configurations tailored to specific pursuits of the highly divergent shooting world. And recently, and perhaps as weighty, the gunmaker has taken its flagship rifle another step into the contemporary with the release of an M1A Loaded in 6.5 Creedmoor.
Springfield expanding from strictly .308 Win./7.62 NATO is logical, given the growing interest in the ballistically gifted 6.5 round, particularly in competition circles. While ARs have dominated in high-powered rifle matches, the M1A is still a top choice of many shooters and might be more so with the new chambering. But those aiming for the X-ring aren't the only ones who stand to benefit from the Springfield venture into Creedmoor country. Given the 6.5's mild recoil and inherent accuracy, matching it to the highly shootable M1A could be a match made in heaven for hunters, target shooters, preppers and what have you.
No matter its application, Springfield has set up its new M1A 6.5 Creedmoor to excel at drilling bullseyes.
Offered with the choice of solid black composite or a precision-adjustable stock, all of the rifles are constructed with 22-inch National Match-grade stainless-steel barrels, topped with a muzzle brake. The medium-weight profile of the barrels gives shooters an extended sight radius with iron sights, while its four-groove rifling at 1:8 twist should stabilize a wide spectrum of 6.5 bullets.
The rifle is equipped with a .062-inch wide front sight paired with a match-grade .052-inch adjustable rear aperture. The aperture is adjustable in .5 MOA increments for windage and 1 MOA increments. The 11.4-pound M1A is 45-46.25 inches long and comes outfitted with a two-stage National Match trigger, factory set at 4.5-5 pounds. It ships with a 10-round magazine. Presently, the rifle has an MSRP of $1,985 for the composite stock and $2,045 for the precision-adjustable.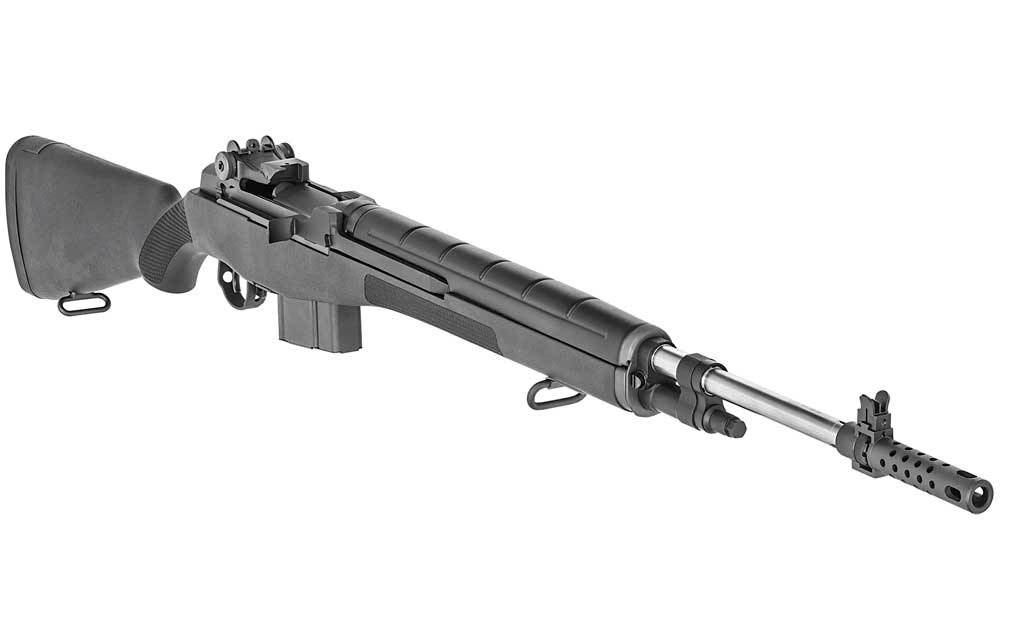 This is not the first time Springfield has steered the M1A away from the venerable .308 Win./7.62. But only time will tell if the 6.5 Creedmoor has what it takes to stay in the company's catalog or go the way of the 7mm-08, .243 Win. and .30-06 examples of the past.
Specifications:
M1A 6.5 Creedmoor
Caliber: 6.5 Creedmoor
Length: 44.33 in.
Front Sights: National Match .062-in. Post
Barrel: 22 in., 4-Groove, 1:8 RH Twist, Stainless Steel NM Medium Weight
Weight (with empty magazine): 9.3 lbs.
Rear Sight: NM Grade Non-Hooded Aperture .052 in., Adjustable, 1/2 MOA Windage and 1 MOA Elevation
Magazines: 10 Round, Parkerized
Stock: Precision Adjustable; Black Composite
MSRP: $2,045 Precision Adjustable; $1,985.00 Black Composite
---
NEXT STEP: Download Your Free Storm Tactical Printable Target Pack
62 Printable MOA Targets with DOT Drills - Rifle Range in YARDS
This impressive target pack from our friends at Storm Tactical contains
62 printable targets
for rifle and handgun range use. Target grids and bullseye sizes are in MOA. Ideal for long-range shooting!
Subscribe to the Gun Digest email newsletter and we'll send your print-at-home target pack right away.
Just enter your email address below.
---