Turnbull & Henry Now Partnering With Top Shot Armory On The Special Edition Henry-Turnbull Rifle.
It looks as good as it shoots and is certain to be the pride of any collection.
Editor's Note: This article is sponsored content from Turnbull Restoration.
Turnbull Restoration is proud to announce a collaboration with Henry Repeating Arms and Top Shot Armory to produce and bring to market a customized version of the well-known and popular Henry lever action rifle. Henry has long been the standard for American-built lever guns, and now Turnbull is joining with them to produce a limited-edition known as the "Henry-Turnbull Rifle."
"Working with the amazing people at Henry and Top Shot has been a pleasure. It's our shared dedication to preserving the legacy of great American lever guns that's brought us together," said CEO and Founder Doug Turnbull. "Henry rifles have been beloved American-made rifles for as long as I can remember, and we're proud to be able to work with them on this offering."
The rifle, American-made to Henry's precise standards, is finished with the distinctive Turnbull bone charcoal color case hardened receiver, lever, hammer and forend cap. This limited-run rifle is available only through Top Shot Armory and its network of dealers.
"Top Shot Armory is a great retailer and distributor that shares our love for iconic lever guns, as well as our dedication to making sure these rifles stay part of the American firearm story," Turnbull emphasizes. "Henry Repeating Arms and Turnbull Restoration are partnering up with Top Shot to bring the consumer an instant classic."
---
Learn More About Turnbull:
---
The Henry-Turnbull Rifle is available in .30-30 Win, .41 Rem Mag., .44 Rem Mag, .45-70 Govt., .45 Colt, .327 Fed and .257 Mag. There will only be 250 of each caliber produced. Recognizing the demand for this rifle, Turnbull, Henry and Top Shot Armory took the opportunity to raise some much-needed funds to support Hunting Heritage Trust. Serial number one of each caliber was specially laser-engraved and dubbed "The President's Collection." The Collection was auctioned off on GunBroker.com's website at the recent NSSF SHOT Show in Las Vegas, raising more than $17,000 for this vital cause.
"This is an All-American effort by three great American companies – Tunrnbull Restoration, Henry Repeating Arms and Top Shot Armory– to produce and deliver an instantly-collectible example of one of America's most beloved classic lever rifles," explained Turnbull. "We're looking forward to more such projects with the great folks at Top Shot throughout 2019."
The Henry-Turnbull Rifle is only available through Top Shot Armory and its network of dealers. They can be found online at www.topshotarmory.com, by phone at (574) 288-4867,and at their location in South Bend, Indiana.
Turnbull Restoration Co., Inc. is known globally for the ability to take even the most damaged collectible firearm and return it to its original look, feel and function. Founder and CEO Doug Turnbull is renowned for his period-correct metal finishes which stand out as the most striking and authentic. The company offers a line of new production firearms that incorporate the same quality look and feel as the collectibles they are famous for restoring. Also available are authentic vintage firearms of many iconic brands from private collections that Turnbull has purchased and inspected, cleaned and restored where needed. Please visit www.turnbullrestoration.com for more information.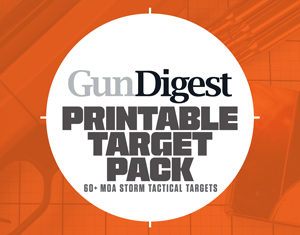 Next Step: Get your FREE Printable Target Pack
Enhance your shooting precision with our 62 MOA Targets, perfect for rifles and handguns. Crafted in collaboration with Storm Tactical for accuracy and versatility.
Subscribe to the Gun Digest email newsletter and get your downloadable target pack sent straight to your inbox. Stay updated with the latest firearms info in the industry.