True masters of their trade, the craftsmen at Turnbull Restoration Company take ordinary firearms and make them extraordinary.
If you've been around the gun world for any amount of time, you're more than familiar with the name Doug Turnbull. A virtuoso at his trade, he and the rest of the master craftsmen at Turnbull Restoration Company are renown for transforming firearms into masterpieces. Bluing deep as midnight and color-case hardening as brilliant as the Fourth of July, the New York gun concern's work is unmistakable.
Producing some of the most sought-after custom guns around, Turnbull and crew take the new and old and make them extraordinary. Be it a brand new Ruger GP100 revolver or a classic Winchester 1886 rifle, the guns not only leave the shop one-of-a-kind, but also functioning better than the day they rolled off the assembly line.
The functional pieces of art aren't born overnight, especially through Turnbull's process. An eye toward tradition, the company relies on skilled workmanship, years of knowledge and a couple buckets of sweat to produce functional art. Hand engraving, checkering and fitting ensure absolute precision when a gun it on your shoulder. But in some case, it can take over a year to finish a product.
Holding true to the old way doesn't mean Turnbull scorns innovation. Far from it. Take the company's proprietary cartridge, the .475 Turnbull, for example. Designed to provide modern ballistics out of a tried-and-true lever-action rifle (1886 to be exact), Turnbull has used up-to-date engineering to keep historic firearms relevant.
It fair to call what Doug Turnbull and his team does magic. It's certainly cast a spell over the lovers of fine guns.
---
More Gun Digest Videos: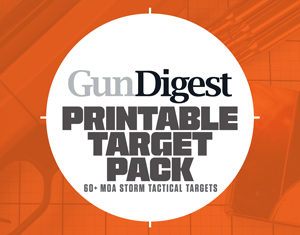 Next Step: Get your FREE Printable Target Pack
Enhance your shooting precision with our 62 MOA Targets, perfect for rifles and handguns. Crafted in collaboration with Storm Tactical for accuracy and versatility.
Subscribe to the Gun Digest email newsletter and get your downloadable target pack sent straight to your inbox. Stay updated with the latest firearms info in the industry.