Long on carbon fiber, the Christensen Arms Ranger 22 not only proves a featherweight rimfire, but also deadly accurate one.
What Sets The Ranger 22 Apart From Other Rimfires:
Light and rigid carbon-fiber wrapped barrel cuts down on rifle's weight and provides superior harmonics.
Carbon-fiber stock boast accuracy-enhancing features, such as palm hook and angle grip.
Bolt has twin lugs for tight and strong lock up.
If you're a rimfire fan, 2020 is shaping up as a banner year. The market is brimming with new and frankly top-notch options, both pistol and rifle. And the hits appear to keep roll on.
The latest to throw their hat in the ring is Christensen Arms, whose bolt-action Ranger 22 fills the role of top-end, lightweight field rimfire. As expected from the masters of carbon fiber, the .22 LR's barrel is carbon fiber wrapped and boasts a carbon-fiber stock. Both do a number on the rifle's heft, with the Ranger 22 tipping the scales at a scant 5.1 pounds. This facet alone should make it a top choice for long days in the squirrel and bunny woods.
Guaranteed for sub-MOA performance out to 50 yards, Christensen Arms has optimized the accuracy potential of the Ranger 22 in several ways. Upfront, the carbon-fiber-wrapped barrel not only proves light, but also extremely rigid with excellent harmonics. Further, the stock includes such assets as a palm hook to sure up the seat at the shoulder and angled grip for a more ergonomic and intuitive approach to the rifle. Finally, the Ranger 22's aluminum receiver houses a two-lug (opposing) bolt, for a tight and strong lock up.
---
Plink Away With More Rimfire Content:
---
A few of the rifle's other notables include threaded muzzle (½×28) with protector, Bentz match chamber, Trigger Tech Rem 700 match-grade trigger (adjustable) and the choice of black, tan or gray webbing finish on the stock. Also, and perhaps best of all, the Ranger 22 utilizes Ruger 10/22 magazines, which are plentiful and generally affordable. Not any entry-level rimfire, the Christensen Arm Ranger 22 comes in decently priced for the package, with an MSRP of $795.
More From Christensen Arms:
The NEW Ranger 22 brings a widely anticipated rimfire option back to the Christensen Arms line-up. Far beyond the bounds of an average plinking gun, this new firearm delivers the top-tier performance expected from Christensen Arms in an advanced .22 caliber firearm. The lightweight bolt-action platform is built for precision and easily adapts to all challenges, big or small.

The Ranger 22 begins as a precision machined aluminum receiver that features dual opposing steel locking lugs. The action is fitted to a Christensen Arms Carbon Fiber Tension Rimfire Barrel with a 22 LR Bentz match chamber to ensure superior accuracy and performance. Then the threaded muzzle is paired with a thread protector, and the same adjustable match-grade trigger used in our centerfire rifles is installed alongside our standard bolt-knob. Even better—the rifle utilizes standard Ruger® 10/22 magazines.

When the barreled action is mounted into a Carbon Fiber Composite Rimfire Stock, it gains a number of additional features. The palm hook assists a shooter in establishing a solid seat against their shoulder, while palm swell and angled grip help secure a stable platform wherever it may be needed. Offered in two distinct styles—the Ranger 22 is available in our classic Black with Gray Webbing finish as well as a new Tan with Black Webbing option.

The Ranger 22 is priced at $795 and is available chambered in 22 LR with an 18-inch barrel. Once complete, the firearm weighs in starting at 5.1 pounds and is backed by a Sub-MOA at 50 Yards Accuracy Guarantee. We take great pride in the products that we produce, and if we put our name on it, we'll stand behind it. As with all of our rifles, the Ranger 22 is built here in the USA and is available to order from any Christensen Arms dealer.
For more information on the Ranger 22, please visit christensenarms.com.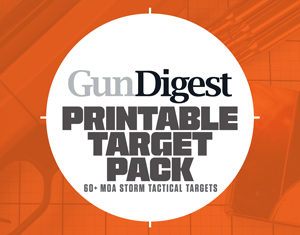 Next Step: Get your FREE Printable Target Pack
Enhance your shooting precision with our 62 MOA Targets, perfect for rifles and handguns. Crafted in collaboration with Storm Tactical for accuracy and versatility.
Subscribe to the Gun Digest email newsletter and get your downloadable target pack sent straight to your inbox. Stay updated with the latest firearms info in the industry.