The .243 Winchester is an extremely versatile and capable hunting cartridge, so here are the six best .243 Winchester rifles to shoot it with.
Some believe that a .243 Winchester rifle is a mere youth hunting gun for whitetails and woodchucks, but as guns and ammunition have advanced over time, the setup has become a pretty decent do-everything gun. Today's .243 Winchester ammo is capable of so much more than just taking whitetails across a beanfield, although it remains a great choice for that too.
So, let's talk about what the best .243 Winchester rifles are and what to look for when selecting one for your own hunting needs.
What's The Best Use For A .243 Winchester Rifle?
The first and best use-case for .243 Winchester is a hunting cartridge for light-skinned game. It has long been prized as a youth cartridge given the gentle recoil which is typically less than 10 foot-pounds with most loads and rifles.
.243 Winchester has its roots in a number of wildcats, including Fred Huntington's .243 Rockchucker and Field and Stream shooting editor Warren Page's .240 Page Pouper and .240 Super Pouper. All seat a .243 (6mm) caliber projectile on a larger case, with the result being a light bullet at a warm velocity (100-grain bullets at about 3,000 feet per second are typical) with gentle recoil. Winchester used .308 Winchester as the parent case when it cooked up its spin on the concept. 
From its inception, the .243 Winchester was hailed as an excellent varmint and light-skinned game cartridge, though it was also found to be exceptionally accurate and as such found a niche in benchrest shooting.
It's worth noting that Page was a major influence on benchrest shooting as a sport, and High Power national championships have been won as recently as 2017 with a .243 Winchester rifle.
Early factory loads were 80- and 100-grain soft points, but now can be as light as 55 grains or as heavy as 105 grains. The old soft point bullets are fine for light-skinned game at moderate ranges, but modern monometal high-BC bullets are fully capable of taking larger game including elk, moose, caribou and black bear.
You would be forgiven for thinking that .243 Winchester was best reserved for modest distances for hunting, but modern high-BC loads are a lot more capable than you'd think. Here's a ballistic trajectory table for Federal's 95-grain Berger Hybrid load (G1 BC of .434). The table was built using Shooter's Calculator with a 1.5-inch sight height, a 10 mph 90-degree crosswind, zero corrections for atmosphere and a 100-yard zero.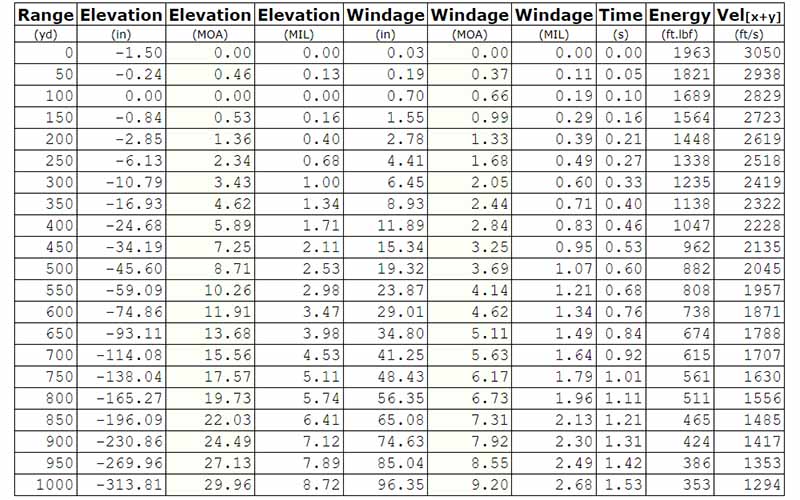 As you can see, it's still supersonic at 1,000 yards and still has more energy at 500 yards than a .357 Magnum does at the muzzle. Ergo, it's safe to say that it would be effective on whitetails to at least that distance if not beyond, as well as on sheep, mountain goats and similar game.
So, while the classic .243 Winchester is still great for prairie dogs and whitetails, it's capable of a lot more than that with the correct ammo and in the hands of a practiced marksman.
.243 Winchester Rifle Barrels
The most typical configuration of a .243 Winchester rifle is probably a 22-inch barrel with a 1:10 twist, although a 1:12 twist is not unheard of. Some are offered with a 1:9 or 1:9.25 twist, and match rifle barrels can be found with a 1:8 5C (1-in-8 twist with canted lands) as well.
The most common barrel lengths are 20, 22, and 24 inches, though some opine that .243 rifles should have 26-inch barrels to achieve optimal velocities. Some NRA High Power shooters are known to use barrels as long as 32 inches.
You can find data online that shows the velocity loss per inch of barrel for .243 Winchester, and it suggests that the sweet spot is between 20 and 24 inches. The decrease in velocity only starts to become significant when going below 20 inches of barrel length.
Since velocity matters when it comes to terminal performance and trajectory, the optimal barrel length would be 22 to 24 inches for most shooters' needs, but 20 inches still delivers acceptable performance if you need your rifle to be more compact.
As for the rifle's twist rate, a 1:10 twist is the most common; it's just fast enough to stabilize heavy-for-caliber projectiles but just slow enough for lighter ones too. If you intend to shoot heavier, higher-BC projectiles (such as the 105 grain) look for a barrel with a faster twist such as 1:9 or 1:9.25.
Other Considerations For A .243 Winchester Rifle
Depending on what you plan on using it for, there are other features to pay attention to when selecting a rifle chambered for .243 Winchester. There are scads of generic bolt-action rifles in this caliber given its popularity, but there are a great deal of more specialized rifles too.
Nearly any aesthetic you desire can be obtained. Rugged, utilitarian rifles made of synthetic and stainless steel to rifles with modern carbon fiber-wrapped barrels in camo patterns to classics in walnut and blued steel.
If you want peak modularity, look at either an AR-10 or a common bolt-action platform. That gives you the ability to customize the stock and/or furniture, swap components, and so on. If you know you plan on using a suppressor with the setup, be sure to purchase a model with a threaded barrel too.
Obviously, lightweight and compact rifles make the best field rifles. Compact models in this caliber are plentiful, perfect for younger shooters or backcountry hunters looking for a light, handy hunting rifle.
The 6 Best .243 Winchester Rifles:
The Classic: Winchester Model 70 Featherweight
In a lot of ways, Winchester got it right the first time. The Model 70 Featherweight is still light by today's standard at 6.75 pounds. If you want a functional classic, the Rifleman's Rifle is about as good as it gets.
Today's Model 70 uses the same controlled-round feed Mauser-style action, just made with modern CNC machines and bedded in a walnut stock with fleur-de-lis checkering and Winchester's adjustable Marksman trigger. The barrel length is 22 inches with a 1:10 twist.
MSRP is $1,279, but street prices are closer to $1,100.
The Compact: Browning X-Bolt Micro Midas
There are several compact and youth rifles in .243 Winchester, but the Browning X-Bolt Micro Midas is the sleeper among them and well worth looking at.
The Midas Micro has a wood stock and features a 20-inch barrel with a 1:10 twist, but the stunning part is that it only weighs 6 pounds, 1 ounce for a walnut and steel rifle. Add Browning's Feather trigger and 60-degree bolt…that's a lot of bang for the buck given its $999 MSRP.
Best Value: Savage AXIS II
The Savage AXIS II is a fantastic point of entry for this cartridge, sporting outstanding features for a low price point. It has an AXIS II adjustable stock, Savage's excellent AccuTrigger and a 22-inch barrel with a 1:9.25 twist.
Unloaded and sans optic, the AXIS II Compact weighs under 7 pounds, making it a good choice for a lightweight rifle as well. With an MSRP of $479, it's very attainable, and for only $50 more you can get one that ships with a Bushnell Banner 3-9x40mm scope.
The AR: Rock River Arms Predator HP BT-3
While it would seem an AR-10/308 rifle in .243 Winchester is a slam dunk, there are few factory AR-style rifles chambered for the cartridge. One of the few is the Rock River Arms Predator HP. While a .243 AR it is, a field rifle it is not given its weight of 9.2 pounds.
The rifle's 20-inch barrel is made of stainless steel, fluted, features a 1:10 twist and has a rifle-length gas system. The receiver set is RRA's BT-3 billet lower and flat-top upper, and the package ships with a fully-railed M-LOK handguard. The rifle is available with or without a muzzle brake and it utilizes SR25/DPMS-pattern magazines. MSRP starts at $2,070.
The Modern Hunter: Christensen Arms Ridgeline FFT
Christensen Arms makes some of the finest, most technologically advanced hunting rifles available. The Ridgeline FFT has the company's carbon fiber stock and carbon fiber-wrapped barrel, resulting in a lightweight, accurate rifle for the demanding backcountry hunter.
It features a sporter style stock with multiple camo pattern options available, with a CF-wrapped hand-lapped 20-inch 1:10 twist barrel and a removable muzzle brake. Christensen's action is based on the Remington 700, so scope mounting is no sweat.
The Ridgeline FFT weighs in at 5.3 pounds and comes with Christensen Arms' sub-MOA guarantee. MSRP is $2,399.
Tactical Bolt-Action: Tikka T3x Super Varmint

One of the most forward-looking .243 Winchester rifles that's worth considering is the Tikka T3x Super Varmint.
It features a stock with an adjustable cheekpiece, a two-stage trigger and a box magazine with a 5+1 capacity. You have your choice of a 20-inch compact model or one with a 23.7-inch barrel, but both have a 1:8 twist. This makes the Tikka an excellent choice for a hunting rifle with heavy-for-caliber high-BC bullets or for an entry-level competition rifle.
Street prices are in the $1,600 to $1,700 range, but the feature list helps justify the price tag.
---
More Hunting Rifles: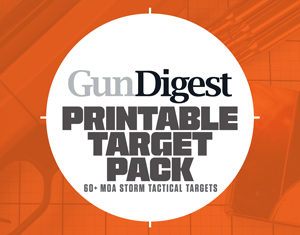 Next Step: Get your FREE Printable Target Pack
Enhance your shooting precision with our 62 MOA Targets, perfect for rifles and handguns. Crafted in collaboration with Storm Tactical for accuracy and versatility.
Subscribe to the Gun Digest email newsletter and get your downloadable target pack sent straight to your inbox. Stay updated with the latest firearms info in the industry.