A closer look at the Heym Express by Martini, an elegant twist on a classic big-game rifle.
"That's a good bull right there; let's try and get just a bit closer."
So uttered Professional Hunter Cornus duPlooy, as the pinks and purples still flared in the South African sunrise, and the taste of good coffee still lingered in my mouth. We weren't all that far from camp, in a lightly wooded area pocked with acacias and other thorny vegetation, when the blue wildebeest bull followed a cow into the opening.
"He's at 185 yards."
Steadying the forend in the sticks, I exhaled halfway, put the crosshair on the bull's shoulder and slowly broke the Heym's trigger. Even through the muzzle blast, I could hear that wonderful whunk of the bullet hitting flesh; Cornus' hissing "yes" told me it went where it was supposed to. The big bull did the whirling dervish dance, crashing within 15 yards of the shot, breaking a 4-inch-thick tree when he went down. I had taken my first animal with my Heym Express by Martini, chambered in the classic .404 Jeffery, but it most certainly wouldn't be my last.
Heavy Metal
In a market dominated by bolt-action rifles, the big-game hunter has myriad choices of tools with which to head to the wilds. Many factors can come into play when making the decision. Yet, I feel the Heym Express by Martini ranks at the top among rifles for large and dangerous game. It has become, unequivocally, my favorite bolt-action rifle ever made.
Founded in 1865 in Suhr, Germany, Heym rifles is the namesake of Friedrich Wilhelm Heym and remains in Germany to this day, having changed gears from time-to-time to survive two World Wars. Some of the finest bolt-action rifle designs have come from Germany—that Mauser fellow sure had some good ideas—and the designs remain the basis for a good number of manufacturers of fine bolt-action rifles. Heym's Express is highly reminiscent of the Mauser Gewehr 98 in the fact that it has a two-lug bolt face, non-rotating claw extractor, fixed-blade ejector and three position safety, though there are some significant differences.
Where the Mauser action uses a bolt of 0.700 inch in diameter, and the Brevex magnum action uses a beefy bolt 0.750 inch in diameter, the Heym Express uses a 0.780-inch diameter bolt. If you like a strong action, that Heym bolt is the basis of one for sure. The tolerances of the Heym Express receiver are very tight, and the raceways and bolt are properly polished so there's no chatter and minimal resistance upon working the action. In fact, among the healthy number of professional hunters who've handled my lovely .404, many come away wide-eyed and impressed. "Don't lose that rifle" is the most often uttered phrase.
The three-position safety is closer to the design of the Winchester Model 70 than that of the Mauser 98, situated low on the right side of the receiver and allowing a riflescope to be mounted low, unlike the flag safety on a Mauser. The Heym Express uses a classy straight bolt with an unadorned knob; while I love the vintage look, it does necessitate the use of high rings with some of the scopes with larger ocular housings or bigger magnification rings.
For the majority of species, I use a Leupold fixed 2.5x Compact scope, as it's enough magnification for dangerous game, and it has the slimmest design I found that could reliably handle the recoil generated by a .404 Jeffery. The scope is mounted in Talley Detachable rings, which work perfectly because the Express' receiver has integral bases milled to use the Talley 19mm base rings designed for the front part of a CZ550 (the one without the tab). And, I like the fact that the scope can be removed for access to the iron sights yet can be replaced confidently with a return to zero.
Heym has equipped the Express with a very useable set of iron sights; a bold 3/32-inch brass front bead is mounted in a banded ramp and is mated with a wide "V" safari rear sight designed for 50 yards … and a fine "U" flip-up sight for 100 yards. Those sights are mounted to a 24-inch cold hammer-forged Krupp steel barrel—manufactured in-house by Heym—of a proper contour for each caliber offered.
The Express by Martini has a magazine that's made to a specific geometry for each cartridge offered in the rifle, and this is one of the most attractive features of the metalwork. Whereas some companies will construct their magazines for a family of cartridges (the .375 H&H Magnum, .416 Remington Magnum and .458 Lott lumped together), Heym builds it for each cartridge, and the result is absolutely flawless feeding. When you rely on a rifle to save your life or the lives of others, reliable feeding is paramount, and I've never used a rifle that feeds like my Heym Express. My .404 Jeffery holds four rounds down in the magazine, and there's a hinged floorplate with the release located in the front portion of the oversized trigger guard.
The trigger is crisp, with nary a trace of creep and just a hint of overtravel; in the models I've measured, the trigger breaks somewhere between 3½ and 4 pounds, which is perfect for a dangerous-game rifle. The bolt handle, receiver, barrel, trigger guard and floorplate are blued in a matte finish, and the magazine follower and bolt are chromed.
Shaken, Not Stirred
German gunmakers are famed for their metalwork, and while I've raved thus far about the excellent action and barrel, the "Martini" portion of the Express by Martini is absolutely other-worldly. Famed gunsmith Ralf Martini—German-born but now a Canadian resident—was employed to create the revised stock for the Heym Express rifle. If you've ever been fortunate enough to have shouldered a rifle stocked by Martini, you already know that this man is a poet whose medium is walnut.
The open pistol grip is perfect under even the heaviest recoil. The comb and cheekpiece feel as though the man understands the human physique better than da Vinci, and the gently tapering forend—culminating in an offsetting black ebony forend cap that gives an appealing look—fits in the off-hand perfectly, giving a grip that's best described as "absolutely natural."
Heym will stock your rifle for a length of pull to best fit your frame (mine is tailored to me at 14½ inches), and the NECG Universal recoil pad helps take the sting out of the largest safari calibers. It's checkered at the pistol grip and forend, with sling swivel studs in the rear stock and on a barrel band as well.
The Heym principal, whether it be a bolt gun or a double rifle, is to keep the weight of the rifle between the shooter's hands. Balance is key, as a dangerous game rifle needs to come to the shoulder quickly, smoothly and, most of all with a hard-kicking big bore, correctly. The Heym Express checks all of those boxes, and my hat is off to Martini for cooking up such a good design.
Decisions, Decisions
Heym offers the Express in magnum-length cartridges, including the .375 Holland & Holland Magnum, .416 Rigby, .404 Jeffery, .458 Lott, .450 Rigby, .500 Jeffery, .505 Gibbs and, in limited production, .300 Holland & Holland Magnum. The best choice of cartridge will depend on your hunting situation and your level of recoil tolerance.
I feel the .375 H&H Magnum is the most useful cartridge ever invented, so if you were looking for a universal choice, there's your baby. If you like the stopping rifles, I'm certain you'll be well-served by the .505 Gibbs, or the .500 Jeffery, .458 Lott or .450 Rigby. And while few will deny the pedigree and panache of the .416 Rigby, I chose the .404 Jeffery for its unique— and unsung—history.
Released in 1905, the .404 Jeffery is a rimless cartridge, using a slight 8-degree shoulder and a 400-grain, .423-inch diameter bullet. Original loads drove that 400-grain bullet to a muzzle velocity of 2,150 fps, generating 4,100 ft-lb of muzzle energy. There was a 300-grain load, but that never really caught on, and the 400-grain load did the vast majority of the work. Though the .416 Rigby and .375 H&H were romanticized—with good cause—the .404 Jeffery was issued to many of the African game rangers for animal control work, and the cartridge maintained a small yet passionate following. Modern loads bring the cartridge into the realm of the .416 Remington Magnum and .416 Rigby, pushing the 400-grain bullet to 2,350 fps. Should you want more, look to the Norma PH ammo line, which sees a 450-grain Woodleigh Weldcore cruising at 2,150 fps.
My Heym .404 Jeffery has been all over the world, having taken elephant in Zimbabwe, buffalo in Mozambique, all sorts of plains game in different countries and making the long trek to Australia. While it wears a pretty piece of wood, it isn't ornate by any means. It is, without exception, the one rifle I would keep if I could keep only one—and that includes my Heym 89B .470 double rifle, my Winchester Model 70 .300 H&H and my Mauser 98 .318 Westley Richards.
My own rifle weighs in at an even 10 pounds unloaded, measures 45¾ inches from muzzle to butt, and it will put a half-dozen factory loads and handloads into sub-MOA groups. With prices starting at $13,000, this rifle probably isn't going to be seen at too many yard sales, but it assuredly has what it takes to become a family heirloom. You could spend a lot more money on a lot less rifle, and though it's costly, the Heym Express by Martini is a good value.
I've bet my life on it before … and I'll do it again.
Eighty-Seven Thousand Big Ones
While my own rifles are on the simpler side, Heym has produced some absolutely stunning pieces, including the 2023 Dallas Safari Club Convention rifle. It's an Express by Martini chambered in .375 H&H Magnum and stocked in a piece of walnut that might make you weep openly, with a color-case hardened receiver. A deep, rich bluing is offset by an ornate (but not gaudy) gold inlay. A set of matching Talley rings—blued, case-hardened, engraved and inlaid—were created to go with the rifle. The bolt is jeweled, and the floorplate is adorned with a gold inlay with a golden leopard prowling along the savannah.
As a means of raising funds for the Dallas Safari Club's numerous and excellent efforts in conservation—which run from protecting hunter's rights globally to effective anti-poaching, to protecting the habitat that's so crucial to propagating wild animal populations—this Heym Express rifle sold for a whopping $87,500. Wildlife will invariably benefit from the sale, but there is a very happy rifle owner out there somewhere, probably still staring into the mesmerizing case hardening and multi-dimensional walnut stock.
Heym has all sorts of engraving and inlay options for their rifles. From the simplest patterns to intricate scroll work, they offer some very attractive color case-hardening and plenty of wood upgrades. Initials can be engraved in the grip cap, animal scenes may be engraved onto floor plates or side panels, and all sorts of caliber labeling or whatever the imagination could produce can be realized if your pockets are deep enough … and if you're patient enough to wait for the craftsmen to do the work.
Editor's Note: This article originally appeared in the March 2023 issue of Gun Digest the Magazine.
---
More Hunting Rifles: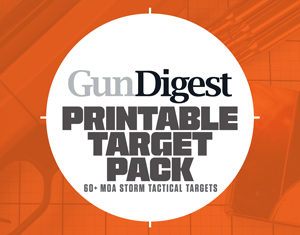 Next Step: Get your FREE Printable Target Pack
Enhance your shooting precision with our 62 MOA Targets, perfect for rifles and handguns. Crafted in collaboration with Storm Tactical for accuracy and versatility.
Subscribe to the Gun Digest email newsletter and get your downloadable target pack sent straight to your inbox. Stay updated with the latest firearms info in the industry.