The author hits the range with a customized full-size PSA Dagger to see how it fares as a home defense pistol.
Glock's motto may be "Glock Perfection", but the extensive aftermarket of parts available reveals not everyone agrees. As good as the genuine Austrian-made guns may be in most respects, many shooters clearly have a personal preference for features that differ from the original design.
This is why when the patent expired on the Gen 3 Glock 17, it was a very good day for just about everyone besides Gaston Glock's wallet. Today, the market is teeming with handguns based on this design, and thanks to the excellence of the original, most of the clones are fundamentally good guns too. The only question then is which to choose based on respective features and prices.
When it finally came time to consider this myself (after years of being stuck in the metal-frame DA/SA camp), a genuine Glock was out of the question. Having shot more of them in recent years, the pistol had grown on me, but I just couldn't get over the grip angle or the trigger shoe (a feature that just feels wrong on my finger). When browsing the various clones currently available, most featured a trigger shoe as well. One notable exception was the PSA Dagger.
Featuring a gradual, more traditional grip angle and a curved trigger, Palmetto State Armory's take on the concept was appealing to me. With the goal in mind of upgrading my nightstand gun to something made in the 21st century, I asked them to send one over.
First Impressions
I should start by specifying the exact model of PSA Dagger I opted to review, as the company offers many different variations. As mentioned, the pistol's intended role was for home defense. In turn, I selected the PSA Dagger Full Size-S with an RMR optics-ready slide, Ameriglo lower-third co-witness iron sights and a threaded barrel. When concealability doesn't matter, why not go bigger?
The standard PSA Dagger is actually considered a compact model as it's based on the Glock 19. The Dagger Full Size-S is closer to a G19X or G45 given it retains its Glock 19-sized barrel and slide but has a Glock 17-sized frame.
In the Dagger catalog, the Full Size-S is somewhere in the middle of the road of available options. Some fancier models feature window cuts on the slide, repositioned rear sights and different colors of barrels, slides and frames. Additionally, there are also plain models that don't even have an optics cut.
PSA ships the Dagger in a soft carrying case, an addition I always appreciate. It has room to fit the gun, two spare 17-round mags and a pouch for a suppressor, an extended mag or anything else you can fit inside. My only minor complaint with the case is the pistol can't be strapped in as intended after mounting a flashlight or optic, but it still works for transporting the gun.
First Stab At The PSA Dagger
I decided to leave the Dagger completely stock for my first range session, and I didn't clean or lube it out of the box, just to see how it would perform.
The pistol ate through its first 100 rounds without any real issues, and I was already impressed with how it shot. The slide release was a bit stiff and the slide didn't lock back a couple of times, but besides that, it performed flawlessly.
This gave me the confidence to keep going to see just how dry the PSA Dagger could really be run, but I decided to install some accessories before taking it back to the range.
Customizing The Dagger
Part of the appeal of Glock-like pistols and modern plastic fantastics, given the breadth of the aftermarket parts, is the ability to customize the guns. As someone who previously only owned handguns manufactured when accessory rails were not yet standard, this alone was an exciting prospect.
I used PSA's included Allen wrench to remove the slide's optic cover plate and replaced it with a Holosun EPS. The EPS comes with an RMR adaptor plate, making it possible to use it on PSA Daggers with an RMR cut slide. Next, I mounted a Holosun P.I.D. light on the Dagger's rail.
All went on without a hitch.
The final modification before heading back to the range pertained to my first real complaint with the PSA Dagger—albeit a subjective one. While I enjoy the Dagger's grip angle much more than that of the Glock, the profile of the back of the grip was too sharp for my taste. Thankfully, all it took to remedy this was a few wraps of grip tape to pad it up. After this, I found the pistol's handle much more comfortable.
The Second Stab
After tricking the Dagger out, I headed back to the range to keep shooting.
Keep in mind that I still hadn't lubricated the pistol at this point, and I managed to put another 200 rounds through it at a pretty rapid pace before problems started to arise. My best guess is that the gun heated up enough to finally cook off whatever grease or lube was on it from the factory, so cycling began to grow sluggish and unreliable.
After a quick cleaning and lubing, the Dagger was back on the range and did another 200 rounds essentially flawlessly. Besides one double-feed with a hollow point, it was completely reliable.
I kept an eye on the trigger pin over the course of testing (something that early Daggers had a problem with), but it stayed put throughout 600 or so rounds.
That all said, the PSA Dagger has proven itself reliable. Like any gun, it just obviously appreciates a bit of lube now and then.
Ammo types used included CCI Blazer 115gr FMJ, Federal Train and Protect 115gr hollow points, Federal 115gr Syntech, Federal 124gr American Eagle FMJ, Federal 135gr Hydra Shok and Remington UMC 115gr FMJ. Shout out to Federal for providing most of the pistol's fodder. Magazines used included two Magpul 17-round mags (one came with the pistol), a Magpul 21-round mag and a Glock 17-round mag.
When it comes to actual shootability, the PSA Dagger left me very impressed. To my chagrin, I shot it better and faster than the metal-framed DA/SA guns I usually train with. Combined with the good reliability and the ability to mount a light and optic, it's a no-brainer the Dagger will become my new nightstand gun. I plan on offering to purchase it from PSA after this is published.
The ergonomics lend themselves very well to a modern, two-handed shooting grip. The large grip offers plenty of real estate for your fingers, the grip angle facilitates a very natural presentation and the scallop cut forward of the takedown lever is the perfect spot for your thumb for increased control. Hitting steel with the pistol was fast, easy and accurate.
As for the trigger, I'm generally not too picky besides the shape. The curved and hinged design of the Dagger's trigger is already a massive upgrade in my book over anything with a trigger shoe, even one that provides a lighter break. Other than that, the trigger felt adequate and typical of a striker-fired gun. It has a bit of travel before the wall, a relatively crisp break and a short reset. That's all I need in a defensive pistol.
Combined, these features make for a very good shooter, and the MSRP of $370 makes that all the more impressive.
Some other good features worth mentioning are the gun's aggressive forward and rear slide serrations that made racking a breeze, the cutout at the bottom of the frame that made stripping magazines easier and the included Ameriglo iron sights that cowitnessed perfectly with my optic.
The Dagger's takedown lever and slide release lever felt about on par with a real Glock, but the magazine release felt worse. This is the only feature on the Dagger I like better on the Glock. The Dagger's mag release isn't horrible, but it was a bit too stiff for its small size. I think it would have been easier to manipulate with just a little more surface area.
Parting Shot
Given the PSA Dagger's reliability, performance, features and price point, it's hard to find anything to complain about that doesn't boil down to subjective nitpicking. The reality is if you're budget-minded but want a good, modern pistol, you can't go wrong with the PSA Dagger.
There are similar Glock clones that would likely perform just as well, not to mention real Glocks, but you'll almost certainly pay more if you want features like an optics-ready slide. With so many minor model variations to choose from, with choices of frame size, optics cut pattern, color and more, chances are high PSA has a Dagger that will appeal to you.
PSA Dagger Specs:
Model: PSA DAGGER FULL SIZE-S; RMR Slide, Threaded Barrel, Black
Caliber: 9mm
Action: Striker Fired
Weight: 22.5 Ounces (unloaded)
Overall Length: 7.15 Inches
Overall Width: 1.28 Inches
Overall Height: 5.38 Inches (Without Mag)
Barrel Length: 4.5 Inches
Barrel Material: Stainless Steel
Barrel Finish: DLC Coating
Twist Rate: SAAMI Spec 1:10
Slide Material: Stainless Steel
Slide Finish: DLC Coating
Frame: Polymer
Front Sight: Ameriglo Lower 1/3 Co-Witness
Rear Sight: Ameriglo Lower 1/3 Co-Witness
Safety: Striker Block Safety & Trigger Safety
Magazine: Comes with One 17rd Magpul
Optics Mount: RMR Pattern
MSRP: $369.99
---
More Handgun Reviews: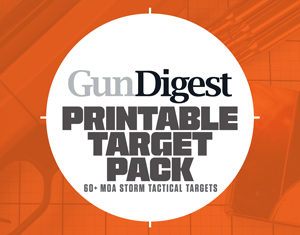 Next Step: Get your FREE Printable Target Pack
Enhance your shooting precision with our 62 MOA Targets, perfect for rifles and handguns. Crafted in collaboration with Storm Tactical for accuracy and versatility.
Subscribe to the Gun Digest email newsletter and get your downloadable target pack sent straight to your inbox. Stay updated with the latest firearms info in the industry.