Updated 2/22/2022
Looking to get into big-bore ARs? Here are 7 .450 Bushmaster upper options to make your own big iron.
What Are Top .450 Bushmaster Upper Choices:
Until as of late, if you were hunting an AR around the Midwest in all likelihood you were hunting with a .450 Bushmaster. Packing plenty of punch at moderate distances, the big-bore brute is a proven venison getter, if you were up to its relatively stout recoil. That and it's fairly expensive appetite. Factory ammo isn't cheap. Even outside the great north woods, the .450 Bushmaster provides an interesting addition to any gun collection. If for no other reason than the opportunity to pitch 250-plus-grain projectiles from an AR-15.
Similar to most cartridges compatible with America's favorite rifle, the .450 Bushmaster doesn't require a new firearm to get behind the trigger. If you have a lower, all you need is a .450 Bushmaster upper and you're in business. Isn't modularity grand!
Obviously, there are a number of pre-assembled .450 Bushmaster uppers on the market, which we'll look at in a second, but it's more than feasible to build yours from the bottom up. We won't break things down that far in this article, however, it's worth the time to cover the difference between the main components of a Bushy and run-of-the-mill 5.56.
.450 Bushmaster Upper Inside Out
Some caliber conversions are more involved than others, that's just the way of life. Say you were handy smith with AR-pattern rifles and were converting parts and not a complete upper (unnecessarily time-consuming, but this is an illustration). If you wanted to jump from a 5.56 NATO to .300 Blackout, technically the only part that would require replacement would be the barrel. Everything else about the uppers are seamless between the cartridges, which makes sense since the Blackout's parent case is the 5.56 NATO.
Things are more complex and drastic jumping to .450 Bushmaster. Not only would you have to address the barrel, but also the bolt and the upper receiver itself. The upper receiver, while mil-spec in every other sense, must have its ejection port enlarged at the front to consistently kick your spent brass. This is the way it goes with any big-dog AR caliber, .458 Socom, .50 Beowulf, what have you, do to case length and diameter. If you're a down-and-dirty tinker, you can break out your Dremel and a file grind away yourself, as long as you're confident you won't "Bubba" up the job.
If you don't trust yourself, but still want to start from scratch, there are .450 Bushmaster upper receivers on the market, complete with precision milled ejection ports. Perhaps, this is as good a point as any to jump into your options.
Stripped .450 Bushmaster Upper Receiver Options
San Tan Tactical Big Bore
An expensive stripped option, but a .450 Bushmaster upper you can be assured is built to the tightest specs and is made for precision performance. San Tan's Big Bore upper is constructed from billet aluminum, but isn't blocky or heavy. Plus, it boasts a number of design enhancements that ensure it will perform for the long haul, such as the upper's truss pocket. MSRP: $260; santantactical.com

Obsidian Arms
A very lightweight option, Obsidian Arm's OA-15C big-bore upper is ideal for highly mobile builds, weighing only 8.8 ounces. Made from billet 7075 T6 aluminum alloy, the upper is more than up to withstanding the .450 Bushmaster's punishment and your own personal abuse. Of course, it has an enlarged ejection port, but it also includes a removable brass deflector. Additionally, the upper is an eye-catcher with nice lines, if you like a bit sleeker-looking build. MSRP: $175; obsidianarms.com

Aero Precision XL
Those who've pieced together their own ARs previously, understand Aero is synonymous with value, offering high-quality parts at prices most can afford. It's no different with the company's .450 Bushmaster upper, the AR15 XL. A solidly made forged aluminum receiver, the XL has the strength to handle the big-bore brute, as well as the design specs to ensure it runs smoothly—i.e. an enlarged port. Plain-Jane in looks, the upper nonetheless performs. MSRP: $114.99; aeroprecisionusa.com

---
Go Big!:
---
Complete .450 Bushmaster Uppers
Next Level Armament NLX450 Bushmaster
Next Level Armament's NLX450 Bushmaster upper is built tough and ready to sustain the abuse that this big round provides. Besides including a forged upper receiver and extra-strength Springco buffer spring, the NLX450 also comes with a durable DLC finish, including on the bolt carrier. It also includes some components made by Tromix, a very well-respected name in the big-bore AR game. The .450BM bolt is made by Tromix as well as the barrel which is available in either 16-inch or 18-inch configurations with carbine or mid-length gas systems, respectively. The complete upper also includes an ambidextrous charging handle, MLOK handguard and a "Unique" muzzle brake made in-house by Next Level. Each NLX450 upper also ships with a 5-round magazine so you can get to shooting right away. MSRP: $852.12; nextlevelarms.com

Windham Weaponry .450 Thumper
Windham Weaponry does the Bushmaster right. Its Thumper (in homage to Col. Jeff Cooper's Thumper concept) has about everything you'd want out of a .450 Bushmaster upper. This includes a massive 16-inch chrome-moly-vanadium heavy-profile barrel, complete with chrome-lined chamber and bore. The bolt is machined from magnetic particle inspected Carpenter 158 steel, standard in quality AR builds. And the AR sports a carbine-length gas system. Windham runs a bit shorter 13-inch aluminum handguard, with M-Lok slots at the three, six and nine o'clock positions. Additionally, it's free-floated ensuring barrel harmonics remain pristine. Concerning muzzle devices, the Thumper comes with an A2 Birdcage flash hider, so if you're recoil sensitive you'll need to shop for a brake or compensator. However, the upper does ship with a 5-round magazine, tuned to smoothly feed .450 ammo. MSRP: $805; windhamweaponry.com

Radical Firearms .450 Bushmaster MHR
Definitely one of those companies more should know about, Radical Firearms gives shooters a lot of bang for their buck. A trademark of the company are options, which comes through on its .450 Bushmaster uppers. Available with either a 16- or 20-inch barrel, the upper gives you the ability to tailor your build to your style of shooting. In both cases, the barrels are heavy profile and topped off with the company's Panzer brake, making the big-bore cartridge a bit more shootable. Radical outfits the build with its HMR handguard, a 15-inch lightweight hybrid option with plenty of M-Lok slots at three, six and nine o'clock positions. The ejection port is enlarged to ensure smooth cycling and the gunmaker uses top-end internals to put the whole package together. MSRP: $669.95; radicalfirearms.com

Bear Creek Arsenal .450 Bushmaster
If you're just looking to dip your toe into the .450 Bushmaster, perhaps you don't want to break the bank on your first build. In that case, Bear Creek Arsenal offers a unique upper that gets you started in the caliber without charging an arm and leg. The gunmaker's 18-inch barreled .450 Bushmaster upper is a "Mama Bear" option, nimble but long enough to milk a little more out of the cartridge. Heavy profile, the fire tube adds heft and reduces recoil, though if you need a bit more in that area you'll have to shop brakes and compensators since Bear Creek outfits the barrel with a flash hider. The upper has a 15-inch, M-Lok compatible handguard with plenty of space to accessorize. Uniquely, Bear Creek runs a side-charging system on the upper, which for many is desirable. Never fear lefties, it's ambidextrous. MSRP: $244.99; bearcreekarsenal.com
---
Adam Borisenko contributed to this article.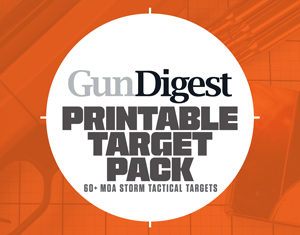 Next Step: Get your FREE Printable Target Pack
Enhance your shooting precision with our 62 MOA Targets, perfect for rifles and handguns. Crafted in collaboration with Storm Tactical for accuracy and versatility.
Subscribe to the Gun Digest email newsletter and get your downloadable target pack sent straight to your inbox. Stay updated with the latest firearms info in the industry.