Smith & Wesson has just expanded their popular AR-15 family with the M&P15 Volunteer series, featuring six new rifle configurations to choose from.



Smith & Wesson's M&P15 family of AR-15 style rifles has been an extremely popular and affordable choice for many Americans since the series first launched in 2006. Used by both civilians and police, the rifles have become known as solid, yet affordable ARs during their time on the market.
Seeking to provide consumers with more premium, feature-rich options, Smith has expanded its AR offering with a line expansion that pays tribute to its new home state Tennessee. The M&P15 Volunteer series is comprised of six new rifles, including three "Volunteer XV" and three "Volunteer XV Pro" models. Regardless of whether it is a "Pro" model or not, all of the new rifles feature upgrades over the standard M&P15 guns including chromed firing pins, flat triggers and B5 Systems furniture.
The M&P15 Volunteer XV Series

The three M&P15 Volunteer XV rifles all feature carbine-length gas systems, 16-inch barrels with 1:8 twist rates and an Armornite finish inside and out. For furniture, the rifles include BCM Gunfighter M-Lok forends, B5 Systems Bravo stocks and B5 Systems P-Grip 23 pistol grips. Each rifle also ships with an A2 birdcage flash hider.
M&P15 Volunteer XV (13507)

The base model of the new M&P15 Volunteer XV line, the carbine includes an A2-style gas block/front sight and ships with flip-up rear sights from either Magpul or WGS. Though, it does sport a Picatinny optics rail, in turn, the addition of a scope is a snap. A BCM Gunfighter fore and B5 Systems Bravo Stock give the gun excellent ergonomics that adjust to any shooter and a M-Lok compatible fore. MSRP starts at $1,049.
M&P15 Volunteer XV Optics Ready (13510)

A competition-ready option, the Optic Ready Volunteer XV is ready to get decked out with your favorite high-performance optic. Sans iron sights, the rifle has front (on the gas block) and rear rails allowing customization of its aiming solution. The flat-faced trigger really pays dividends for those looking for a 3-Gun option that won't break the bank. MSRP starts at $1,049.
M&P15 Volunteer XV Red Dot Sight (13513)

For those who are in the market for a carbine ready to go out of the box, the Red Dot Sights Volunteer VX checks off all the boxes. Crowned with a Crimson Trace 1x red dot sight, this option gets the shooter on target the moment they get the carbine home. MSRP starts at $1,099.
M&P15 XV Volunteer Pro Series

Variety is the defining feature of the M&P15 Volunteer Pro rifles, offering options that better fit individual shooters' needs and missions. Most notably, all three Pro models boast specific barrel lengths and gas systems. They also all feature some distinct upgrades over the standard Volunteer models, including free-floated M-LOK aluminum fore-ends, upgraded barrels, B5 Systems SOPMOD stocks and Radian Raptor ambidextrous charging handles. Each will also come with a PWS 556 muzzle brake.
M&P15 Volunteer XV Pro 16" (13515)

Essentially the standard variant of the line, the Volunteer Pro offers a stepped-up system at a very affordable price. Complete with a 16-inch barrel and a mid-length gas system, the rifle is soft-shooting, thus quicker shot to shot, getting the most out of its target crowned barrel. MSRP starts at $1,569.
M&P15 Volunteer XV Pro 14.5" (13516)

The nimble option, with a 14.5-inch barrel and carbine-length gas system, the M&P15 Volunteer XV Pro might be the handiest of the line. Perfect for CQC—but still able to reach out—the carbine meets NFA regs as a rifle. This is because Smith & Wesson has pinned and welded the PWS 556 muzzle brake to the barrel, bringing its total length to 16 inches. MSRP starts at $1,569.
M&P15 Volunteer XV DMR (13517)

Looking to reach out? You found the Volunteer to fit you with the DMR (Designated Marksman Rifle). With a 20-inch barrel, the rifle has enough bore to milk all the ballistic potential out of a 5.56 NATO round. While it comes with Williams Gun Sight Company folding front and rear sights, most shooters will likely take advantage of the Picatinny optics rail to get the rifle to reach out beyond average engagement distances. MSRP starts at $1,599.
For more information, please visit smith-wesson.com.
---
More On AR-15s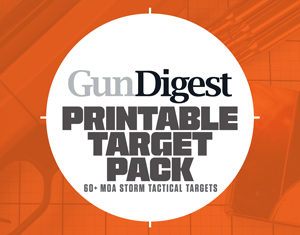 Next Step: Get your FREE Printable Target Pack
Enhance your shooting precision with our 62 MOA Targets, perfect for rifles and handguns. Crafted in collaboration with Storm Tactical for accuracy and versatility.
Subscribe to the Gun Digest email newsletter and get your downloadable target pack sent straight to your inbox. Stay updated with the latest firearms info in the industry.