Just like its namesake, the M400 Switchblade is small, fast and versatile, squeezing competition-level performance into a small package.
Features Of The Sig M400 Switchblade:
Full Ambi Controls
2-Stage Match Trigger
Free-floated Handguards
11.5-Inch CHF Barrel
Titanium Elite Cerakote Finish
Once only renowned for their handguns, Sig Sauer has been taking the American AR market by storm. In recent years, their Tread series has been many people's pick for the best entry-level AR-15 due to the balance between their quality and cost. The new M400 Switchblade pistol is not part of the "Tread" line, likely because some of its competition-grade features inherently raise it out of the "entry-tier" category that Tread rifles represent.
Full ambidexterity, competition-level upgrades and high-quality construction make the Sig M400 Switchblade one of the most attractive AR pistols on the market today.
Ambidextrous Controls
One of the M400 Switchblade's most notable upgrades is its full ambidexterity. Its charging handle, bolt release, and selector switch have all been designed to be operable from either shoulder. Match environments are often filled with oddly shaped obstacles that force the shooter to utilize their non-dominant firing hand, but the Switchblade's ambidextrous controls remove some of the difficulty associated with that. Rifle courses often emphasize the ability to shoot with either hand as well, so the M400 Switchblade is also viable in a defensive role.
Competition Features
Scoring good hits should also be easier with the M400 Switchblade's new 2-Stage Matchlite Duo Trigger. This flat blade trigger made by Sig Sauer has a crisp break at about 5 pounds of pull, lending itself to not only more accurate shots but to faster shooting as well.
The Switchblade's furniture has also been upgraded over the M400 Tread Pistol's. It comes standard with a Magpul BSL Brace which is adjustable for length and designed to provide superior stabilization. The pistol grip appears to be the same as what comes on the Sig MPX Copperhead PDW. Some have praised this grip in the past for being ergonomic while others have criticized it for being too small. Regardless, it is interchangeable with any kind of AR-15 pistol grip you may prefer.
The handguard has M-LOK slots and has been free-floated to ensure there is no shift in impact when bracing the weapon against a rest. It was designed to be extra rigid, so the user doesn't have to worry about deflection even after mounting several pounds worth of accessories and gadgets to it.
The MSRP of the Sig M400 Switchblade is yet to be released, but expect to pay more than you would for a Tread rifle or pistol due to the upgrades included right out of the box. As Sig further expands into the AR market, they continue to release new and enticing designs that bring something unique to the table. The M400 Switchblade's competition features combined with its handsome Titanium Cerakote finish make this appear to be another winning combination.
For more information on Sig Sauer, please visit sigsauer.com.
---
More AR Options To Consider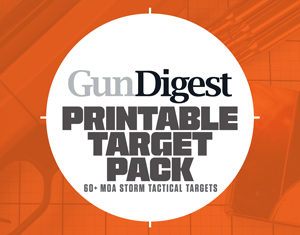 Next Step: Get your FREE Printable Target Pack
Enhance your shooting precision with our 62 MOA Targets, perfect for rifles and handguns. Crafted in collaboration with Storm Tactical for accuracy and versatility.
Subscribe to the Gun Digest email newsletter and get your downloadable target pack sent straight to your inbox. Stay updated with the latest firearms info in the industry.