I'll be politically correct and call an AR or black rifle an MSR. MSR might stand for Modern Sporting Rifle, but these rifles are everywhere. This year, black rifles have come out of the shadows, and I think MSR should stand for Main Stream Rifle seeing as nearly every rifle manufacturer produces its own version of the MSR. To use a term, they are ubiquitous. Sure, there are MSRs that prefer the shadows, ready to defend, but there are those that compete, punch steel at distance and hunt, too. Here are a few rifles worth noting.
[imagebrowser id=496]
Editor's Note: This article is from the 2017 Shooters Guide issue of Gun Digest the Magazine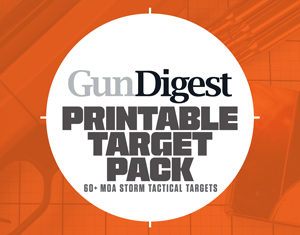 🎯 Exclusive Offer: Get Your FREE Printable Target Pack!
Dive into precision shooting with our 62 Exclusive MOA Targets featuring DOT Drills. Perfect for both rifle and handgun enthusiasts, these targets are designed for accuracy, especially for long-range shots.
Why You'll Love This Pack:
🎯 Expertly Crafted: Brought to you in partnership with the renowned Storm Tactical.
🎯 Versatile Use: Suitable for both rifle and handgun range sessions.
🎯 Precision Design: Target grids and bullseyes meticulously measured in MOA for the best shooting experience.
Bonus: By grabbing this offer, you'll also be subscribing to the Gun Digest email newsletter, keeping you updated with the latest in the world of firearms.
Don't miss out!
Simply enter your email below, and we'll send your downloadable target pack straight to your inbox.