A collaborative effort between Faxon and Q LLC, three new Faxon AR-10 models are now available for the recently developed 8.6 BLK cartridge.
Faxon Firearms has just announced that three new models of 8.6 BLK AR-10s are now available for preorder, with the guns expected to ship later this summer. What makes these ARs special is that they were developed in conjunction with Q LLC for the company's new 8.6 BLK cartridge.
Since it was announced, many have referred to Q's 8.6 BLK as 300 BLK's big brother, and it's easy to see why. Featuring a .308 bolt face and modified 6.5 Creedmoor brass, the cartridge uses .338-caliber projectiles with weights that can exceed 300 grains. Offered in both super and subsonic loads, 8.6 BLK makes for one very versatile round that can deliver a lot of energy on target. The trick to making this concept viable, however, was up to Faxon and their barrel production skills. Bullets this heavy aren't easy to stabilize, but Faxon managed to make it work thanks to their new 1:3 twist rate barrels. Faxon is using the barrels to produce the first weapons available for 8.6 BLK, starting with three AR-10 models and following up with some bolt-actions down the road. Both styles of barrel will also be able to be purchased separately for custom builds.
The 8.6 BLK AR-10 model that is now available for preorder is called the Faxon Sentinel, and it's being offered in three different barrel length configurations. Two models are sold as pistols due to their 8-inch and 12-inch barrels, and both have an MSRP of $2,299. The third model is a 16-inch rifle with an MSRP of $2,399. As expensive as they are, the new chambering isn't the only allure to the Faxon Sentinels, as each gun will also feature ambidextrous controls, upgraded furniture and an improved trigger. The preorders are expected to ship in early August with normal availability soon to follow.
For more information on the new guns or cartridge, please visit faxonfirearms.com.
---
More On AR-10s: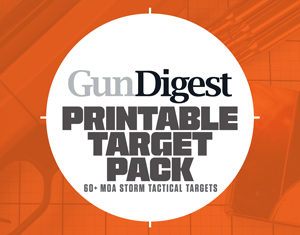 Next Step: Get your FREE Printable Target Pack
Enhance your shooting precision with our 62 MOA Targets, perfect for rifles and handguns. Crafted in collaboration with Storm Tactical for accuracy and versatility.
Subscribe to the Gun Digest email newsletter and get your downloadable target pack sent straight to your inbox. Stay updated with the latest firearms info in the industry.