The new E. R. Shaw ERS-10 splits the crosshairs exactly where exceptional performance and exceptional value meet.
What to know about the new ERS-10:
The ERS-10 is an AR-10-style rifle chambered in 6.5 Creedmoor or .308 Win.
The test gun weighed in at 9.62 pounds and had a 20-inch stainless 1:8 twist barrel.
The bolt and bolt carrier are 9310 alloy steel and are Nickel-Boron coated.
During testing, the largest group was 1.5 inches, the smallest .5 inch.
The ERS-10's MSRP is $995.95.
In early 2017, E. R. Shaw, America's largest independent gun barrel manufacturer based in Bridgeville, Pennsylvania, introduced through its Shaw Precision Guns division its own version of the AR-15. Dubbed, appropriately enough, the ERS-15, Shaw Precision Guns (SPG) became one of many sources of AR-platform rifles. It was really a no-brainer for the company because, for decades, it had been producing tens of thousands of AR barrels in every configuration for dozens of OEMs and gunsmithing supply houses.
If that made sense, then the manufacturer's announcement this past September that it was adding an AR-10 platform to its product line should not have surprised anyone. Predictably, the new gun is designated as the ERS-10, and it's being offered initially in 6.5 Creedmoor and .308 Win. chamberings.
With the "Creed" basking in what has turned out to be far more than its 15 minutes of fame, how could I not opt to request that flavor for my T&E? What drew my interest as much as anything was that its MSRP is $995, which for an AR-10, is very attractive.
From The Ground Up
The first thing I always do upon taking a new rifle from its box is to weigh it and see how close it comes to the nominal spec, which SPG claims is 9½ pounds in the .308 Win. chambering — sans the 20-round magazine it comes with. As it came from the box, my ERS-10 test gun weighed in at 9.62 pounds, so when you consider the thicker walls of a 6.5 barrel, this claim is right on the nose. I've yet to receive a test gun that weighed less than claimed, but I have seen many that weighed more — as much as a half-pound in some cases.
Anyway, one of the first things I noticed — and it's but a minor detail — is that the left side of the lower receiver, where all the identifying roll markings are usually found on the side of the magazine well, is absolutely void of any such information; it's all on the right side. As for the buttstock, there's not much you can say about it other than it's the familiar Magpul MOE Carbine mil-spec six-position job, of which there are several variations. This stock is compatible with MOE and other sling attachments and accommodates 1.25-inch sling loops.
The upper and lower receiver measurements of the ERS-10 are about a half-inch longer and a half-inch deeper than Gen II versions of the AR-10 — as exemplified by the current DPMS and Remington R-25. Both are machined from 7075-T6 aluminum forgings and hard-coat anodized. One feature I particularly like is that the shell deflector houses the bolt assist, so you have both functions integrated into one relatively small unit, thus saving an ounce or two in weight.
It's but one of several variations seen in various AR-10s and AR-15s in that some designs call for the bolt assist at the rear of the receiver, some at the front, some with no bolt assist, and with or without a shell deflector. Others still don't have a bolt assist, shell deflector or dust cover. The integral Picatinny rail up top has 18 T-Marked slots for a wide assortment of scope and accessory mounting positions. When mated with a cantilever-type scope mount, you have all kinds of mounting latitude. My choice was Weaver's MSR.
Ample Features Abound
On the lower receiver, the magazine well is machined using the precision wire EDM process, which precludes distortion, and the entrance to the well is flared to help align magazine insertion. The lower receiver hosts an A2-style grip, which is fine unless you have very large hands.
The bolt and bolt carrier are beautifully machined from 9310 alloy steel and are Nickel-Boron coated, which provides a high degree of lubricity and wear resistance. It's also easier to clean. Just holding the bolt assembly in your hand it actually feels slippery, and, of course, it looks great — with its stainless-like finish contrasting the black anodized receivers. Its slick surface also makes it easier to clean.
The 20-inch stainless-steel barrel, which has a 1:8 twist, is of course an E. R. Shaw premium grade; it measures 1.180 inches at the receiver, then it tapers down to a straight section measuring .875 inch in diameter to where it meets the low profile gas block of the rifle-length gas system. From the front of the block to the muzzle brake, the barrel measures .735 inch, and it, along with the brake itself, carries a non-reflective matte finish, which again contrasts nicely with the black anodized handguard.
Carl Behling Jr., president of E. R. Shaw, and Matt Challis, factory manager, designed the brake. For a muzzle brake, it exhibits some rather complex machining compared to most. It of course has a solid bottom and is vented at the top, the combination of which reduces muzzle rise. There's a forward rake to the two different vented slots at either side, which overall makes it as attractive as a muzzle brake can be. This brake is available as an accessory item — the stainless version goes for $59.95; the stainless variant with black Melonite finish is $65.
The free-float handguard is 15 ½ inches long and extends some 1½ inches beyond the front of the low-profile gas block, which qualifies it as being of "extended rifle length." Three continuous M-LOK slots occupy the 3, 6 and 9 o'clock positions, with the other 10 flats (facets) hosting either round or elliptical cooling/weight reduction vents. A multi-finned barrel nut serves as the base for the handguard, which slips over it and tightens with a clamshell or C-Clamp arrangement using transverse Allen-headed machine bolts. Up top, the Picatinny rail takes up where the receiver's 18 slots ends, going from a white T-marked T-20 position to T-54.
Performance, In Spades
To ready the test gun for a little range work, I used the already mentioned Weaver MSR mount to secure a Leica ER5 4-20x50mm scope. Talk about a great piece of glass! A tactical-type scope might have been more appropriate, but I've used this scope, which has a simple Duplex-type reticle, for other gun evaluations, and it proved to be such a stellar scope that I take any opportunity to use it again.
With Hornady having developed the 6.5 Creedmoor back in 2007 and now offering 10 different loads for it, I thought it appropriate to use at least three of them in testing. As it turned out, I actually used four. Besides, Hornady fodder has proven to be so damn accurate in every other of the 9 or 10 6.5 Creeds I've tested over the years. I also learned in late September that Sig Sauer had just introduced a match load, and I was able to get a sample of it in time as well.
As evident from the accuracy results, when the largest among 25 three-shot groups measures 1½ inches, you could say the test gun performed very well indeed. There was one failure to feed among the very first shots fired, but none after. The trigger pull was a bit hitchy, but being a mil-spec trigger you can only expect so much. It did, however, break predictably at 6 ½ pounds, so it was better than most. The fact that the two 140-grain match loads proved to be the most accurate was no surprise, but the 120-grain A-Max almost matched them. It seems all 6.5 Creedmoor ammo is uncannily accurate, but in my experience, the heaviest bullets usually shoot the best.


I should mention that, with the bolt carrier being Nickel-Boron treated, I ran the test gun bone dry just for the hell of it. No problems whatsoever. That of course is not advisable, and less than 100 rounds fired this way doesn't mean much, but a Nickel-Boron-treated bolt carrier obviously doesn't hurt!
The Parting Shots
All in all, I have to give the ERS-10 high marks, especially when you consider its attractive price, as there are not a lot of AR-10s out there for less than a grand. Moreover, this gun carries the same limited lifetime warranty that covers all E. R. Shaw rifles, including the Mark VII and Mark X bolt-action rifles, both of which offer the highest level of customization for the money.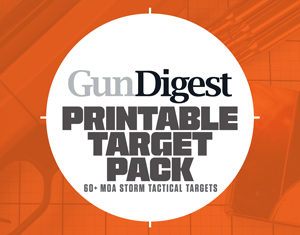 Next Step: Get your FREE Printable Target Pack
Enhance your shooting precision with our 62 MOA Targets, perfect for rifles and handguns. Crafted in collaboration with Storm Tactical for accuracy and versatility.
Subscribe to the Gun Digest email newsletter and get your downloadable target pack sent straight to your inbox. Stay updated with the latest firearms info in the industry.