Tired of hearing about the 6.5 Creedmoor? Then it's time to meet its hard-punching little brother, the 6mm Creedmoor, in a platform designed to highlight its skillset.
How Wilson Combat Created A Superior 6mm Creedmoor:
22-inch Wilson Combat Recon tactical match-grade barrel.
1:8 twist rate bring out full ballistic potential of the 6mm.
Light recoiling rifle-length gas system with an SLR Rifleworks gas block.
Wilson Combat's snappy 4-pound single-stage Tactical Trigger Unit (TTU).
Rock-solid S7 tool steel bolt stops.
It's pretty easy to identify Superman in a crowd. The dude wears a cape.
Chances are, however, it won't be quite as simple to pick out a "super sniper" among a field of accurate rifles, which is too bad because Wilson Combat's latest semi-automatic rifle platform is far more useful than a comic book hero.
I'm no stranger to Wilson Combat rifle platforms, and I have the taxidermy bills to prove it.
So, when I found an opportunity to review Wilson Combat's latest creation — the Super Sniper — I was optimistic to say the least. After all, Bill Wilson and his team of gun-slinging machinists, engineers and shooters have never failed to deliver a high-quality firearm each and every time I have used one. Still, when you name anything "super," you're setting up your customer base for some very high expectations. Add the word "sniper" and, well … it better be the gun that gets Carlos Hathcock to crawl out of his grave.
The day the WC-10 Super Sniper arrived at my FFL didn't seem much different than any other day. There was no report of a meteorite crashing near the storefront with an alien-configured WC-10 style rifle wedged in a space rock. The rifle didn't present itself with a clean-cut Clark Kent style, nor was there any hint of a cape.
However, the rifle did turn heads, raise eyebrows and initiate drool from more than a few Earthlings who happened to see the bronzed-finished gun slip out of its soft gun case and onto the countertop. For an AR-10 sized rifle, it was slim, light and quick to point. It looked accurate. It looked menacing. It looked expensive — and was with an MSRP of $3,145.
---
---
Still, in a store full of high-quality MSRs, it was obvious to everyone that this rifle was not of our world — well, it wasn't from Virginia at least. No. You see, Wilson Combat weapons are designed and built in Arkansas, which is a bit closer than Krypton and, just like the Wilson Combat Super Sniper, very real.
This Super Sniper was more than just a work of cosmic Arkansas firearms art, it was chambered in the super sexy 6mm Creedmoor.
No, not the 6.5 Creedmoor. The 6mm Creedmoor: a smaller, faster, flatter Creedmoor family member, for which Hornady tightened the ballistic belt on their superb 6.5mm Creedmoor case from 6.5mm (.264 inch) to 6mm (.243 inch) to help take PRS matches to a whole new level. It's also a 6mm cartridge, which has escaped the lower bullet weight BC curse of the classic .243 Win. and 6mm's 1:9 twist. That's previously been the long-range death of the superbly designed .243 Winchester and 6mm Remington, but most 6mm Creedmoor rifles, including the Wilson Combat Super Sniper, are being built from scratch in the far better suited 1:8 twist rate.
Anyway, the idea worked. The peppy short-action cartridge pushes high ballistic coefficient bullets like Hornady's ELD Match 108-grain, ELD-X 103-grain and Barnes LRX 95-grain bullets near, at or slightly over 3,000 feet per second for ultra-flat, low-recoiling and extremely accurate performance.
Does the lighter, slightly faster 6mm Creedmoor punch as hard as its beefier brother, the 6.5 Creedmoor? No. But it doesn't have to because its pings are loud enough and the critters it hits can't be deader than dead. It's superbly accurate, soft to shoot, easy to load for and it loves the high BC bullets being made these days for the 6mm long-range shooting crowds at PRS matches — and for long-range hunters. It's an ideal partner to the Wilson Combat Super Sniper rifle.
Behind The Cape
Before we talk about the Super Sniper rifle, let's talk about the super elephant in the room. Wilson Combat firearms aren't cheap. Some folks might even say they're not reasonably priced. Wilson Combat firearms cost more to buy because they cost more to build — because they're built better than most guns.
In my opinion, there truly is a difference in the fit, form and function of a Wilson Combat weapon — and the Super Sniper platform is no different. I've seen it, and I've felt it both on the range and in the field. If you spend any reasonable amount of time talking to Bill Wilson about his firearms, you'll quickly understand just how much of a perfectionist he is, and perfection is expensive because things always have to be just right.
One example of this in his WC platform development is the fact that Wilson Combat uses S7 tool steel for their bolt stops, proudly proclaiming they've never had one break, despite AR-10 bolt stops industry wide being notorious for doing just that. "We have spared no expense in development, testing and production of these rifles," said Bill Wilson. "If we could build a better one, we would!"
With that said, let's get back to the Super Sniper. It was designed and built to enable the very thing the 6mm Creedmoor was designed to do — win competitions. Now, there are two kinds of competitions you'll likely find a 6mm Creedmoor at: one involves shooting steel, and the other ones having nerves of steel as hunters. I can and do see the Wilson Combat Super Sniper doing well with both tasks.
A Wilson Combat WC-10 carries like many other manufacturer's AR-15s in their size and weight, which is a big plus. I think I could carry a Super Sniper anywhere I'd carry any other hunting rifle, from the swamps of North Carolina after feral hogs, to the hills of central Virginia after Eastern white-tailed deer, to the steep and unforgiving mountains of the Frank Church Wilderness in Idaho after muleys.
Fit, Finish And Firepower
Once you get past the gorgeous bronze finish, you'll find that Wilson Combat built the 6mm Creedmoor Super Sniper with a 22-inch Wilson Combat Recon tactical match-grade barrel, billet upper and lower receiver, a rifle-length gas system with an SLR Rifleworks gas block, a Wilson Combat M-Lok rail, and of course Wilson Combat's own trigger — known as their Tactical Trigger Unit (TTU), which is a single-stage with a 4-pound pull.
The 22-inch 1:8 twist Wilson Combat Super Sniper rifle was fed a steady diet of three 6mm Creedmoor factory loads, which included Hornady's 103-grain ELD-X, their slightly heavier match-grade 108-grain ELD Match, and a Barnes 95-grain VOR-TX LRX — from 100 to 300 yards. MidwayUSA lists at least nine factory loads as of December 2018, and I'm sure as the cartridge grows in popularity, more ammunition manufacturers will join the rat race to manufacture 6mm Creedmoor loads. Optically, I used a Leupold VX-3i 4.5-14x40mm riflescope to test the rifle.
I got the following data from my five-shot groups for accuracy at 100, 200 and 300 yards. The 100-yard zero work was done indoors, and the 200- and 300-yard work was done at an outdoor range.
Throughout the entire battery of tests, the gun never failed to function, fire or deliver equal performance behind the trigger. I have always been very happy with the TTU triggers Wilson Combat uses on their rifles, and this Super Sniper was no different. It broke at 4 pounds consistently using my mechanical RCBS trigger gauge.
There are a lot of little things about the Super Sniper that contribute to it being an easy gun to shoot well. The trigger is one big reason because it's so consistent. Other key factors are the gun's slim build, its light and evenly distributed weight, and its adjustability in the stock.
I'm a small guy so I need small guns, and the ability to adjust the length of pull helped me get comfortable behind the trigger. That's a must these days. The rifle's light but even weight helped me point and maneuver the rifle smoothly and quickly before, during and after the shot, so it certainly lives up to the "sniper" designation. The 22-inch barrel and overall gun mass helped dampen recoil, so I watched the impact of shots fired at 100, 200 and 300 yards. As a hunter, this is a big deal because ethical follow-up shots are much easier to make if you never lose sight of the prey in your riflescope.
The Consensus
In the end, if I was a shooter looking for a semi-custom PRS rifle in 6mm Creedmoor, then the Wilson Combat Super Sniper would answer a lot of questions I'd likely spend some wasted dollars on answering in other ways. It's built properly all the way through, and that's evident from the moment you unbox it.
As a hunting platform, it's an easy choice for the well-funded hunter. I can and will hunt with the rifle, and I'd be lying if I didn't admit to hoping I see a nice buck or even a black bear out past a decent poke just so I can conjure up my inner "sniper" fantasies. Though, I am a self-admitted "get as close as I can" kind of hunter, so I'd see a long shot I could have gotten closer on as a cop-out.
Do I think this is the rifle that Carlos Hathcock would crawl out of his grave to shoot? No. No, I don't. That's not to say I don't like the rifle, but just because it's made to ring steel at out of this world distances doesn't mean it deserves to wear the red cape of a superhero amongst a crowded field of pretty good rifles.
If you decide to spend the money a Wilson Combat rifle commands, I know you won't regret investing in the Super Sniper — just note that the cape costs extra.
Editor's Note: This article originally appeared in the January 2019 issue of Gun Digest the Magazine.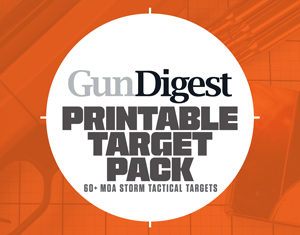 Next Step: Get your FREE Printable Target Pack
Enhance your shooting precision with our 62 MOA Targets, perfect for rifles and handguns. Crafted in collaboration with Storm Tactical for accuracy and versatility.
Subscribe to the Gun Digest email newsletter and get your downloadable target pack sent straight to your inbox. Stay updated with the latest firearms info in the industry.