Fair game critters everywhere sounded air raid sirens on news of Ruger's FTW Predator, which combines Gunsite Scout features with the M77 Hawkeye in what promises to be a formidable long-range varmint-blasting machine.
If you're a chuck or song dog you have good days and bad days. But when Ruger recently announced its FTW Predator Rifle—which blends the best of the Scout and M77 Hawkeye—there's no way around it: Your varmint days are numbered.
For long-range shooters it's good news indeed as the rifle sports what gun owners like about the Ruger Scout and the company's well-established Predator. It's not difficult to envision tactical applications of the rifle, either.
For one thing, it's built on the iron-clad non-rotating M77 action, which is basically a Mauser-type controlled feed battle tank (I think following World War III there will be three things left—Royal typewriters, Chevy engine blocks and M77 actions).
While a rock-solid action promotes accuracy, equally critical to making long-range hits is the rifle's two-stage adjustable target trigger, giving you the ability to let them snap cleanly.
The FTW designation, by the way,  refers to the world-renowned FTW Shooting School in Barksdale, Texas, where extensive on-range consultation with SAAM (Sportsman's All-weather, All-terrain Marksmanship) shooting instructors was conducted by Ruger in the development of the new gun.
Everyone liked the proven accuracy of the Hawkeye Predator and the quick handling of the Gunsite Scout rifle. So it seemed a no-brainer for Ruger engineers to whip together a rifle that combines the trigger and action of the Hawkeye Predator with the adjustable buttstock design found on the Gunsite Scout. Voila! That's some serious stuff for everything from 'yotes to foxes.
The result is one well-handling little rifle capable of dropping them in there out at long-range—yet in a fast-handling predator rifle platform.
Ruger Hawkeye FTW Predator Features
The Hawkeye FTW Predator features a two-stage target trigger, Green Mountain laminate stock, stainless steel receiver and medium contour barrel.  Models are available with either a 22" barrel with a 1:10" twist chambered in .308 Win., or a 24" barrel with a 1:8" twist chambered in 6.5 Creedmoor.
The soft rubber buttpad is adjustable with the use of three, ½-inch buttpad spacers (included) which allows the rifle to be properly sized for different shooters or varying levels of outerwear. Integral scope mounts are machined directly on the solid-steel receiver, providing a stable mounting surface for the included scope rings.
Ruger FTW Predator Specs
Stock: Green Mountain Laminate
Capacity: 4
Material: Stainless Steel
Finish: Hawkeye Matte Stainless
Sights: None
Trigger: Two-Stage, Adjustable Target
Barrel Length: 24.00″
Overall Length: 43.25″ – 44.75″
Weight: 8.12 lbs.
Length of Pull: 12.75″ – 14.25″
Twist: 1:8″ RH
Grooves: 6
Suggested Retail: $1099.00
www.ruger.com
---
Also Check Out: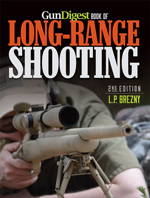 Gun Digest Book of Long-Range Shooting, 2nd Edition
Get the most recent advances in guns and gear to extend your range for hunting, informal target shooting, and formal competition. Discover new tools for long-range shooters both in the field and on the firing range, with coverage of new developments from advances in military applied combat theory. Learn more