Rare and unusual, Fitz Special snubbies hold a special place in serious Colt collectors' hearts.
What Is The Fitz Special And Why Is It So Unique:
Created by and named after Colt engineer J. Henry "Fitz" Fitzgerald.
The custom revolver featured a bobbed hammer and open-front trigger guard.
Fitzgerald modified several Colt models along these lines, including the Detective Special and Police Positive.
Collectors have paid in the five figurer for actual factory modified Fitz Specials.
One of the most interesting snub-nosed revolvers of the early 20th century was the Fitz Special. Created by Colt engineer and exhibition shooter J. Henry "Fitz" Fitzgerald, the Fitz Special was a customized revolver with two distinguishing features: These were a bobbed hammer and trigger guard with the front half ground completely off, both designed to help the shooter get his double-action revolver into action faster.
Fitzgerald performed these modifications to several Colt models, including the Detective Special. In fact, his Fitz Special modification to the Colt Police Positive led to the company's introduction of the Detective Special.
No Fitz Specials ever appeared in a Colt catalog, and the exact number made is not known. These were essentially custom guns made to order. Some estimates are that no more than 100 were made at the factory. Many others have been made, and are still being made, by various gunsmiths on Colt, Smith & Wesson and other guns.
J. Henry Fitzgerald probably did not realize it at the time, but he was the creator of some of the rarest Colt revolvers. As Rick Hacker stated in his article on the Fitz Special in the Gun Digest 2018 Annual Edition:
---
Take A Spin With More Revolver Content:
---
"So while FitzGerald may not have originated many of the concepts he used, he certainly made them popular. Charles Lindberg carried a Fitz Special, as did Col. Rex Applegate, whose ivory-handled presentation gun bears the inscription, 'To Rex from Fitz.'
"On the other side of the law, Clyde Barrow of Bonnie and Clyde fame carried a nickel-plated Colt Army Special with a cutaway trigger guard and a bobbed hammer, although it is not known if these modifications were actually done by the Colt factory. Still, it can't be denied that Barrow obviously was a fan of the Fitz concept. Many gunwriters of that earlier generation, including the late George Nonte and Col. Charles Askins, Jr., were also Fitz Special fans. In more modern times, during the first season of the popular CBS television series 'Blue Bloods,' Tom Selleck, in his role as Police Commissioner Frank Reagan, is seen carrying a Colt Official Police 'Fitz Special,' which, according to the script, originally was to have belonged to Frank's policeman father, thus implying multi-generations of use.
"Previously, values of authentic Fitz Specials have been difficult to determine, as they so rarely came on the market. However, in early 2017, Gunbroker listed an authentic, factory-documented Colt Detective Special Fitz Special in .38 Colt, serial number 462183, in 95 percent condition, and complete with its original box and an accompanying factory letter which states, under Special Features: "Furnished with a cutaway trigger guard and a 3 lb. trigger pull." This gun was shipped to a buyer in Middlesborough, Kentucky on November 24, 1939. Offered for sale by Kirkpatrick Collector Arms of Prescott, Arizona, a firm that specializes in quality Colts, on February 12, 2017 it sold for $10,525."
Editor's Note: This article originally appeared in the March 2019 issue of Gun Digest the Magazine.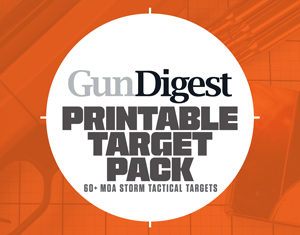 Next Step: Get your FREE Printable Target Pack
Enhance your shooting precision with our 62 MOA Targets, perfect for rifles and handguns. Crafted in collaboration with Storm Tactical for accuracy and versatility.
Subscribe to the Gun Digest email newsletter and get your downloadable target pack sent straight to your inbox. Stay updated with the latest firearms info in the industry.