The Croatian VHS-2 bullpup rifle is now available on the U.S. commercial market for the first time as the Springfield Hellion.


Springfield Armory has a longstanding relationship with HS Produkt of Croatia, the company responsible for Springfield's entire family of popular XD pistols. Now, for the first time, HS Produkt's VHS-2 bullpup is being imported into the U.S. and sold under the name Springfield Hellion. Practically identical to its military counterpart, this new semi-auto 5.56 rifle has been eagerly awaited by American bullpup fans for years. The Springfield Hellion will now be competing against the handful of other bullpup rifles on the market such as the AUG, Tavor and Desert Tech MDR.
The VHS-2, or Springfield Hellion, may be a new design for the U.S., but the rifle already has a well-established reputation abroad. Used by the Croatian and Iraqi militaries, as well as some smaller special forces and police groups, the VHS-2 has already undergone the necessary improvements that were revealed during the testing of the original VHS. Unlike many other "new" guns in the U.S., the Springfield Hellion should already be good to go from the first batch of imports.
As a bullpup design, the Springfield Hellion features a 16-inch barrel in a package only 28.25-inches-long overall. The barrel is hammer-forged, has a 1:7 twist and comes with a 4-prong flash hider. Compact and handy, the Hellion is also a very capable fighting rifle. It feeds from STANAG AR-15 magazines (unlike the original VHS-2 which uses G36 mags) and is a fully ambidextrous design. The stock is adjustable for both length of pull and cheek riser height, and the rifle includes metal flip-up iron sights that are integrated into the top optics rail. The Hellion comes with a two-position adjustable gas regulator with one setting for running a suppressor, and the rifle's handguard also has MLOK slots for attaching accessories.
The introduction of the VHS-2 to the U.S. market is exciting news for bullpup devotees, appreciators of military service rifles and those just looking for a very competent, compact 5.56 rifle. Its MSRP of $1,999 is within the range of other available bullpups, making it another fine option to consider for those searching for one. Time will tell how well the Springfield Hellion will fare against other bullpups in terms of popularity and aftermarket support.
For more information, please visit springfield-armory.com.
---
Get More Bullpup Info: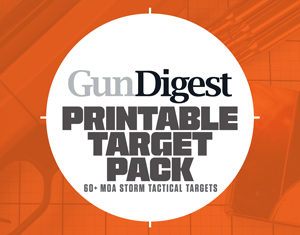 Next Step: Get your FREE Printable Target Pack
Enhance your shooting precision with our 62 MOA Targets, perfect for rifles and handguns. Crafted in collaboration with Storm Tactical for accuracy and versatility.
Subscribe to the Gun Digest email newsletter and get your downloadable target pack sent straight to your inbox. Stay updated with the latest firearms info in the industry.